Albany, New York Overview
Albany, New York's history spans over three centuries, and it continues to build on that history today as a vibrant, thriving and modern city.
Located at the crossroads of two of the Northeast's busiest interstate highways and along the historic Hudson River, the City of Albany is made up of unique geographic areas, each having their own distinct character. Together, these commercial districts and neighborhoods make Albany an urban center of residential, commercial and institutional activity.
Each of the areas highlighted below contain multiple, unique and vibrant neighborhoods. Each has millions of dollars of current project activity, and each has strong public and private partners working together to put sound strategies into action.
MIDTOWN
The midtown area is home to some of the region's largest employers. Midtown is balanced with institutional growth and local quality of life in order to maintain a stable, walkable community. Read more.
Innovative solutions to implement smart growth principles have been made possible because of the City's partnership with some of the area's community drivers such as Albany Medical Center, the College of Saint Rose, Saint Peter's Hospital and the University at Albany.
Guided by the Park South Urban Renewal Plan, the Park South neighborhood has seen more than $600 million in investment. University Heights is bustling with activity and local roadways are benefiting from improvements that embrace a complete streets philosophy.
Urban Renewal Plan In Action
UPTOWN
Albany is exploding with growth. The investments made by the State University of New York (SUNY) and the College of Nanoscale Science and Engineering (CNSE) provide employment, create innovation and develop talent in our city, region and New York State. Read more.
Pioneering efforts by Governor Andrew Cuomo, as well as CNSE and SUNY leadership have led to catalytic investments like the University at Albany's Downtown Campus, Smart Cities Technology Innovation Center (SCiTI) at Kiernan Plaza and Capital South Campus Center. The SUNY campus system also serves as the framework of the START-UP NY program, aimed at attracting high-tech and other start-ups, venture capital, new business and investments from across the world to upstate New York cities. Albany is getting results from this game-changing initiative that will accelerate entrepreneurialism and job creation in the City.
Historic Neighborhoods
Albany's neighborhoods are rich in history, culture and diversity. The path to reinvestment for many of these neighborhoods is outlined in stakeholder-guided revitalization plans, like those in the South End and Arbor Hill. Read more.
Since the inception of the Arbor Hill Plan in 2003, the development partners have stimulated more than $77 million of investment, as well as increases in population and per capita income.
The Capital South Plan
has produced similarly transformational results with more than $96 million investment in the past several years.
Downtown
Downtown Albany is the region's urban center, the heart of Tech Valley and the front door to the Capital. Downtown is also Albany's newest and fastest growing neighborhood. Read more.
National trends are putting a renewed focus on walkable, vibrant urban settings. Combine these national trends with the region's booming technology base, and it makes Downtown Albany a destination of choice. Collaboration and market-driven strategies such as the
Impact Downtown Albany
strategic plan are essential to capturing Downtown Albany's vast potential in today's environment.
$250 million worth of activity is currently under way. Key partners are working to grow Downtown's economy through a focus on residential conversion of obsolete commercial space, attraction of the technology sector, re-energizing the waterfront, enhancing quality of life, growing targeted retail offerings and expanding operations at the Port.


Albany Fact #2
Albany is a thriving business community with fine dining and world-class entertainment and year-round outdoor activities. From hiking to downhill skiing, Albany is only minutes away from the best recreational facilities in the Northeast. A short drive from the majestic Adirondack Mountains and charming village of Saratoga Springs, Albany is also close to other attractions like the Baseball Hall of Fame in Cooperstown and Lake Placid, the site of two Winter Olympic Games.

Albany Fact #3
Albany, and the Capital Region, boasts some of the finest educational institutions in the United States. A wide array of private and public institutions meets all the educational needs of the area. In addition, there are a variety of skills training programs that can be custom-tailored to meet a company's specific needs. Delivered through a statewide network of local providers such as community colleges and vocational-technical schools, New York State programs are both flexible and convenient.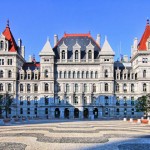 Albany Fact #4
A city that nearly 100,000 people call home, Albany's many neighborhoods offer a variety of residential options, from handsome Brownstones to stately Colonials on tree-lined streets. As the largest municipality in the Capital Region, a Metropolitan Statistical Area (MSA) of nearly 1 million, Albany provides a combination of urban and suburban living.