Doing Business in Albany, NY
The City of Albany continues to offer businesses a prime destination to invest and grow a business. Albany, NY is home to the State Capitol, Albany NanoTech, world renowned hospitals, a number of world-class educational institutions, as well as a variety of businesses.
These assets help create the strong economic climate which provides Albany with a competitive advantage in attracting new businesses. Capitalize Albany Corporation continuously works to create a business-friendly environment within the City of Albany. We are here to help you locate your business in downtown Albany – whether you need assistance finding an available space, help with permitting and approvals, information regarding grants and other resources or have any other questions or concerns related to your business start-up or expansion. As part of the business development services offered in the City, our staff also partners with a number of organizations and various lending programs.
The Corporation is providing resources to strengthen Albany's commercial districts. Please explore the available programs here.
The Opportunity Zones incentive is a new community investment tool established by Congress in the Tax Cuts and Jobs Act of 2017 to encourage long-term investments in low-income urban and rural communities nationwide. Opportunity Zones provide a tax incentive for investors to re-invest their unrealized capital gains into dedicated Opportunity Funds. The City of Albany has 6 different Opportunity Zones, each with recent catalytic investments and significant investment potential. It's an exciting time to invest in the Capital City. Strategic initiatives are building momentum citywide, since 2015 downtown alone has experienced $250 million in new investment and more than $200 million is currently in the pipeline.
Contact our office with any questions on this program or for information on additional investment opportunities in the City of Albany. View map.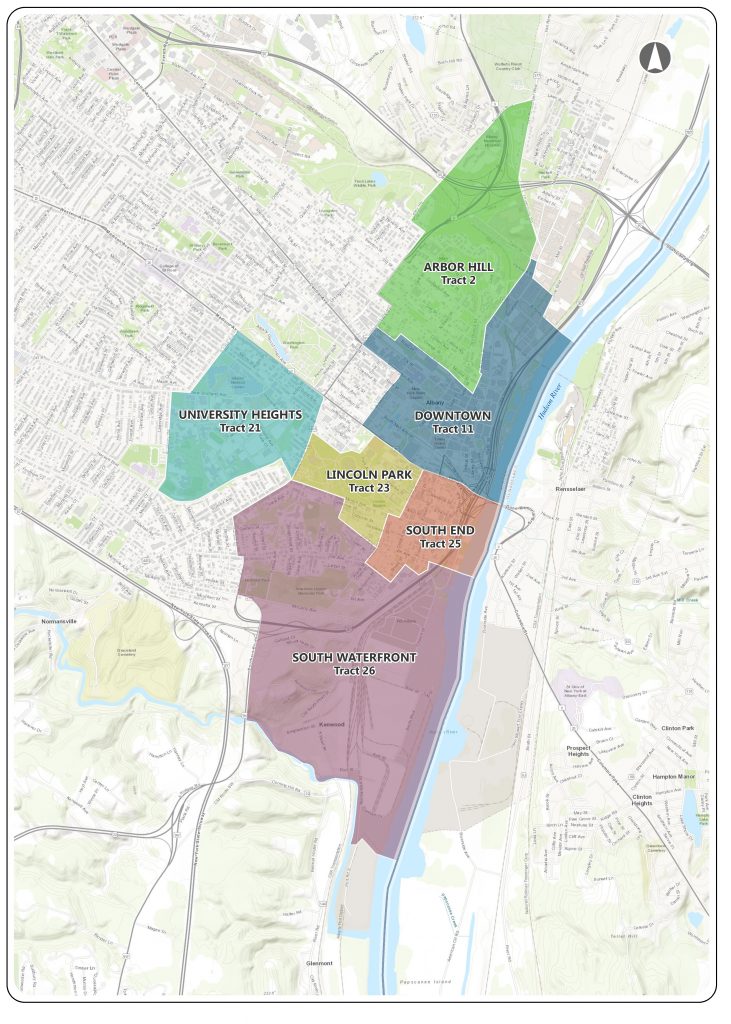 City of Albany Opportunity Zones Prospectus, Click Here
Click here to visit the IRS.gov's Frequently Asked Questions page for more information about the program
Click here for an interactive map of Albany's Opportunity Zones — Please note this may not work on all devices, click here for a PDF version.
Economic Development Organization Inventory Report
Our Inventory Report provides an overview of organizations with locations in the City of Albany and the Capital Region that are available to help your business. Click here to view our Economic Development Organization Inventory Report. Our Economic Development Incentive Report provides an overview of incentives potentially available for businesses. Click here to view our Economic Development Incentive Report.
In addition to the above resources, below is information on available financing and technical assistance sources for businesses.
Financing Options
Capitalize Albany Real Estate Loan Program
The Real Estate Loan Program provides financing to qualifying real estate development projects. This will support the revitalization of property and the retention and creation of jobs for City residents. Preferred projects include strategic properties that currently are vacant or underutilized and, with rehabilitation or construction, could have a positive revitalizing effect on the community. Loans may be used with other private and public funds. Capitalize Albany Corporation will take a subordinated collateral position to a private lender, provided there is adequate collateral. The program offers long term, fixed rate financing at below market interest rates. Loans may not exceed 40% of total project cost. Proceeds may be used for construction, fixed asset financing as well rehab costs related to tenant fit ups for new business locations or residential conversion costs for rehab projects. This includes acquisition of buildings, rehab costs, furniture, fixture and equipment, construction, expansion or conversion of facilities. Borrowers are expected to provide a minimum of 10% owner equity contribution.
To apply for these loan programs contact us or fill out a pre application and submit it to the Capitalize Albany Corporation at 21 Lodge Street, Albany, NY 12207.
Capitalize Albany Business Development Loan Program
The Capitalize Albany Corporation Business Development Loan Program provides qualifying projects that can demonstrate a significant economic impact with financial assistance to spur economic development activity in the City of Albany. Loan proceeds can be used for acquisition of real property, machinery and equipment, construction, renovation or rehabilitation of real property, and purchase of fixed assets. Consideration of retail or restaurant establishments will only be given if the project includes improvement of real estate and will have a significant economic impact on the City of Albany. Loans are limited to 50% of the total project cost and should be used in connection with another primary financing source. Borrowers are expected to provide a minimum of 10% owner equity contribution.
To apply for these loan programs contact us or fill out a pre application and submit it to the Capitalize Albany Corporation at 21 Lodge Street, Albany, NY 12207.
AL Tech Loan Fund
This loan fund provides term loans ranging from $35,000 to $300,000. The interest rate is Wall Street Prime minus 3% with a floor of 5%, fixed for the term of the loan. Loan proceeds can be used to purchase fixed assets or for working capital. The Al Tech portion of the loan is exempt from the mortgage recording tax. A $350 application fee applies.
Capital District Community Loan Fund (CDCLF)
The Capital District Community Loan Fund (CDCLF) is a non-profit community development financial institution serving the Capital Region.  It serves as a community-based lender to expand access to credit and capital in disadvantaged communities.  Typical loans are given for the development of housing and other facilities, and can be used toward working capital, equipment, inventory, site acquisition, or new construction. Both short- and long-term loans are available, with a modest application fee, and loan applications may be submitted at any time. Entrepreneurs and community groups are encouraged to contact the Community Loan Fund early in the planning and development of an idea.  For more information, or to set up an appointment, call CDCLF at (518) 436-8586, or visit their website at www.cdclf.org
New York Business Development Corporation (NYBDC)
A number of loan programs are available through NYBDC to promote economic activity within New York State. NYBDC is a complement to conventional banking, working in partnership with banks to provide term loans, many of which do not meet the requirements for traditional financing. The goal is to be more creative in underwriting, often including multiple participations, SBA guarantees, flexible amortization and long-term payouts. For more information call (518) 463-2268 or go to www.nybdc.com.
New York State Energy and Development Authority (NYSERDA)
Interest rate reductions are available on loans from participating lenders for energy efficiency improvements and renewable technologies.  For more information on all of NYSERDA Loan Funds go to www.nyserda.org or contact a local certified NYSERDA contractor at the Environmental Business Association of New York at (518) 432-6400 or go to www.eba-nys.org.
Statewide Zone Capital Corporation (SZCC)
The SZCC loan fund provides low-interest rate loans to certified Empire Zone businesses.  Loan proceeds can be used for working capital, equipment acquisition and real estate purchase.  SZCC loans range from $30,000 to $300,000 and should be used in connection with other financing sources.  Borrowers are expected to provide an equity contribution.  Completed applications are underwritten and approved by New York Business Development Corporation (NYBDC).  A $250 nonrefundable fee must accompany applications.  Projects must be reviewed and recommended by the City of Albany Zone Administration Board.
U.S. Small Business Administration (SBA) 504 Program
Used in conjunction with Partnership programs or conventional lending institutions, SBA 504 loans enable growing businesses to secure long-term, fixed-rate financing for major capital assets.  This low-cost second mortgage financing may be exempt from mortgage recording tax; 10- and 20-year terms are available.  Empire State Certified Development Corporation is the local SBA certified lender and can be contacted at (518) 463-2268 or go to www.nybdc.com.
Development Resources
Downtown Living
Interest in living in downtown Albany is growing, as people desire to reside close to diverse entertainment, cultural activities and the Hudson Riverfront. As the City continues to build attractions such as the restored Palace Theatre and first-class restaurants, more people want to work and live downtown.  In the last year, more over two-dozen new apartments have come on the market in Downtown Albany.
There are tremendous development opportunities in downtown Albany. Capitalize Albany; the City's economic development strategy is working to bring significant investment and new activity to downtown and throughout the City of Albany. Since Capitalize Albany was established in 1996 over $6 billion has been invested in to the City. The next phase of the plan is in the works, which includes diversifying the downtown economy – adding residential, expanding the next phase of the riverfront, and attracting retail.
Financing for commercial and entrepreneurial residential developments can be secured through a variety of programs including City of Albany Empire Zone Program, the Capitalize Albany Corporation, Community Preservation Corporation, Empire State Development Corporation, Albany Industrial Development Agency, New York Office of Parks, Recreation & Historic Preservation, and the New York State Energy Research and Development Authority. These agencies administer a number of loan funds and offer tax incentives to assist in the development of both commercial and non-commercial residential projects.
Loan Programs
Community Preservation Corporation (CPC) is a private mortgage lender specializing in financing low-, moderate- and middle-income housing throughout New York and New Jersey. CPC lends for large and small apartment buildings, occupied or vacant, and for new construction developments. CPC is sponsored by 94 banks and insurance companies. There is a $100 application fee and an origination fee of 1-2% of loan amount. Loan products include, construction financing, permanent financing, Small Building Loan Program, and Preservation Financing for Cooperative Buildings.

Contact CPC for more information at (518) 463-1776 for more information.
NYSERDA $mart Loan Fund provides interest rate reductions on loans for energy-efficiency projects and renewable technologies. The program provides interest rate reductions up to 4% in cooperation with participating lenders, which include banks, credit unions, community development financial institutions, and farm credit associations. Loans can be up to: $20,000 for 1-4 family homes for a secured loan; $5,000 per unit up to $5,000,000 per borrower for multifamily buildings; and $1,000,000 per borrower for all other facilities (plus up to an additional $500,000 for "green building" improvements). The Loan Fund Program will "buy down" the lender's interest rate by up to 400 basis points or 4%*. Interest rate reductions are available for the lesser of 10 years or the life of the loan.
Contact NYSERDA at (518) 862-1090 for more information.
Tax Credit Programs
Federal Investment Tax Credit Program for Income Producing Properties
Owners of income producing real properties listed on the National Register of Historic Places may be eligible for a 20% federal income tax credit for the substantial rehabilitation of historic properties. The final dollar amount is based on the cost of the rehabilitation; in effect, 20% of the rehab costs will be borne by the federal government. The work performed (both interior and exterior) must meet the Secretary of the Interior's Standards for Rehabilitation and be approved by the National Park Service.
New York State Tax Credit Program for Income Producing Properties
This tax credit must be used with the Federal Investment Tax Credit Program for Income Producing Properties. Owners of income producing properties that have been approved to receive the 20% federal rehabilitation tax credit automatically qualify for the additional state tax credit if the property is located in an eligible census tract. Owners can receive an additional 20% of the qualified rehabilitation expenditures up to $5,000,000. In order to qualify, the placed-in-service date must be after January 1, 2010. There is no application form. After the National Park Service approves Part 1 and Part 2 of the federal application, The New York State Office of Parks, Recreation, and Historic Preservation will issue a certification form allowing owners to take the state credit.
New York State Historic Homeownership Rehabilitation Tax Credit
Rehabilitation work on historic residential structures may qualify for a tax incentive. The credit will cover 20% of qualified rehabilitation costs of structures, up to a credit value of $50,000.00. Houses must be an owner-occupied residential structure and be individually listed on the State or National Register of Historic Places, or a contributing building in a historic district that is listed on the state or National Register of Historic Places. In addition, the house needs to be located in an eligible census tract. At least $5,000 must be expended on qualifying work. At least 5% of the total project must be spent on the exterior of the building. OPRHP prior to start of construction must approve all work.
For more information on the Federal and NYS Investment Tax Credit programs, including whether or not your property qualifies for either of the NYS Historic Preservation Tax Credit programs, contact Sloane Bullough at The New York State Office of Parks, Recreation and Historic Preservation at 518-237-8643, ext. 3252.
Real Property Tax Abatement Programs
485-a Residential-Commercial Urban Exemption
Section 485-a of the Real Property Tax Law authorizes a declining 12-year partial exemption from real property taxation and special levies for non-residential property converted to a mix of residential and commercial uses. The application must be filed with the assessor on or before the applicable taxable status date. Once the exemption has been granted, the exemption may continue for the authorized period provided that the eligibility requirements continue to be satisfied. It is not necessary to reapply for the exemption after the initial year in order for the exemption to continue.
Contact the City of Albany Tax Assessor at (518) 434-5155 for more information.
City of Albany Historic Property Tax Abatement
This is an exemption for improvements to Historic Property in the City of Albany and applies only to City property taxes (does not apply to County or School taxes). This exemption is to provide a property tax incentive to encourage investment in and rehabilitation of historic properties. This exemption applies to any increase in value attributable to the alteration, rehabilitation or renovation of a historic property. There will be a five-year 100% abatement of the increase in assessed value resulting from the project. The abatement will be reduced by 20% in each of the next six (6) years until taxes are paid on 100% of the assessed value of the property. Some restrictions regarding conformity to local law and approval by local preservation commissions do apply.
Contact the City of Albany Tax Assessor at (518) 434-5155 for more information.
Neighborhood Commercial Districts
Neighborhood Commercial Districts
Upper Madison Avenue- Allen Street to Quail Street:
Situated near local colleges, universities, parks, and the Pine Hills neighborhoods the Upper Madison neighborhood commercial district offers a variety of amenities and services. Offering locally owned and operated restaurants, a movie theater, laundromats, and coffee shop; this busy strip accommodates the needs of resident and students. As the main thoroughfare for the neighborhood, Madison Avenue provides access to the nearby campuses of the College of Saint Rose and the University at Albany. Upper Madison Avenue is comprised of many wonderful neighborhood resources including wonderful parks, recreational facilities and a community center, along with gorgeous houses, walkable streets and strong educational centers. The strong community that has developed throughout the surrounding neighborhoods supports businesses along this neighborhood commercial district.
Lower Madison Avenue- Philip Street to South Pearl Street:
Located adjacent to the Mansion Neighborhood and the South End, this portion of Madison Ave offers a diverse range of businesses to the many local residents and those traveling through the area on their way into Downtown. Just down the road from the Empire State Plaza this corridor is a premier location as it's a convenient stop for workers during the day as well as those traveling downtown to enjoy a concert or event.
South Pearl Street- Madison Avenue to Second Avenue:
Just down the road from Albany's Central Business district, this commercial strip is located within the South End Neighborhood. This historic urban neighborhood is a short distance from Lincoln Park, the Port of Albany, and Downtown. In addition to its convenient location, this area also offers many attractions and conveniences for its residents.
Lark Street- Madison Avenue to Washington Avenue:
Lark Street is a vibrant, eclectic commercial and neighborhood district comprised of many unique businesses. The neighborhood is within walking distance from health care, a full service grocery store, and active commercial districts. This strong commercial district offers the many residents of Center Square and the growing and developing Park South neighborhood a variety of services. This street is also a frequent stop for visitors to the area, as it is filled with a wide array of restaurants and activities. The Lark Street Business Improvement District strives to maintain and grow a healthy climate for businesses to operate along this particular strip.
Middle New Scotland Avenue- Ontario Street to Quail Street:
Just up the road from University Heights and Albany Medical Center, this commercial strip is a thriving commercial corridor that serves the many residents of the surrounding neighborhoods. The strong community based neighborhoods that surround this strip are filled with a mix of families as well as students attending the many nearby educational institutions, such as Albany Law School or College of Pharmacy. This area is also home to a public and private elementary school and will soon be home to a new Public Library.
Lower New Scotland Avenue- Madison Avenue to Holland Avenue:
The Park South neighborhood, situated between Albany's beautiful Washington Park and Albany Medical Center and the University Heights campus, is currently experiencing tremendous redevelopment efforts. With Albany Medical Center's recent expansion, new commercial development taking place on New Scotland Avenue, and new residential development, this neighborhood is becoming an ideal location to live, work, and visit. The more than 7,000 employees that work at Albany Medical Center as well as the employees and students of the various University Heights organizations frequent this commercial district. As development efforts progress, this commercial district continues to expand and attract new businesses.
Broadway: Downtown- Pruyn Street to Clinton Avenue:
Albany's Central Business District is home to State and local government, numerous private businesses, a wide array of restaurants, entertainment venues and other retail stores. This section of Broadway, within downtown, serves the many employees that travel to downtown each day for work in addition to the many residents that live in downtown. This area in particular offers great choices for dining, hotels, convenient store, salons, new residential development, and entertainment venues. The ongoing development-taking place downtown is contributing to the growth of this particular commercial district. The Downtown Albany Business Improvement District works to maintain a strong and vibrant business district to serve the residents and visitors to this area of downtown.
Broadway: North Albany- North Lawrence Street to Wards Lane:
This commercial strip serves the North Albany neighborhood. This strip contains a mixture of commercial and industrial businesses. This part of the City is conveniently located a close distance to downtown and provides each access to the highway making it a desirable location for many industrial businesses. The North Albany neighborhood, predominantly a family based neighborhood, is also served by the businesses that have developed on this portion of Broadway, including restaurants and convenience stores.
Clinton Avenue- Ten Broeck Street to Manning Blvd:
Clinton Avenue, the southern boundary of Arbor Hill, is the gateway to Albany's entertainment district. It features the newly restored Palace Theater, the Family Court House, and the new Hollywood Brown Derby restaurant. This area is benefiting from the ongoing redevelopment efforts of North Swan Street as well as the activity along Henry Johnson Boulevard. This section of Arbor Hill offers a unique mix of historic structures serving as a desirable foundation for starting and growing a business along this visible strip.
Central Avenue- Lark Street to Everett Road:
Central Avenue is the gateway to the West in the City of Albany. This vibrant stretch is home to countless restaurants and retail businesses. Central Avenue just received significant roadway improvements with the complete reconstruction and repaving of the streets, making it particularly accessible for new businesses. As businesses continue to grow on this commercial corridor, visitors and residents are presented with even more choices. This corridor also falls within the Central Avenue Business Improvement District, thus providing additional opportunities and support to new and existing businesses to succeed in this part of Albany.
Watervliet Avenue- Central Avenue to Industrial Park Road:
Watervliet Avenue is the entrance way to the West Albany Industrial Park. Manufacturers and distributors due to its infrastructure and central location mainly occupy this part of Albany with easy access to the highways. Watervliet Avenue contains a combination of residential structures and commercial businesses allowing it to serve the adjacent West End neighborhood. This neighborhood includes great recreational facilities, like Bleecker Stadium and Swinburne Park, as well as educational institutions with the Henry Johnson Charter School and Schuyler Achievement Academy.
Quail Street-Madison Avenue to Livingston Avenue:
This commercial strip is an active part of the surrounding Pine Hills and West Hill neighborhood. This commercial corridor is located near the local colleges and universities within the Pine Hills neighborhood and also crosses into the neighborhood setting of West Hill. The many residents and students making it a great location to grow a business heavily travel the businesses located on this strip.
Washington Avenue-Ontario Street to Lake Avenue:
This section of the City is close to various education institutions, different neighborhood settings and easy access to downtown. This area is comprised of various businesses that serve the surrounding residents, which are a mix of college students and families. As a main entranceway to the City, this corridor is highly traveled and visible, making it an ideal location to start and maintain a business.
Delaware Avenue- McAlpin Street to Morton Avenue:
Delaware Avenue is a main entrance to the city from the south, specifically the Bethlehem/Delmar area. The neighborhood is located southwest of the Empire State Plaza and is the western border of the South End. This corridor offers many neighborhood services and activities, including a movie theater, retail stores, restaurants, churches, a post office, a bank, pharmacies, a historic firehouse and numerous other small businesses. It's a convenient neighborhood where many everyday needs such as shopping, banking, and entertainment are within easy walking distance.