Erin Grace
Executive Assistant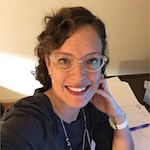 Erin is instrumental in the management of day-to-day operations and provides support services for the Corporation's economic development team.
She brings an aptitude of experience to her role as Executive Assistant with expertise in supporting not-for-profits and public authorities. Previously Erin has served as the Director of Operations to the Association for Financial Guaranty Insurance, the New York State Distillers Guild, the Capital Craft Beverage Trail and as Administrative Assistant at the Hudson River Black River Regulating District.
Erin holds a bachelor's degree in English from the University at Albany. Excited to see Albany revitalized and thriving, she lives in the City of Albany with her four children.