Building Momentum On State Street To Drive Opportunities For Local Hospitality and Tourism Market
September 14, 2015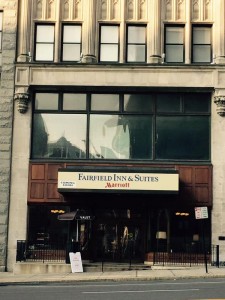 Downtown Albany's boutique 74 State Hotel is currently undergoing a transformation at a very exciting time for downtown. With the coming new addition of the Fairfield Inn & Suites by Marriott, State Street will feature two internationally recognized Marriott hotel brands beginning this fall. This occurs ahead of the Albany Capital Center's 2017 opening, which is projected to draw more than 85,000 visitors to downtown annually.
The team at Capitalize Albany recently took a tour as renovations are nearing completion. View photos here to get a sneak peek of what you'll see inside the new Fairfield Inn & Suites.
Wellington Row's new Albany Renaissance by Marriott announced in June that it was set to open in mid-October, complementing the discussion held at the Albany County Convention & Visitors Bureau's Hospitality Summit on developing a hospitality culture.