Coming Soon: Completed $10 Million Mixed-Use Residential Conversion of Arcade Building
September 29, 2015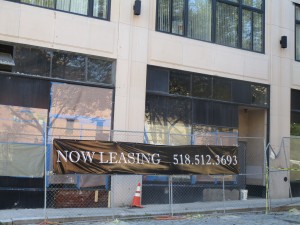 Construction is wrapping up and renovations are expected to be completed within the coming months at 488 Broadway. When completed, it will be the largest project of its kind in downtown Albany to date with 60 market-rate residential units on its upper floors and street level retail space. The $10 million renovation of the 75,000 square foot, five-story building is being led by Fairbank Properties. A project made possible through assistance provided by the City of Albany Industrial Development Agency.
The building is known as the Broadway Arcade because of an interior walkway that gives storefront retailers a second entrance.
With progress driven by the Impact Downtown Albany initiative, downtown Albany has seen a wave of new residential projects this year. Currently there are more than 150 downtown units under construction with more than 550 units in the pipeline.