Coming Soon: Downtown Albany Community Market & Grocery
September 1, 2015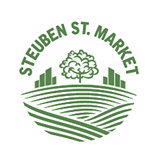 Meeting demand of the growing downtown resident population, Steuben Street Market is expecting to open soon on the first floor of Steuben Place Apartments at 58 North Pearl Street. Customers will see items such as bread, fresh and frozen meats, dairy products, prepared food and more. A survey is currently open online at www.steubenstmarket.com, asking residents what they want to see on the shelves at their local grocery.
Currently leasing, space is filling up above at the 29-unit Steuben Place Apartments, a project made possible by assistance from Capitalize Albany Corporation, the Albany Industrial Development Agency and New York State. On August 7, hundreds stopped by to take a look at available units during a downtown residential open house event.
With progress driven by the Impact Downtown Albany initiative, downtown Albany is one of the fastest growing neighborhoods in the Capital Region.
ICYMI >> #DowntownAlbany community market & grocery on its way http://t.co/ymfvrU1ssW Via @CapAlbanyCorp

— Capitalize Albany (@CapAlbanyCorp) September 13, 2015