Revitalization of Former Philip Livingston School Celebrated
September 24, 2015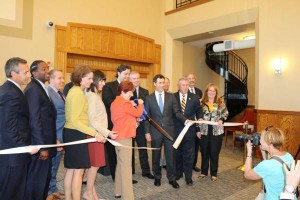 With the transformation of the former Philip Livingston Magnet Academy complete, Capitalize Albany Corporation joined WinnCompanies, Albany Mayor Kathy Sheehan, New York State and the Albany Housing Authority in celebrating the formal opening of the Livingston School Apartments. The now completed nearly $30 million project transformed this property, which was vacant for more than three years, into 103 new units of affordable housing in the City of Albany.
WinnDevelopment began its adaptive reuse effort in January 2014 with public sector support from the City of Albany, the City of Albany Industrial Development Agency (IDA), the Albany Community Development Agency (ACDA), the New York State Division of Housing and Community Renewal (DHCR), the New York State Energy Research and Development Authority (NYSERDA), the New York State Historic Preservation Office (SHPO), and the federal National Park Service. Key Bank, Citizens Bank, Boston Financial, The Community Preservation Corporation and the Federal Home Loan Bank of Boston provided private financing.
"This project is an example of best practices for underutilized large-scale historic properties, demonstrating how they can be redeveloped to better serve their communities," said Sarah Reginelli, City of Albany Industrial Development Agency CEO and Capitalize Albany Corporation President. "The City of Albany IDA is proud to have supported this project and WinnDevelopment. The properties' reuse created hundreds of construction jobs, preserved a significant Albany landmark and added to the growing number of quality affordable housing options in the City of Albany."
To view photos from the ribbon cutting visit Capitalize Albany's Facebook page here.
Beautiful day to cut the ribbon at the Livingston School. Thanks @NYGovCuomo @AlbanyCityHall @NYSHCR @CapAlbanyCorp pic.twitter.com/1jKIRVlsl1

— WinnCompanies (@WinnCompanies) September 24, 2015
Celebration, Livingston Apts. w/@WinnCompanies @AlbanyCityHall @NYGovCuomo @NYSHCR, 103 new affordable housing units. pic.twitter.com/R3a1tLOnHu

— Capitalize Albany (@CapAlbanyCorp) September 24, 2015