Events Keep Popping Up at Popular Downtown Park
June 20, 2016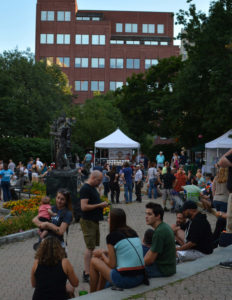 This summer Tricentennial Park will host a record breaking number of visitors as both the Alive at Five summer concert series and the Downtown Albany Business Improvement District's newest annual summer event, Fork in the Road drive event-goers and more retail traffic downtown.
Driven by recommendations of the Impact Downtown Albany strategic plan, Pop-Up programming in Tricentennial Park serves as a case study in best practices for activating public spaces. In 2014 Capitalize Albany brought several pop-up retailers to Tricentennial with its Pop-Place initiative which engaged residents in surrounding neighborhoods to experience new temporary retailers and discover all of downtown's storefronts. In 2015 thousands flocked to the Park throughout the summer to experience the Downtown Albany BID's Fork in the Road, and this summer combined with Alive at Five Albany's newest neighborhood will be more vibrant than ever.
Providing resources for similar pop-up initiatives, events and programming in Albany's various commercial districts, Capitalize Albany is accepting applications for its Amplify Albany Grant Program (www.CapitalizeAlbany.com/grants). See this year's Alive at Five schedule here, Fork in the Road schedule here.