Nipper to Soon Have Neighbors as Redevelopment of 991 Broadway Converts Space to 75 Residential Units
December 15, 2016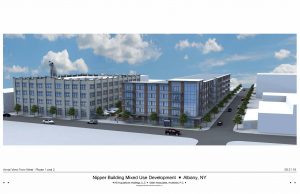 The mixed-use conversion of the Nipper building (991 Broadway) in Albany's warehouse district to 75 apartments and 7,750 sq. ft. of ground-floor commercial space is phase one of a planned four-phase, $70 million development project. On Thursday, the City of Albany Industrial Development Agency Board approved an application to provide financial assistance to Nipper Apartments, LLC. in the form of New York State sales and mortgage recording tax exemptions. The project is estimated to create nearly 20 permanent and 70 construction jobs.
The building's first commercial tenant, announced in August, the Good Market is a modern day food hall inspired by the Ferry Building Marketplace in San Francisco, Chelsea Market in New York City and Reading Terminal in Philadelphia that will be located in the Nipper Building's ground-floor space. Planning to open in late spring, the multi-vendor space will include businesses selling fresh meat, produce, baked goods, cheese, prepared food and more.
Led by developer Bill Barber, in total the four phase plan will include approximately 150 additional apartments in a set of newly constructed buildings with retail space and multiple levels of indoor parking.
Also making this project possible, Empire State Development Corporation granted the redevelopment project $500,000 as part of Governor Cuomo's Regional Economic Development Council awards in Round VI. The Capital Region was a top performer—receiving $83.1 million in total—with City of Albany projects awarded $5.58 million.
Complementing Nipper Apartments and creating an estimated 50 construction jobs, Barber's redevelopment of nearby 960 Broadway is revitalizing a property formerly home to the Rodgers Liquor Co., which has been left vacant for two decades. Made possible by the City of Albany IDA, the 4-story abandoned warehouse will be converted into 24 market-rate apartments featuring ground floor restaurant space accessible from Broadway. Read more at www.AlbanyIDA.com.