Albany Super Ducks Announces Official Launch Event | June 24th
June 23, 2017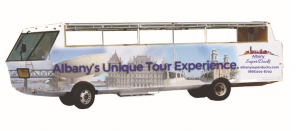 Albany Super Ducks announced that it will begin operations in July, offering a unique tour experience for both Albany residents and visitors. Touring by land and water aboard two 46-passenger amphibious vehicles will give Albany Super Ducks' guests the opportunity to learn about the rich history of the Capital City.
An official launch event scheduled for Saturday, June 24 from 12:30 to 3:30 p.m. in Downtown's Tricentennial Park will mark the return of an amphibious vehicle tour attraction in Albany. Tour seekers will get a chance to spend an afternoon in downtown Albany, see renderings of the vehicles, refreshments and entertainment is also scheduled. Guests will be able to take advantage of advance ticket sales to book their summer tours. This event was supported in part by the Amplify Albany Grant Program—a program made possible by the City of Albany Capital Resource Corporation and Capitalize Albany. Albany Super Ducks tours will further expand the Capital City's growing number of welcoming attractions.
Tours are anticipated to start mid-July and can be found at www.albanysuperducks.com.