$150,000 in Matching Grants Available To Help City of Albany Small Businesses Reinvest
October 19, 2017
Applications now available, learn more about the City's Small Business Facade Improvement Program. Announced today at Downtube Bicycle Works & 3Fish Coffee in #Albany | $150,000 in Matching Grants Available To Help City of Albany Small Businesses Reinvest https://t.co/dQqXU6DGna pic.twitter.com/eagNfARBs2

— Capitalize Albany (@CapAlbanyCorp) October 19, 2017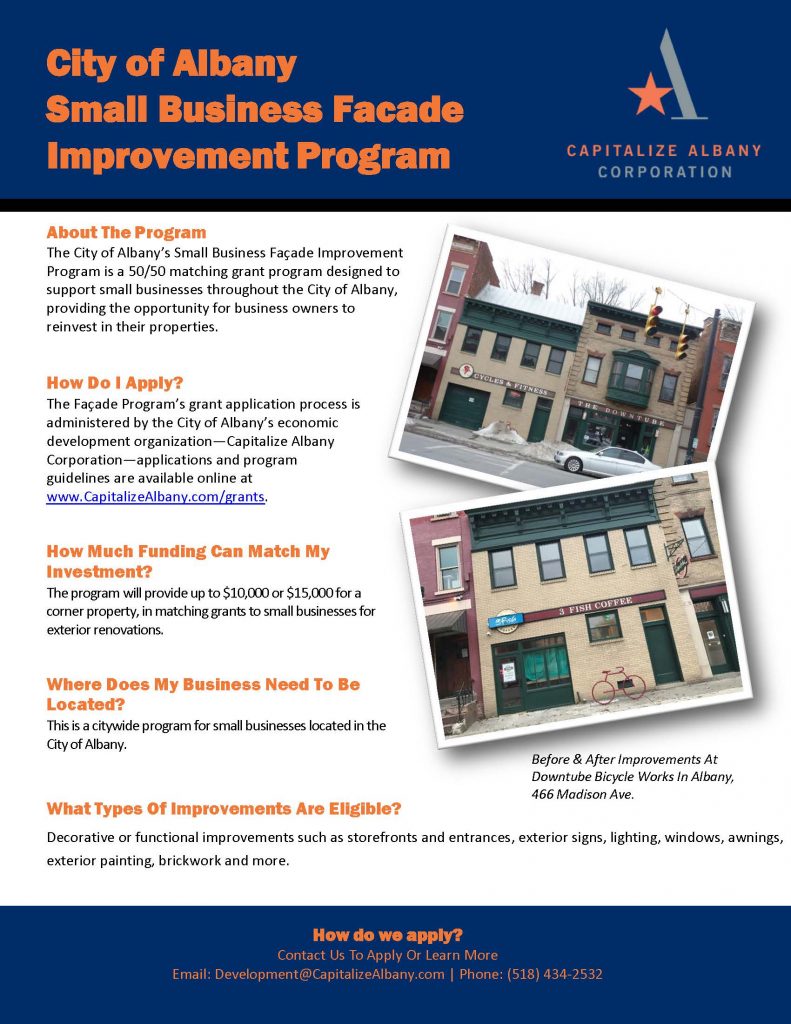 City of Albany Mayor Kathy Sheehan, joined by Capitalize Albany Corporation and the Albany Community Development Agency, announced the renewal of the City's Small Business Facade Improvement Program. Applications are available for the second round of a matching grant program that helps small businesses throughout the City reinvest in their properties.
The announcement was made at Downtube Bicycle Works and 3Fish Coffee cafe, 466 Madison Ave in Albany. One of several awarded first round applicants, in 2015 an upstairs fire significantly damaged its building, forcing the small business to preserve as much as possible and rebuild. With support from the Program, in 2016 Downtube reopened for business. Its garage door was replaced with a new storefront and other exterior improvements such as signage were made. In early 2017, the business expanded and 3Fish Coffee café featuring unique pastries and light fare was added next door.
The Small Business Facade Improvement Program, made possible by the Albany Community Development Agency's (ACDA) neighborhood revitalization funding will provide up to $10,000 ($15,000 for a corner property) in matching grants to small businesses for exterior renovations. Administered by the City of Albany's economic development organization—Capitalize Albany Corporation—applications and program guidelines are available at www.CapitalizeAlbany.com/grants.
Details on eligible improvements can be found in the application. An overview of improvements or renovations eligible to receive support include decorative or functional improvements such as exterior signs, lighting, energy conservation, windows, awnings, storefronts and entrances, doors, brickwork, painting, repair to decorative details, cornices, correction of code violations, removal of non-historic materials, and upgrades of blighted buildings. Grants can also support renovations to improve compliance with the Americans with Disabilities Act. Improvements to interiors or sidewalks are not eligible improvements.
The program is not only designed to support and provide critical assistance to small businesses within the City of Albany—guidelines also encourage the creation of low barrier to entry level jobs for City of Albany and Capital Region residents. In an effort to increase employment opportunities for local residents, the City of Albany's office of Youth & Workforce Services will be available to work with awarded applicants on identifying localized talent for their expanding small businesses.