Plan for First Downtown Residential New Construction Project Progresses
January 19, 2018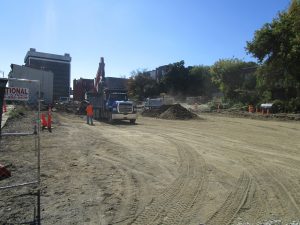 A new construction project at 760 Broadway will transform the vacant property, bring new revenue to Albany's taxing jurisdictions and create a total of 88 new apartment units. The project is expected to be completed in the fall of 2019.
To take shape at the 1.4-acre parking lot, the $18.5 million construction of a new 6-story, 132,636 sq. ft. mixed-use building will bring 88 new apartment units to downtown. The project is estimated to create two full time jobs and 100 construction jobs. The unused property was identified as priority catalyst site in the Impact Downtown Albany strategic plan due to its ability to connect the business district with Albany's warehouse district to the north on both Broadway and North Pearl Street. The project led by Fairbank Properties will be the first residential project built from the ground-up in the central business district. The building will offer up to 110 interior garage parking spaces on its ground floor, additionally there will be one 500-1,200 sq. ft. retail space on the ground floor with frontage on Broadway.
The project is made possible through assistance provided by the City of Albany Industrial Development Agency in the form of New York State sales and mortgage recording tax exemptions and real property tax abatements. Over the next 20 years, the properties are estimated to generate $2,186,502 to the local taxing jurisdictions—an increase of more than $1.5 million or more than three times the revenue anticipated to have been collected without this new investment. Once its PILOT agreement concludes the project is projected to produce $500,884 in real property taxes annually. The project's assistance was approved in 2016. On Thursday the City of Albany IDA board approved an amendment that recognizes the project's recent design changes.