Art For All Weekend In Downtown Albany
July 30, 2018
A multi-day weekend event made possible in part by the Amplify Albany Grant Program will drive foot traffic downtown, supporting local businesses — Albany Center Gallery's Art For All event takes place August 3rd and 4th. Mural tour tickets and additional info is here: https://www.eventbrite.com/e/capital-walls-mural-tour-tickets-48031191587.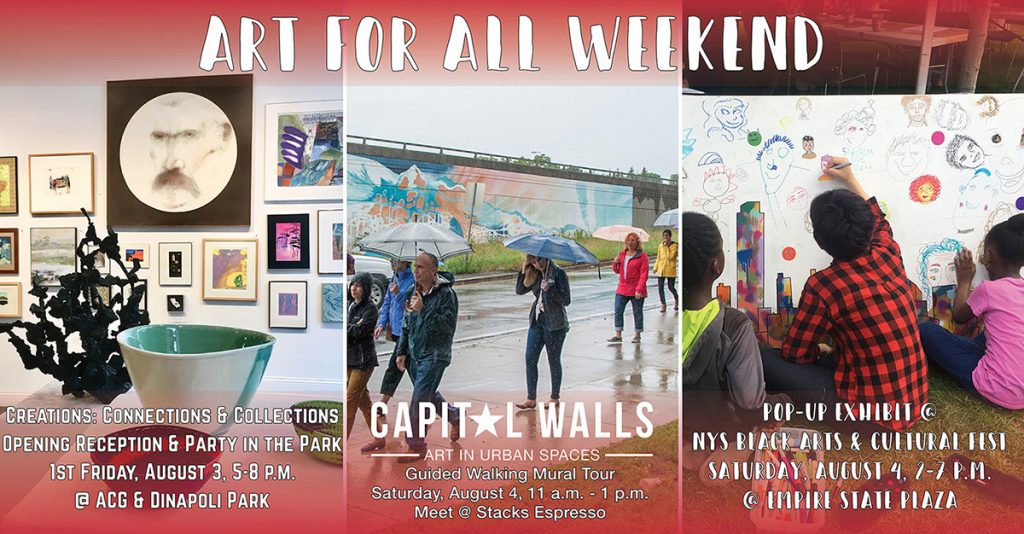 Friday, August 3, 5 – 8 p.m.
Friday is the opening reception of Albany Center Gallery's next exhibit, Creations: Connections & Collections in conjunction with a free summer party hosted in front of the gallery in DiNapoli Park. This event will serve as the weekend initiative's kick off, DiNapoli Park is located at Broadway and Pine/James and Maiden. The event will feature a public art exhibit via a mobile mural that all are welcome to participate in. The event will also feature a live DJ and an exhibit showcasing the newly painted benches, seats and chessboard in the park which feature work from local artists.
Saturday, August 4, 11 a.m. to 1 p.m.
The following morning, curator Tony Iadicicco and ACG staff will lead the public on the #CapitalWalls Mural Tour, a walking tour of the several murals in downtown Albany. With downtown restaurant stops along the way, the group will be accompanied by the mural artists who will speak about the process and inspiration of their murals.
Tour Stops Include:
Stacks Espresso: "Recycled Robots" in DiNapoli Park.
Broadway, right on Columbia: Rachel Baxter's mural "The River Flows in Two Directions."
Quackenbush Parking Garage: HellBent's "Mix Tape" mural and artist Michael Conlin's "Bluebirds" mural.
30 minutes at Olde English Pub: A free appetizer, included with event ticket.
Olde English Dog Park: Mural by Chip Fasciana and Mark Gregory.
Corner of Maiden Lane & North Pearl: Rachel Baxter's second mural "You Are Here, Too" and a free Cider Belly donut, included with event ticket.
Green-Hudson Parking Garage: Cara Hanley's "Illuminated" mural and Sylvie Kantorovitz' "Back Home" mural.
30-min. visit at Loch & Quay for a final beverage or snack and discussion of a possible in-progress mural. Tour members will also be encouraged to visit Fort Orange General Store.
Saturday, August 4, 2 p.m. to 8 p.m. – Pop-Up Exhibit at Black Arts & Cultural Festival
ACG's annual pop-up exhibit at BACF will showcase local artists' art inspired by black culture and heritage. The festival, held at Empire State Plaza, will feature a community mural painting as part of ACG's pop-up exhibit. An artist will oversee the painting activity.