First Phase Of Transformative $78 Million Downtown Albany Project Under Way
February 22, 2019
The first $21.5 million phase of a transformative $78 million investment in downtown Albany is under way beginning with the renovation of a vacant 112,000 sq. ft. office building, 16 Sheridan Avenue. Announced by Governor Cuomo in December — Redburn Development Partners will invest $78 million to renovate and rehabilitate seven prominent buildings in downtown Albany.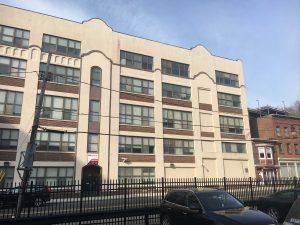 Supported in part by the City of Albany Industrial Development Agency — the $78 million estimated project's $21.5 million first phase will transform the former Knickerbocker News' 16 Sheridan Avenue headquarters into 'The Knick' — 132 market-rate apartments and 3,500 sq. ft. of retail space planned for a restaurant. On Thursday the City of Albany IDA board approved an application to provide assistance to 16 Sheridan Avenue, LLC in the form of New York State sales tax exemptions. Redburn Development Partners is pursuing assistance from the City of Albany's 485a tax abatement program. The project will create 12 permanent jobs and 130 construction jobs, interior demolition has started with construction to begin soon. Redburn Development plans to have the project at 16 Sheridan Avenue completed by fall 2019.
A significant investment, furthering Impact Downtown Albany strategy implementation, the total estimated $78 million investment will create 350 mixed-income apartments and more than 50,000 sq. ft. of commercial and retail space that is expected to attract at least 450 new residents to downtown Albany. Empire State Development is providing a $5 million performance-based capital grant, including $2 million as part of the Capital Region's Upstate Revitalization Initiative.
All seven downtown properties include: The Kenmore Hotel (74 North Pearl Street), Steuben Athletic Club (1 Steuben Place), The Knick (16 Sheridan Avenue), Capital Repertory Theatre and Garage (111 North Pearl Street), 39 Columbia Street, Kennedy Garage (43 Columbia Street), and 55 Columbia Street.
Located in the City of Albany's DRI zone, further maximizing the initiative's impact, w/support from @NYGovCuomo, @EmpireStateDev, Redburn Development will invest $78M to renovate & rehabilitate seven key downtown buildings: https://t.co/WI3eRSDZSX #ImpactDowntown pic.twitter.com/Cca6yt8yO8

— ᴄᴀᴘɪᴛᴀʟɪᴢᴇ ᴀʟʙᴀɴʏ (@CapAlbanyCorp) December 14, 2018
In September, the City of Albany was selected as the Capital Region winner of the third-round Downtown Revitalization Initiative (DRI). These buildings are located within the Clinton Square neighborhood, Albany's DRI zone. The transformation of these buildings, combined with projects selected to receive the $10 million DRI award, will create a hub that connects and catalyzes economic activity and growth across downtown, its surrounding neighborhoods and the warehouse district.