Registration Open For Irish Sweat-er 5K and Family Cultural Festival In Downtown
March 12, 2019
The Irish American Heritage Museum, in partnership with the Downtown Albany Business Improvement District and ARE Event Productions, will host the second annual Irish Sweat-er 5K in Albany. Supported in part by the Amplify Albany Grant Program, the IAHM will offer an expanded slate of events for the second annual initiative. The events' programming — including lectures, musical presentations, a popular Irish Soda Bread baking competition, storytelling, and Irish step dancing — will culminate in a full weekend of family-friendly events in downtown Albany on St. Patrick's Day Weekend, complementing the annual Parade. Hundreds are expected to participate in the various activities, supporting businesses throughout the district.
The 2019 initiative expands the 'Irish Sweat-er 5K' race with added community value by incorporating a downtown restaurant as a pre-race packet pickup location. Also, a post-race celebration for all registered runners will be held at the IAHM featuring traditional Irish food, beverages, and music alongside the Museum's exhibits. These new additions are designed to encourage event-goers to support local businesses and organizations. Registration and more information can be found here.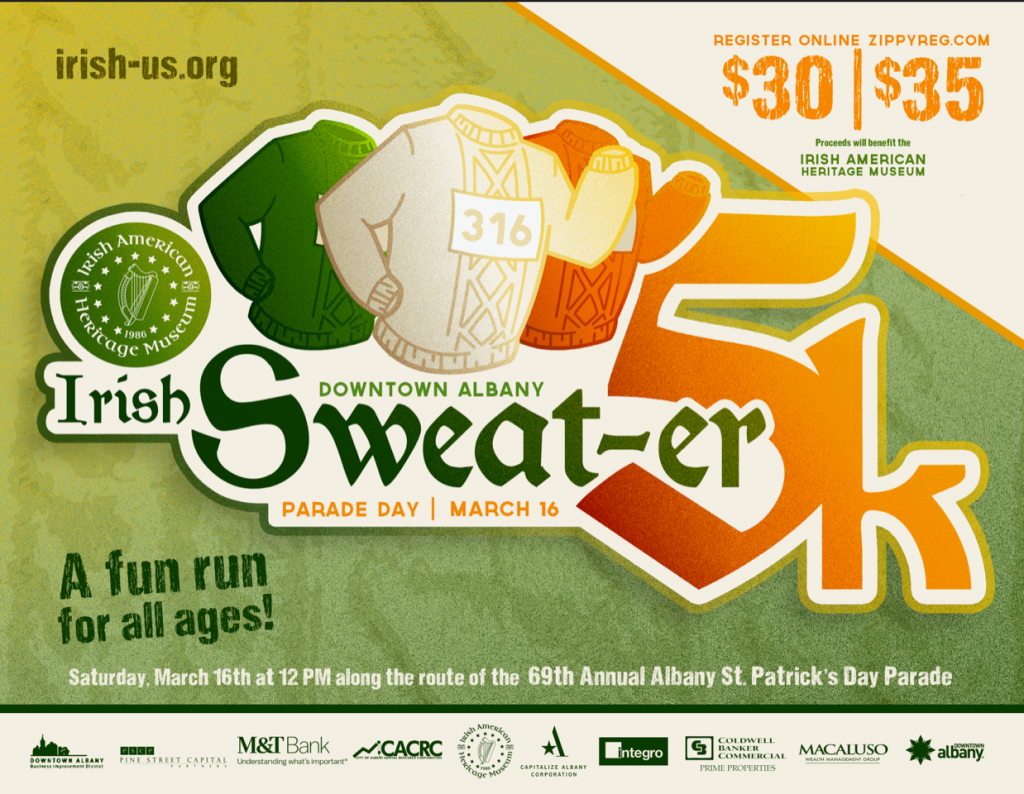 Friday, March 15
The weekend's events will commence with packet pickup for the Irish Sweat-er 5K. Public House 42 will serve as the official advance race-bib pickup location from 4 p.m. to 7 p.m.
Saturday, March 16
The second annual Irish Sweat-er 5K — a "fun run" will utilize the route of the Albany St. Patrick's Day Parade. The race will kick off at noon at State and James Streets. Hundreds will be registered for this race. A post-race event will be held at the IAHM encouraging foot-traffic at nearby businesses.
Sunday, March 17
The Irish American Heritage Museum will be open with live music performances by Chris Gil and a short history lecture about Irish customs and traditions delivered by Dr. Elizabeth Stack. Both the 16th and 17th will feature arts and crafts for children, and food and snacks will be served.