Upstate Revitalization Initiative Award Announced To Support Liberty Park Redevelopment, Downtown Poised For Unprecedented Success
May 16, 2019
Today, Governor Cuomo announced more than $22 million in New York State funding to support two transformational projects in Downtown Albany. Empire State Development (ESD) will provide up to $15 million in Upstate Revitalization Initiative funds to Capitalize Albany for the redevelopment of Liberty Park. This funding will support acquisition, demolition, stabilization of property, infrastructure and public space improvements, design, planning, construction and renovation costs. ESD approved $10.1 million requested for associated preliminary costs at this morning's Board meeting.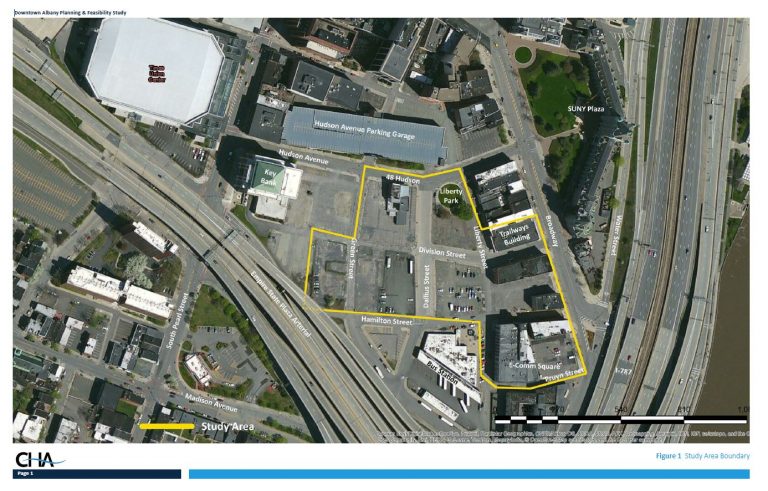 Complementing this announcement ESD will provide up to $7.3 million to the Capital District Transportation Authority to support construction of its Bus Rapid Transit Line. Governor Cuomo is also establishing a task force to study the potential for a new intermodal center on property adjacent to Liberty Park that would support both projects. This funding and the Intermodal task force greatly enhances the opportunities at Liberty Park, the BRT will support bringing our workforce to employers, and better connect the University at Albany to downtown. Capitalize Albany will continue to work closely with CDTA and other partners.
"Growing our downtown communities requires investments that support the creation of vibrant, walkable cities and invite people and businesses to establish roots and flourish," Governor Cuomo said. "These projects will further that goal by encouraging the redevelopment of an underused property in a prime Downtown Albany location, while also advancing the region's mass transit opportunities, spurring economic growth for the entire region."
Thank you @NYGovCuomo. This marks the start of a new era for the Capital City's downtown core. With this award Liberty Park is poised for success. We look forward to more work with our partners @EmpireStateDev, @AlbanyCCA & @CDTA to achieve this site's highest and best use. pic.twitter.com/2vt5Pye3DF

— ᴄᴀᴘɪᴛᴀʟɪᴢᴇ ᴀʟʙᴀɴʏ (@CapAlbanyCorp) May 16, 2019
The Liberty Park site is recognized in the Impact Downtown Albany strategic plan as downtown's largest development opportunity. While this is an undertaking of great magnitude, the Corporation is confident that with the continued support of Governor Cuomo and its local and Regional revitalization partners, the Corporation's more than 30 years' experience as the City of Albany's economic development organization will help guide Liberty Park site redevelopment toward its highest and best use.