Opening Of The Knick In Downtown Albany
December 12, 2019
The formerly vacant building at 16 Sheridan Avenue in downtown, which was once home to The Knickerbocker News, has been transformed into "The Knick." This exciting project features more than 130 apartments, and occupancy is already approaching 75 percent. On the building's 3,500 sq. ft. first floor, construction is underway and what will soon be home to The Yard | Hatchet House and Bar, featuring an indoor lawn for games and league-quality hatchet cages for axe throwing.
John Maggiore, senior advisor to Governor Andrew Cuomo, joined City of Albany Mayor Kathy Sheehan, Redburn Development Partners, and state and local leaders Wednesday to officially welcome The Knick to downtown Albany.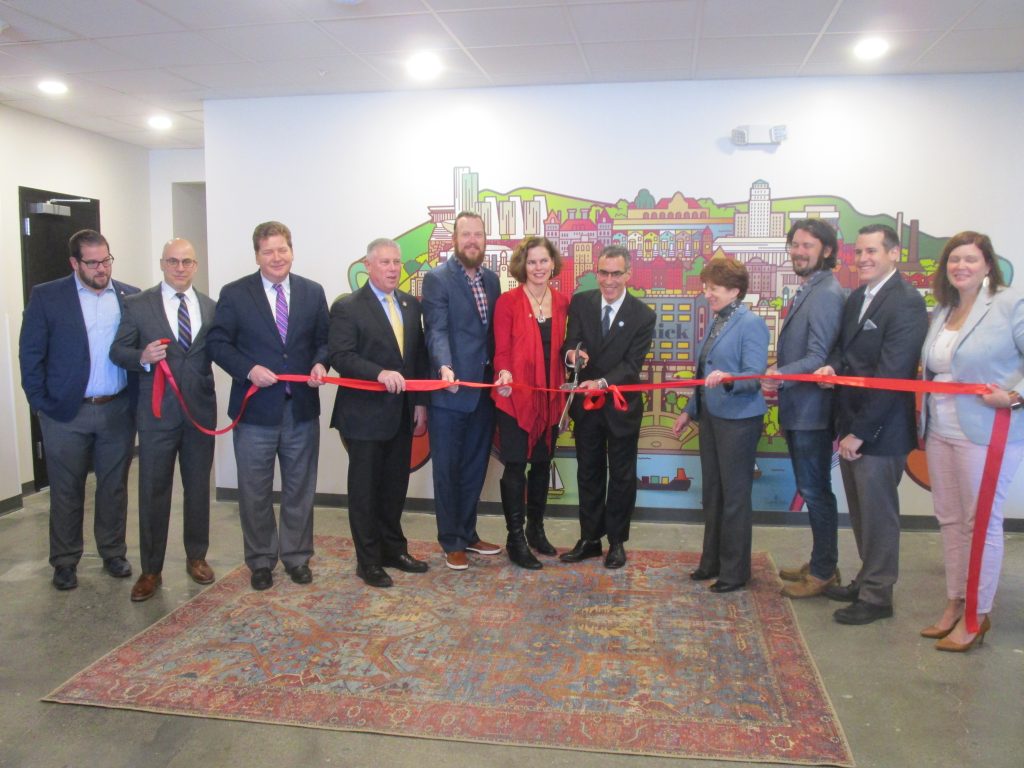 "We are making strategic investments statewide to transform our downtown areas into vibrant, walkable places that invite young professionals to live, work and establish roots within their communities," said Governor Cuomo. "The transformation of The Knick serves as a great first step in Redburn Development's Kenmore project that is bringing more people, businesses and excitement to Downtown Albany."
Made possible with support from @NYGovCuomo, @EmpireStateDev, celebrating Phase 1 of Redburn Development's $78M+ downtown #Albany investment, The Knick @ 16 Sheridan Ave. "We are fortunate not only to just witness Albany's transformation, but be a part of it too," @JohnMaggiore6 pic.twitter.com/LLl0ZEJ9TN

— ᴄᴀᴘɪᴛᴀʟɪᴢᴇ ᴀʟʙᴀɴʏ (@CapAlbanyCorp) December 11, 2019
The $21.5 million transformation of 16 Sheridan Avenue is the first phase of Redburn Development Partners' more than $78 million investment in several prominent downtown Albany properties that was announced by Governor Cuomo in Dec. 2018. The investment will create 350 mixed-income apartments and more than 50,000 sq. ft. of commercial and retail space. Once completed, these buildings are expected to attract at least 450 new residents to downtown Albany. Empire State Development has agreed to provide up to $5 million through a performance-based capital grant, including $2 million from the Capital Region's Upstate Revitalization Initiative fund. The Knick and other Redburn Development properties currently under renovation are also receiving support from Capitalize Albany Corporation and the City of Albany Industrial Development Agency.
The full list of Redburn's downtown projects includes: The Kenmore Hotel (76 North Pearl Street), Steuben Athletic Club (1 Steuben Place), The Knick (16 Sheridan Avenue), Capital Repertory Theatre and Garage (111 North Pearl Street), 39 Columbia Street, Kennedy Garage (43 Columbia Street), 55 Columbia Street and 82 North Pearl Street.
These buildings are located within Albany's Clinton Square neighborhood, selected as the Capital Region's Round 3 Downtown Revitalization Initiative community, and will attract significant private sector investment through the restoration of highly visible and iconic structures. The transformation of these buildings, combined with DRI projects selected to utilize the $10 million DRI award, will create a hub that connects and catalyzes economic activity and growth across downtown and into the city's Warehouse District.