Making Progress on a $48 Million Project in Arbor Hill 
February 10, 2020
Looking ahead to spring, Home Leasing has passed the halfway mark in its construction of more than 200 affordable housing and mixed-income residential units within 70 row houses in the Arbor Hill neighborhood and along Clinton Avenue and Ten Broeck Triangle.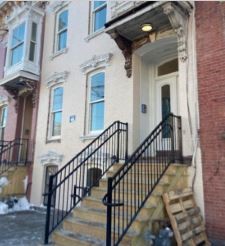 To date, 27 buildings have been completed. Restoration work is continuing, and more than two dozen buildings are being worked on at one time. Tours can be scheduled for those who would like to see the progress for themselves, and The Clinton Avenue Apartments is already accepting applications for studio, 1, 2, and 3-bedroom apartments. Completion of the entire project is planned for late this year.
Located in Albany's Clinton Square Downtown Revitalization Initiative zone, the new investment will forge a connection between downtown and its surrounding neighborhoods – an Impact Downtown Albany plan priority. The scattered-site project was made possible with City of Albany industrial Development Agency assistance, and involves the revitalization of a total of 210 units within 70 row houses and on 2 vacant parcels.
More photos and construction-updates can be found on the Corporation's Instagram.