Back To Business: Nine Pin Ciderworks
August 19, 2020

Nine Pin Ciderworks, the state's first farm cidery, has been able to survive the economic downturn caused by the coronavirus crisis thanks to emergency regulatory changes enacted by Governor Andrew Cuomo, according to the company's co-founder and manager, Sonya del Peral.
"We were able to pivot because the state opened up new avenues of revenue for us with delivery and shipping," del Peral explained. "… We had to learn fast to create a shipping and delivery business, because with alcohol, you can't just go to the post office. It was very hectic, but we're not a huge company. One of the benefits of being small is you have the benefit of being nimble enough to shift gears quickly."
Del Peral is co-founder and manager of Nine Pin Ciderworks, a craft cider company located in Albany's warehouse district; a member of the New York Forward Re-Opening Advisory Board and of Capitalize Albany's Board of Directors.
Before the governor ordered a near-complete lockdown of all but essential businesses in March in an effort to flatten the coronavirus infection curve, Nine Pin's business model was about 70 percent wholesale and 30 percent retail.
Both of those avenues were virtually decimated by the virus, and the governor's granting of shipping and delivery privileges, which were heretofore prohibited by the state, gave the company a lifeline through which it could continue to sell its products and also maintain engagement with its customers.
"There is a demand for the product," she continued. "What I worry about is the culture, the social culture around the product and the loss of engagement and the events. We're missing out on some of our really fun events."
Helping to make up for the loss of festivals, orchard visits, cider pressing parties and more has been the city's willingness to expand outdoor dining, which has been a very popular option as the weather warmed, del Peral said.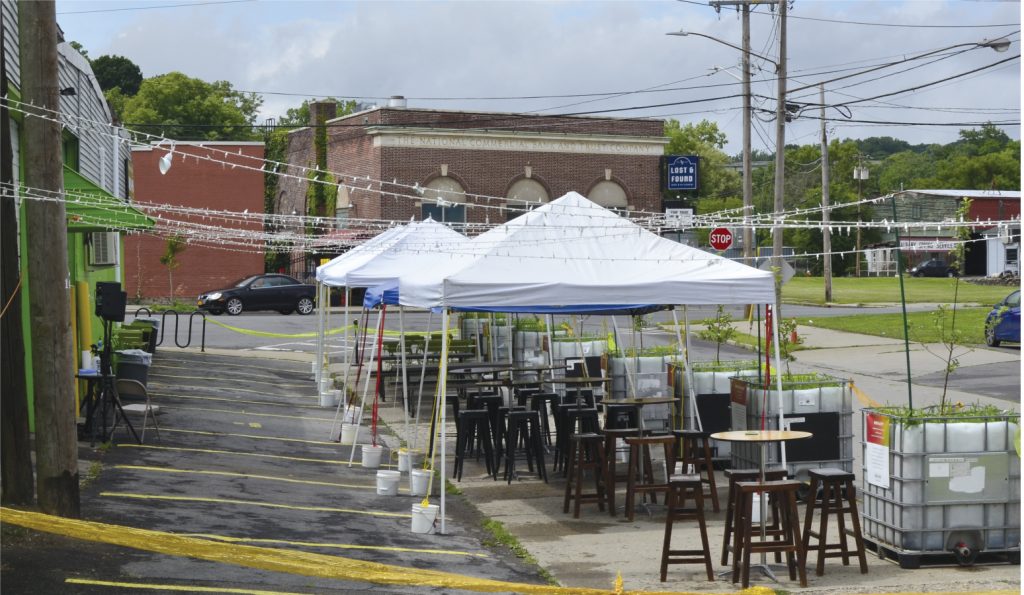 Nine Pin's outdoor café, open Thursday through Sunday, is located on Thatcher Street and bordered by 10 apple trees in portable totes. Each of the trees has its own descriptive poster, adding an educational element to the cider-sipping experience.
The outdoor space seats about 45 people, with tables well over the six feet apart requirement for safe social distancing, del Peral said. Each table has its own tent, to protect patrons from the hot summer sun.
Nine Pin was also able to secure a small loan through the federal Paycheck Protection Program and was "very fortunate" not to have to lay off any members of its staff, del Peral said, though its payroll did shrink slightly as a result of attrition and now stands about 16 individuals strong.
There's one more challenge that Nine Pin faces, though it's a familiar one: The weather. The company's mission is to support New York agriculture by producing craft ciders using 100 percent New York grown fruit.
This year some areas of the state experienced a deep freeze, which caused about a 25 percent loss in the apple crop. Thankfully, not every orchard was impacted, and Nine Pin has strong relationships with a wide array growers, enabling it to source what it needs to keep producing its popular products.
Del Peral is still planning for the future, to the extent that's possible at this highly unpredictable time. She would like to be able to develop a new line of ciders, with unique monthly offerings. But that, is dependent on whether the regulatory changes remain.
"We are confident that we can make it with these legal privileges in place," del Peral explained. "…We've got our fingers crossed. The state has invested in this industry over the last ten years, and so it would really be a shame to pull the rug out from under it now."
ABOUT BACK TO BUSINESS
Businesses in the City of Albany have faced significant and unprecedented challenges over the past several months. Capitalize Albany Corporation and its partners and city stakeholders have worked hard to provide resources, information, and support to those businesses to help them weather this difficult period.
Just like the City itself, the business community is innovative, resilient, and time-tested. Its members have adapted and are learning to live, and even thrive, in the new normal. In the coming weeks, we will be sharing their stories and talking to them about what they have learned as a result of recent difficulties, what they think lies ahead, and, most importantly, how we can be helpful — collectively and as individuals — in the face of ongoing uncertainty. If your business has a story to tell, or know of a business that you would like to see featured, please contact us, here.