Back To Business: Pelagie Hair Braiding
August 12, 2020
Businesses in the City of Albany have faced significant and unprecedented challenges over the past several months. Capitalize Albany Corporation and its partners and city stakeholders have worked hard to provide resources, information, and support to those businesses to help them weather this difficult period.
Just like the City itself, the business community is innovative, resilient, and time-tested. Its members have adapted and are learning to live, and even thrive, in the new normal. In the coming weeks, we will be sharing their stories and talking to them about what they have learned as a result of recent difficulties, what they think lies ahead, and, most importantly, how we can be helpful — collectively and as individuals — in the face of ongoing uncertainty. If your business has a story to tell, or know of a business that you would like to see featured, please contact us, here.
Pelagie Jackson knows what it's like to start from nothing.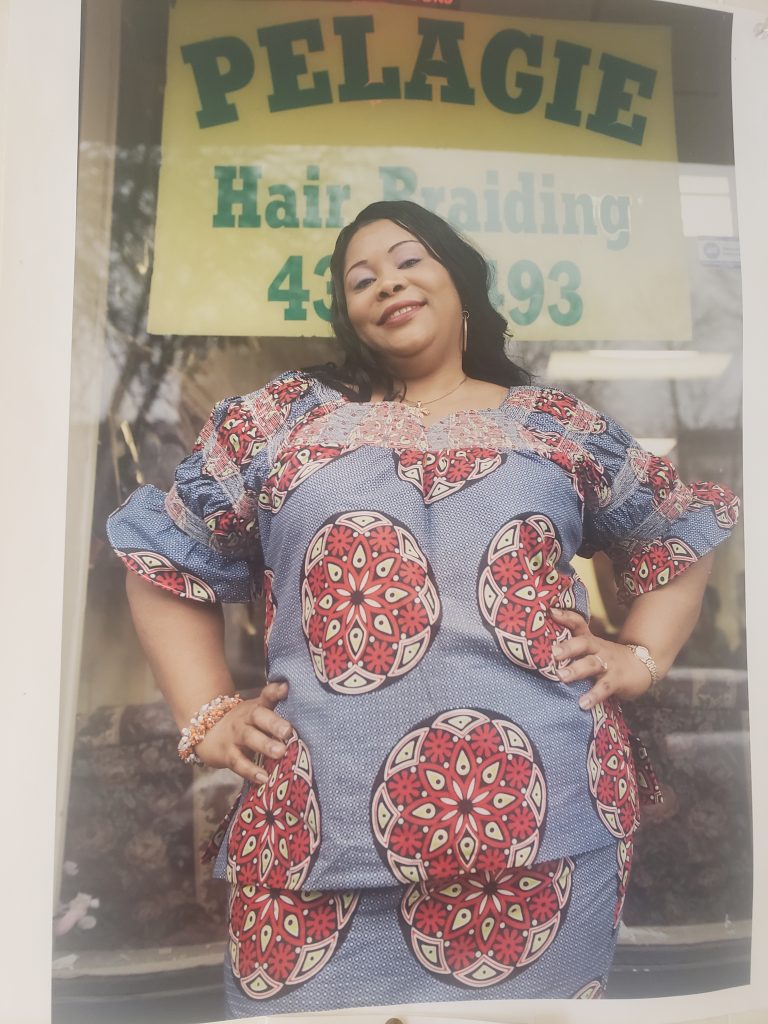 When she came to the U.S. in 1994 from the Ivory Coast, Jackson had no job and no contacts. But she knew how to braid hair — a skill she honed by braiding grass when she was growing up in Cameroon.
Jackson, 49, landed a job braiding hair at a shop in the heart of Harlem's central business district. She soon made a connection with a woman who owned a similar shop in Albany and started traveling up the Thruway to assist the woman, staying Thursday through Sunday.
She liked that Albany was quieter than New York City, and decided to relocate upstate permanently in 1998. It wasn't long before she set up shop for herself at 26 Central Ave. Over the years, she built up a thriving hair braiding business that at times employed up to six people. She has been at her current location for 20 years.
And then the pandemic hit, forcing Jackson – like the majority of small business owners – to shut her doors out of fear of infection – a decision she made just a few days before Governor Andrew Cuomo officially issued a stay-at-home policy in an effort to flatten the curve.
Now that she has been allowed to reopen, Jackson is working to slowly rebuild her business. It isn't easy, she said, but the experience she had when she first arrived in the U.S. helped prepare her for this challenge.
"This is what I went through when I came in 1994," Jackson said. "Mentally, in my head, I'm prepared. There's nothing you can do with the pandemic; it's very scary. But there is something I can do: Work hard."
The week she reopened, Jackson recalled, she was overwhelmed with customers.
"The phone would ring, and people were begging me to come in," she said. "They would say, 'Thank-you, Jesus! I'm all messed up.' They were very happy, and it made us feel good, because I was like, 'Oh my God, people really appreciate me!' I can make people smile and look beautiful again…I almost closed down. I was so stressed and worried. I didn't know what was going to happen."
Demand has slowed since then, but the challenges remain. Jackson is still working to catch up on the rent and bills that piled up during the months her shop was closed. And she also has to purchase supplies, which she cannot afford unless she has customers – and she cannot serve customers without supplies, creating something of a difficult cycle to break.
Braiding is a time-consuming service to provide. The duration of time that must be allocated for each customer depends on the style he or she has chosen. Basic corn rows, for example, can take anywhere from two to four hours to complete.
Jackson said she is focused on complying with public health regulations required by the state, including the wearing of masks – by both customers and employees – sanitization and maintaining social distancing when possible. (Of course, braiding someone's hair requires being quite a bit closer than six feet away).
Jackson spends a lot of time trying to help others. She also works part-time for the state Office for People With Developmental Disabilities and has founded a nonprofit organization that focuses on supporting and celebrating women and children.
Usually, the group, called Auanzeh, throws a Mother's Day party at one of the local senior citizens facilities in the city, which they unfortunately were not able to do this year as a result of the pandemic. The group also throws an end-of-the-year party during the holiday season that Jackson hopes might still take place.
"I like to put a smile on people's face," she said. "That's why I like to do hair, that's why I like to take care of people who can't take care of themselves. That's my calling."