Back To Business: Prinzo's Bakery
September 30, 2020
When the pandemic struck, Prinzo's Bakery didn't miss a beat.
The family-owned business was considered "essential" as it provides a variety of bread and rolls to walk-in and wholesale customers, and so it remained open throughout the lockdown put in place by the state to curb COVID-19's spread. It did not close a single day.
"We stayed open and then, as the restaurants were able to do take out and so on, we were able to start to deliver to regular customers and picked up some new customers as well," recalled Philomena Prinzo, whose husband's family has owned and operated the bakery –located at 344 Delaware Ave. since 1978 – in various Albany locations for six decades.
"We were doing everything we possibly could to stay open and stay profitable," she added. "…We were fortunate that we were able to stay in business."
Staying open and running a seven–day–a–week business in the middle of a major public health crisis was no small undertaking. Prinzo's made a number changes to their operation, in keeping with public health protocols, to assure the safety of customers and workers alike.
Those changes included installing plexiglass barrier at the cash register, stepping up an already stringent sanitation routine with a focus on high-touch surfaces, requiring masks when a safe distance between employees could not be maintained, establishing curbside pickup, and enforcing a six-foot-apart rule that meant only two people could be inside at a time.
This last change sometimes required some customers to wait on the sidewalk while others were served. And they were willing to wait. Prinzo's is widely known for its bread (Italian is its specialty), rolls and pizza dough; and neighborhood residents who were in the habit of walking in for their daily dose of fresh, yeasty goodness did not let COVID-19 stand in their way.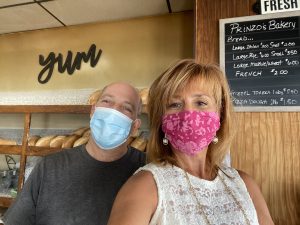 "In the store we have a sign that says: 'Give up carbs? Over my bread body.' We know our people will come back to us," Prinzo said.
Prinzo said the bakery did not suffer from the widely reported shortage of baking supplies – like yeast and flour – experienced by home cooks as a result of a surge in breadmaking at the lockdown's outset, because their suppliers were able to keep them stocked with what they needed. They did, however, sell blocks of their commercial yeast to customers who asked for it.
"We buy it in blocks," Prinzo said. "It looks like margarine and there are so many blocks to a box. We would buy a few extra and then could take out one block to sell to people. If we had enough to spare, we were more than willing to give it to them…We were happy to share."
Keeping things clean and taking precautions against COVID-19 is personal for Prinzo. She is particularly concerned for her husband. He suffers from asthma, but nevertheless works at the bakery seven days a week because, his wife said, "he wants to make sure his customers are taken care of" – a habit ingrained in him by his father, who learned his skills from Joe's maternal grandfather, who started the business, then known as Porcello's Bakery, in downtown Albany.
Prinzo, who oversees cleaning at the bakery, supports her husband in his daily endeavors and is also a licensed real estate agent, said the bakery did not lay off any employees as a result of the economic downturn wrought by the pandemic, though its workforce has shrunk slightly as some decided not to return.
Though the bakery is humming along, and the holiday season, which traditionally is a busy time of year, lies ahead, Prinzo still worries about the future.
"I hope that we don't have to go through it all again," Prinzo said. "It was stressful; I know it's stressful on everybody, but working in the bakery business, that's our livelihood. We've done things to make sure going forward financially if we have to shut down, we won't be devasted."