Back To Business: The Yard | Hatchet House And Bar
September 16, 2020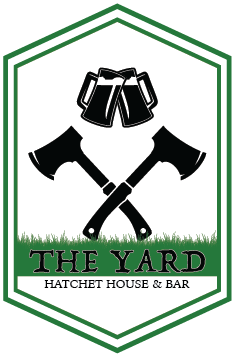 Leyla Kiosse thought about The Yard | Hatchet House and Bar for years before a single axe was thrown there.
The mastermind behind downtown Albany's combination bar and axe throwing/indoor turf establishment had been practicing law for more than a decade when she decided she needed to make a career change. She wanted to do something fun, she said, and believed that the neighborhood was sorely in need of entertainment options to entice more people to live there.
"What I dislike most about Albany is the weather, which is not the fault of Albany, it is what it is," Kiosse said. "I felt we needed a unique activity that would bring the outdoors inside and also address how crappy the weather is here eight months out of the year."
A bought of insomnia led Kiosse to an article in Inc. magazine about a couple who threw axes in their backyard for fun and turned that hobby into an enormously successful business. She was intrigued and thought she had finally landed on a concept that matched her desire of extending the all-too-short upstate summer season by bringing some of its iconic activities indoors.
After working extensively on her concept – a process that included a four-week solo trip across the U.S. in search of cool and outside-the-box venues to provide inspiration – Kiosse found a partner in Redburn Development, which was looking for an anchor tenant for its apartment building at 16 Sheridan Ave. that would generate both buzz and interest in the property.
Thus, The Yard was born.
Kiosse started opening on a limited basis this past January, relying on word of mouth to spread the word about her new venue, which features not only axe throwing cages, but also a variety of well-known lawn games like Cornhole and Ladderball and some less familiar pastimes (at least here in the U.S.) such as Kubb, Molkky and Petanque.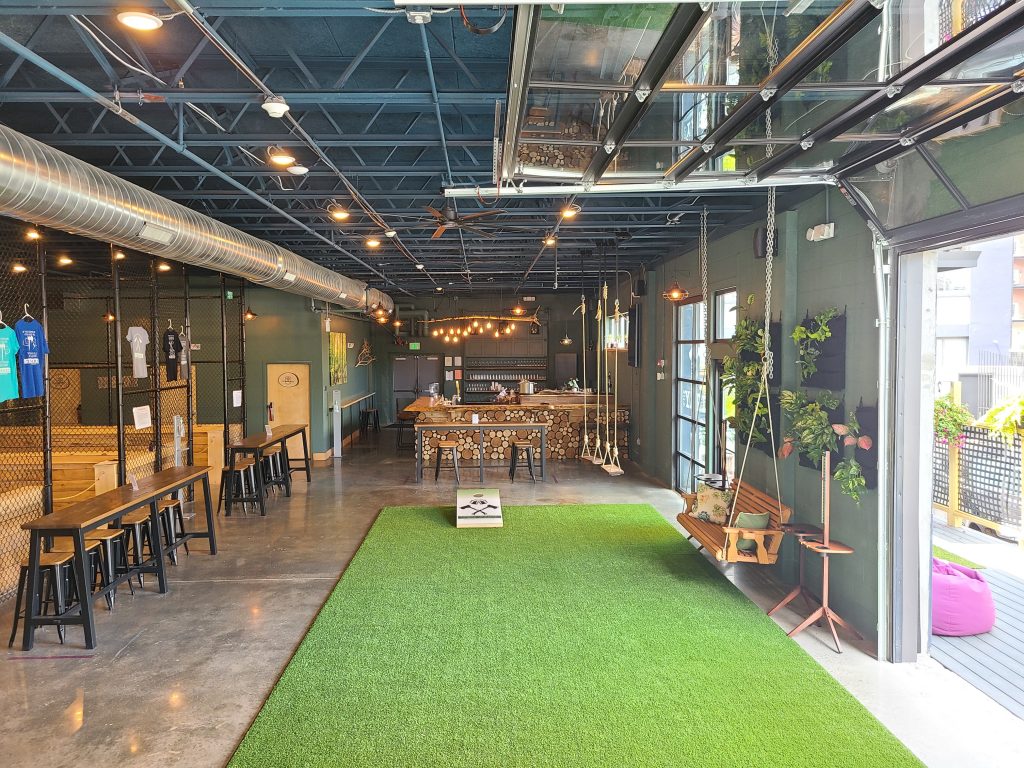 Kiosse was preparing for a big grand opening celebration in mid-March, with a full weekend of festivities planned. And then came COVID-19 and the governor's order that all but essential businesses shut down in order to try to curb the spread of the virus.
"I didn't know what to do," Kiosse recalled. "The hardest part in all of this is I am here through no fault of my own. It was all ripped completely away, and I couldn't do anything about it; I still can't. My life was turned upside down, my husband's life. It was already upside down because I decided to do this. I would never have foreseen this problem…I was prepared to take risks, (but) this is not an up and down, this is a complete atomic bomb."
Kiosse, like so many other restaurant and bar owners, has struggled with the reopening requirements from the state Liquor Authority. The mandate that substantial food – not merely snacks – must be served along with alcohol was a significant hurdle, she said, as The Yard lacks a sizable kitchen and her business model never included offering a full menu to patrons.
In some areas, however, Kiosse is going above and beyond the state's recommendations about how to operate safely during the pandemic. For The Yard, 30 to 35 percent capacity feels safest to her, not 50 percent, she said. And that's about 35 people, which is exactly how many chairs she has available inside, and 40 to 45 if the weather is nice and she can offer outdoor seating.
"I let that money walk away," Kiosse said. "I can't take the risk that somebody is standing up without their mask and they want to drink their beer and then forget to put it up. I'm strict about the mask thing."
As far as axe throwing and lawn games are concerned, Kiosse is currently only operating two of her four throwing cages – with participants required to wear masks and make regular use of hand sanitizer – and just corn hole, because it easily lends itself to social distancing.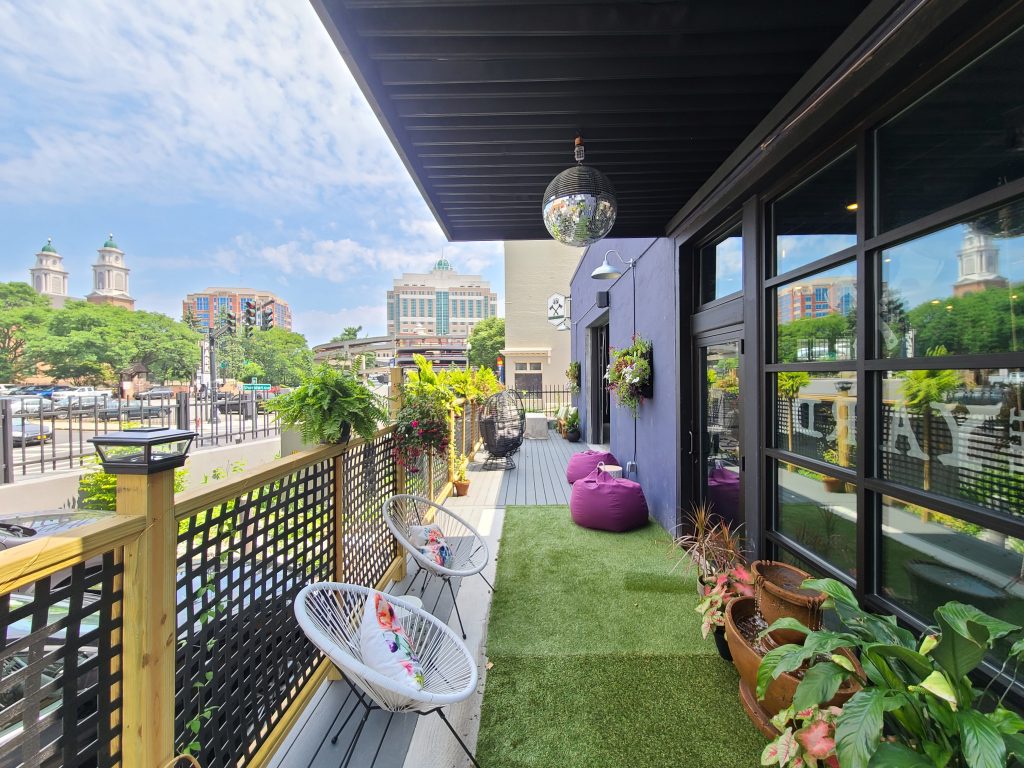 While The Yard was shuttered from late March through early June, Kiosse cast about for something that might help keep her business afloat. She couldn't do takeout, due to the aforementioned kitchen problem, and instead eventually settled on Boozy Moo – a line of premium, handmade alcohol-infused ice cream that she dreamed up in her home kitchen.
The SLA did not allow her to hold an introductory Boozy Moo event planned in late May, saying that liquor-infused ice cream wasn't legal under state law, even though some downstate establishments had been offering it for years.
At the time, it was legal in New York to sell ice creams made with beer, cider, mead or wine, and a bill allowing liquor-infused ice cream, as long as the percentage of alcohol is less than 5 percent, was passed by the state Legislature in early March but had not yet been signed into law by the governor. Gov. Andrew Cuomo did sign that bill in early August, and Boozy Moo was subsequently back in business.
Kiosse now offers a set list of Boozy Moo flavors, including Drunken Baker (vanilla, chocolate chip cookie dough, and vodka); Samurai Futaba (fresh ginger, candied ginger, and Japanese whiskey); and Kentucky Butter Pecan (butter pecan, brown butter candied pecans, and Knob Creek Bourbon). There's also a weekly featured flavor, which Kiosse debuts on Instagram every Monday.
Boozy Moo quickly gained popularity, with Kiosse offering custom flavors for special orders as well as pints, half pints, scoops, cookie sandwiches and sundaes available at The Yard or by call-in for pick-up or delivery. (Online ordering had to be discontinued due to overwhelming demand, Kiosse said). She also has a tent set up outside every Friday evening, where people can taste the flavors that are available for purchase across the street inside her bar.
Kiosse hopes to keep growing Boozy Moo, which is something of an insurance policy should dire predictions regarding a second wave of the virus come to pass, requiring another round of extended business closures.
"The future of The Yard I don't know, because come Nov. 4, who the hell knows what the future of anything is – no matter who wins," Kiosse said, referring to the looming presidential election. "All I can tell you is that when people come here for the first time, they love it. I'd like to think that this is a place that will survive. But what that depends on – frankly, it's infuriating – is what other people do."