Back To Business: Bull Moose Club
October 21, 2020
Tom Nardacci opened Bull Moose Club, a coworking space at 150 State Street, in January 2019, filling a need in the Capital Region and creating more opportunity for flexible office space.
The inspiration comes from Nardacci's experiences when he was building out his first business, Gramercy, which is now one of New York's leading public affairs firms. During that time, he spent hours in coffee shops, needing to get out of the house and create a sense of routine. He quickly realized that while coffee shops are great, they are not built for entrepreneurs. Twelve years later, when looking to build out a new business, Nardacci decided to create what would have been perfect for him over a decade earlier.
"I specifically chose downtown Albany because I knew the area well, understood the working landscape, and liked the direction of things in downtown Albany over the past 10 years," Nardacci said. "I was excited to make my own investments downtown."
After Bull Moose Club opened, they experienced very quick success, selling all 23 of their built-out office spaces within the first eight weeks of opening. They used this momentum to plan and execute more than 20 social and networking events in their first year. Nardacci was adamant about creating a lifestyle for those who work and are building out their businesses at Bull Moose Club.
And then the pandemic hit, and like the vast majority of small businesses owners, Bull Moose Club was forced to close its doors. At the beginning, there was little indication about what reopening for businesses would look like.
The effect was quickly felt. The space immediately lost close to 75 percent of coworking members and Bull Moose Club was forced to cancel all events. However, more than 90 percent of permanent office users kept their memberships.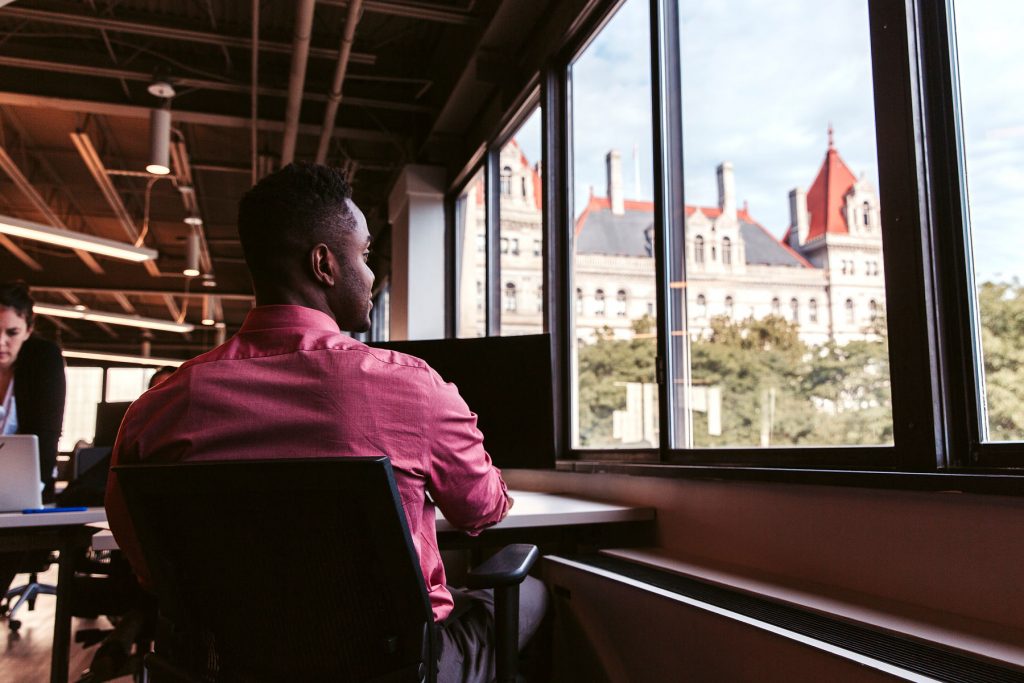 "The small office user is a major driver for our revenue," said Nardacci. "As such, we are very flexible to our coworkers and members."
As the tide began to turn in New York, Nardacci and his team noticed that people were hungry to return to in-person work. The transition to work from home (WFH) was a necessity, but it doesn't work for everyone. Many crave the routine and space that an office provides.
Using this as inspiration, the team immediately went into hyperdrive to outfit Bull Moose Club with the latest health and safety protocols. They turned to experts who helped them build out safe working spaces which now include upgrades to the space's air filtration system and nightly professional cleaning services. When it came to reopening, Nardacci followed one simple rule.
"Bull Moose Club wouldn't reopen until I, personally, would feel comfortable coming back."
Now, Bull Moose Club is operating using social distancing best practices, enhanced cleaning protocols, and by choice staying under the 30 percent max capacity. Quickly, people started coming back.
Nardacci is now looking towards the future. He knows that the coronavirus has changed how everyone thinks about the office and their routine – it leaves a lot of room for ingenuity.
"We are seeing that people are eager to return to the office. Coworking and flexible office space will benefit companies like mine in the long-term."