Owners Of Two Albany Eateries, The Ziemanns Are Back To Business
October 7, 2020


While other restaurant owners were struggling at the height of the pandemic to keep their doors open, with some forced to cease operations for good, husband-and-wife team Kaytrin and Devin Ziemann not only kept their two Albany eateries going, but also moved forward with plans to open a third location in Schenectady.
"We said, 'Should we just walk away?' We must have talked about it a million times," recalled Kaytrin Ziemann, speaking of the space at 512 State St., Schenectady where the couple will be soon be opening The Nest – a sibling to The Cuckoo's Nest, a contemporary Southern cuisine restaurant on Albany's Madison Avenue.
"We had already invested so much money in renovations, and the thought of walking away and somebody else using the space, it just made us so upset," Ziemann continued. "We decided we would just figure it out, have a long-term, 10-year vision, and hopefully this will clear up and Proctors will re-open and people will go back to work, and it will still be an amazing location."
The Ziemanns did halt work on The Nest while they focused on their Albany locations, which also includes Crave, a fast-casual hamburger spot at 217 Western Ave., almost directly across from The Cuckoo's Nest, which, in November 2017, took the place of a longtime staple on the local dining scene, The Ginger Man.
"We both wanted to be very present in Albany to make sure those places stayed busy and successful," Ziemann said. "We stayed open all the way through (the pandemic-induced lockdown). We stayed busy. We kept everybody employed…we were really happy about that."
"My mindset was; 'I refuse to close. We will figure this out,'" she added. "We took it one day at a time. We learned how to run a really successful takeout business from March through June, and now we're ready for anything at the Schenectady location."
The Nest, which was originally scheduled to open at the end of March – just about the same time as the governor ordered all but essential businesses to shutter in an effort to curb the spread of COVID-19, will now open its doors this month.
The menu of the new location, which the Ziemanns had planned to be on the upscale side, has changed slightly to accommodate lessons the couple learned while adjusting their business practices to meet the challenges of the "new normal."
Prior to the pandemic, Crave was already doing a brisk take-out business and making a lot of deliveries, but, Kaytrin Ziemann said, there was still a considerable learning curve when it came to transforming the Cuckoo's Nest from a fine dining, sit-down experience to a takeout model in the lockdown's early days.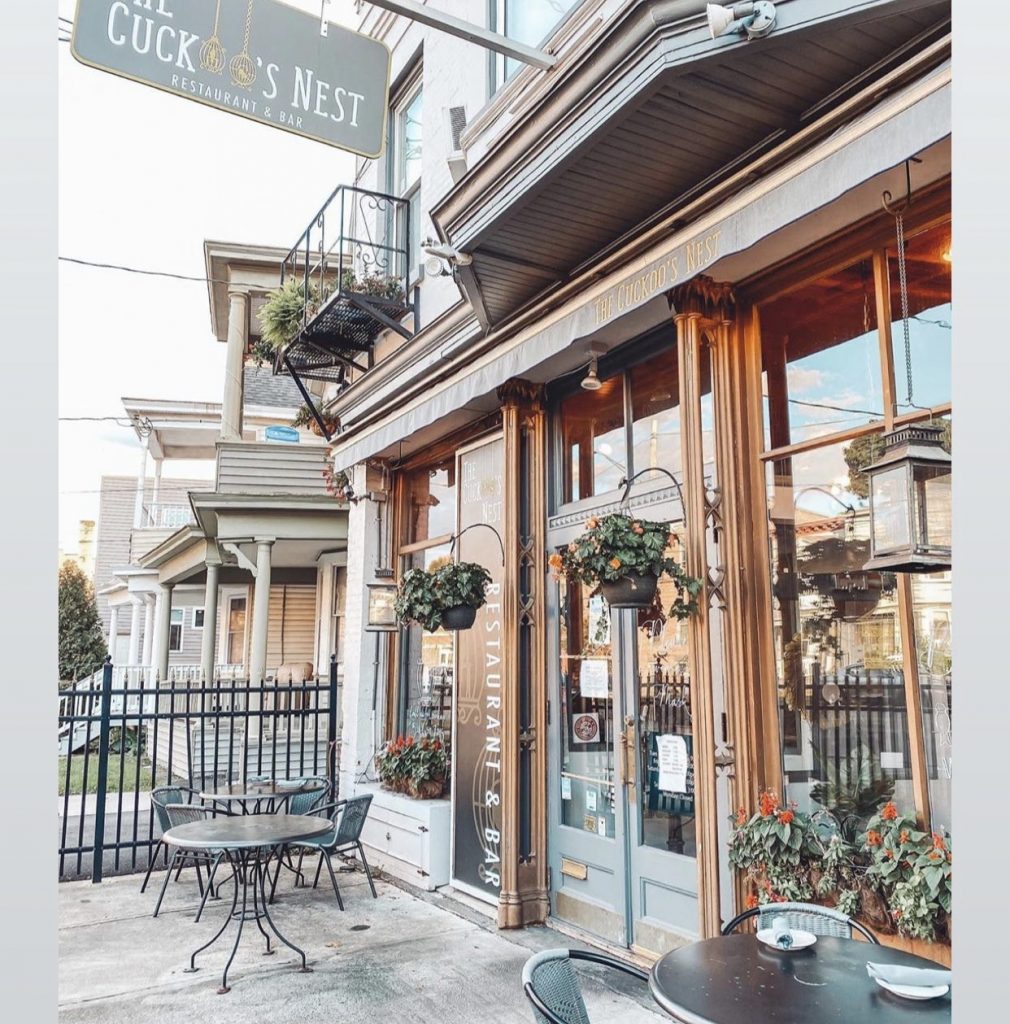 "Getting the kitchen to transform was a challenge," she recalled. "Imagine 10 orders hanging on the board, and all want to be picked up at the exact same time with 50 different food items and 20 have modifiers. It's an organization game and a preparation game – having things prepackaged boxes and bags labeled. It's the ultimate organizational job, and you have to have to get everything right."
Good customer service in the age of a mostly take-out model means ensuring that a customer doesn't get home only to find something – like a side or a sauce or a special order – is missing. The rule of thumb, Ziemann said, is: "Read the ticket, reread and then read it again; count the boxes, count the sides. It's not just putting something in a box and handing it out to someone."
As the rules regarding dining relaxed, allowing for socially distanced indoor as well as outdoor options, the Ziemanns adjusted and innovated yet again, repaving the driveway next to the Cuckoo's Nest, adding a tent and flowers and boosting their table availability up to their maximum capacity. As the weather turns colder, the couple will be looking into heat lamps and hope to extend the outdoor dining season through October and possible even into November.
The reopening of nearby colleges was both helpful and a concern for the Ziemanns. It brought an influx of customers, but also an uptick in COVID-19 cases on campuses – a particular worry, given that most employees at Crave and the Cuckoo's Nest are students. The key, Kaytrin Ziemann said, has been to maintain open communications with the staff and also to double down on sanitizing while strictly enforcing the use of masks and other public health protocols.
"Sanitizing was something we were already doing, but we're trying to be extra conscious of everything," Ziemann said. "So far, we've been – thankfully – safe and clean. I have a great relationship with my staff they talk to me all the time. They value the business enough to tell me if they might have been exposed. They don't come in and get tested."
Also key, she added, is setting an upbeat tone: "We really try so hard to always be on the positive side of things. That also helps in the overall atmosphere. If the people in charge are annoyed or mad all the time, it's going to rub off on everyone."
Looking ahead, the Ziemanns have a full plate – running two existing businesses, getting a third up and running, all while raising their toddler son, Calvin. They're hoping for the best, but also recognizing that a lot of what might be coming down the pike is out of their control.
"The industry we're in, we don't have a choice but to do our best and be positive," Kaytrin Ziemann said. "…We're just starting this, and it's the rest of our lives. We have a son, we hope to have more children, we need to make this work because this is our whole world."