Back To Business: Delaware Community Farmers' Market
November 2, 2020
The coronavirus pandemic has changed the way we shop, with more consumers turning to on-line purchasing, curbside pick-up and home delivery in an attempt to avoid getting infected.
But these methods don't work for everyone. They come with an added expense and also require reliable online access, which is a luxury for some.
Thankfully for Capital Region residents who needed groceries – especially fresh, healthy produce – but wanted to avoid in-store shopping, the area's many farmers' markets have remained open through the lockdown and beyond.
That includes the Delaware Community Farmers' Market, which was held every Tuesday from 4-7 p.m. through the warmer months, and 3-6 p.m. over the past few weeks, in the parking lot behind the Delaware branch of the Albany Public Library (331 Delaware Ave).
The final market day of the year will take place tomorrow (Tuesday, Nov. 3) starting at 3 p.m.
Like other local markets, this one adapted to meet new public health protocols, but, according to Louise McNeilly, who heads the Delaware Area Neighborhood Association (DANA) that was perhaps a little easier here because the market is relatively small. At the height of the pandemic, there were three participating farmers and one baker; recent additions include a woodworker and a nut purveyor. There was also a recent visit by the Vegetable Project's youth farmers.
"The library has been closed, so we have more room to separate the vendors," McNeilly said. "We got tons of very good information from Ag and Markets, and we put in signage about where people can stand. It has been working fine. Actually, more people are cooking and thinking about healthy food."
The market is a DANA project that has been taking place since at least 2000, McNeilly said. It was one of the first of its kind in the area, and it has remained small. That might result in slightly less selection, but also keeps things affordable for neighborhood residents.
This is particularly important, McNeilly noted, as the market has become a lifeline for many seeking fresh and locally grown produce.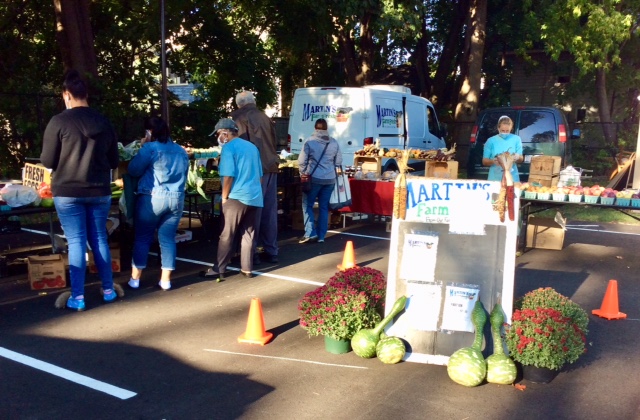 There are small specialty shops on the Avenue – including favorites like Cardona's Market and Andy's & Sons Importing Co., both of which specialize in Italian products. But there is just one grocery option within walking distance – Price Chopper-Market 32. It's almost on Lark Street, which is a considerable distance for those without cars to navigate on foot carrying heavy bags.
Many were very upset to see the other local grocery, Save-a-lot in the plaza heading out of the city toward Delmar, close earlier this year, and some take public transportation to the further-flung shopping centers.
The farmer's market, by contrast, is conveniently located right in the middle of the neighborhood. It takes EBT/SNAP and WIC coupons and vendors aren't charged a fee to participate, which helps make the products on offer even more affordable.
The market also strives to be a community resource, with regular appearances by Cornell Cooperative Extension representatives as part of the Healthy Neighborhoods program. Local musicians are welcome, and there's a community information table to keep people up to date about neighborhood happenings. A recent pop-up book-browsing event hosted by the library was very well received, McNeilly said.
Prior to the pandemic, there were also ice cream socials and activities for kids, which had to be curtailed this year. But McNeilly said market participants really seemed to appreciate the opportunity for some face-to-face interaction – with masks on and observing the six-foot social distancing rule.
Unlike some other local farmer's markets, the Delaware market does not move indoors for the winter. But it does brave dropping temperatures to stay open late into the fall and serve shoppers. It starts its season a little later than some others might, McNeilly said, because the farmers with whom it works don't usually have much to offer until the growing season really kicks in around the third week in June.
"We're not a destination market," McNeilly said. "We've watched others grow and become huge. We're a neighborhood farmer's market. We know we're never going to be fancy, but we're very affordable and friendly."
This market is about much more than healthy food, although that's certainly an important focus. It's about building and maintaining a vibrant, diverse and caring community. For more information and updates about the Delaware Community Farmers' Market and its vendors, please check the Facebook pages of DANA and/or the Albany Public Library.