Back To Business: Historic Albany Foundation
November 30, 2020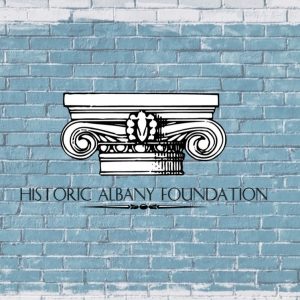 The coronavirus pandemic has presented unprecedented challenges for every business and organization. But some, through a combination of ingenuity, creativity, adaptability and a little luck, have managed not only to survive, but thrive during this unusual time.
That has been the case with the Historic Albany Foundation, which has been advocating for, and educating people about, the city's unique built environment since 1974.
According to its executive director, Pam Howard, Historic Albany has experienced a "record-breaking" year even though one of its main sources of revenue – the parts warehouse on Lexington Avenue – closed for two months as a result of the lockdown last spring.
"As soon as we opened, people were here; we have been crazy busy and it's continuing," Howard said. "We were about $25,000 dollars over goal."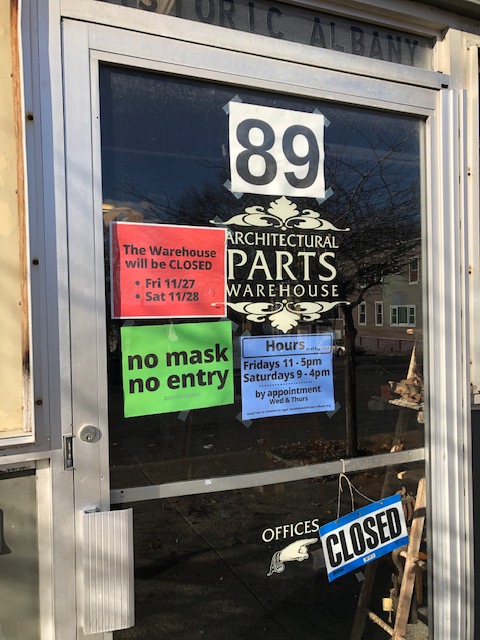 This phenomenon was due in large part to a surge in home improvement projects. Thanks to travel, shopping, entertainment and work restrictions imposed to curb the spread of COVID-19, many people are hunkered down at home. This has led to a frenzy of cleaning, renovating and upgrading, and the parts warehouse is benefitting – big time – from this trend.
"We were able to beef up our inventory, and we've gotten some really fantastic stuff," Howard said. "We also do contactless delivery and home pick-up. You just put your old toilet, or your doors or windows at the end of the driveway, call to set up an appointment, and we come get it."
Among the treasures that arrived at the warehouse during this time was an original JL Mott Ironworks needle shower and curved base, which dated back to the early 1900s and came from a private home in Castleton. Interest in this rare piece was so high, that Historic Albany held a silent auction to sell it off.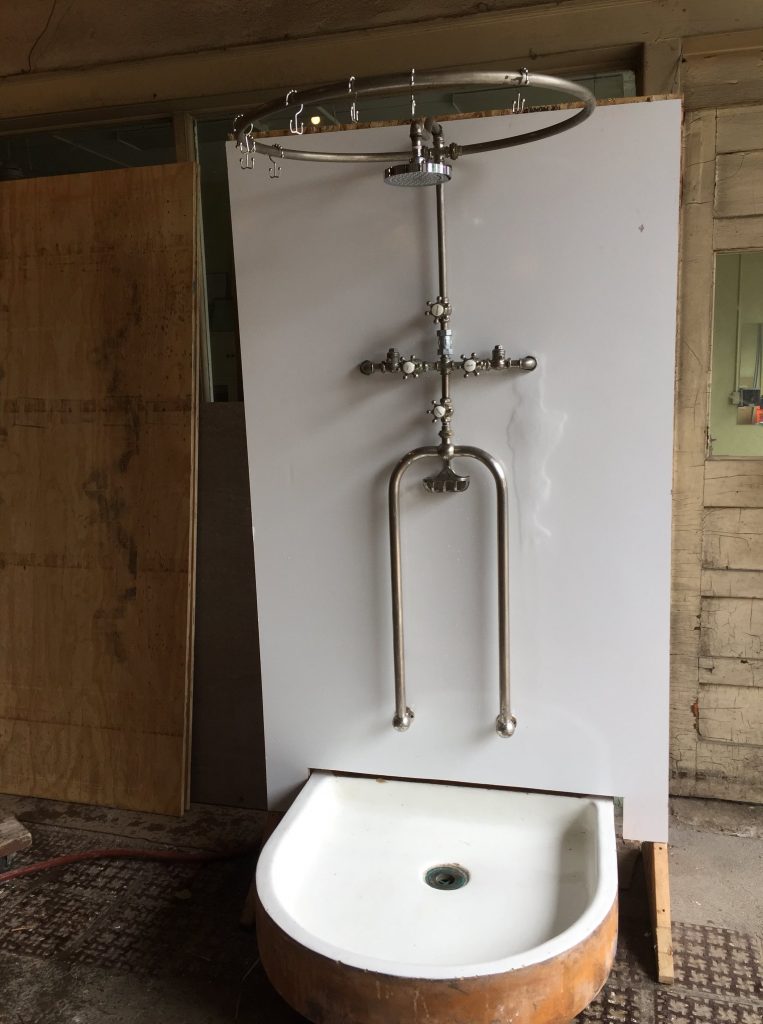 The warehouse and offices are large enough – about 12,000 square feet – that Historic Albany employees and volunteers were able to stay a safe distance apart from one another when they returned to work. Though some employees are still working at home, Howard said, she personally has been coming into the office, explaining: "As executive director, I really felt I can't ask people to do something I'm not doing."
Historic Albany's success throughout the pandemic is also the result of its staff's ability to pivot quickly and adapt programming, fundraising and membership efforts to exist in the virtual space. The organization's first big test came just as the virus struck as its largest annual fundraiser – the Moveable Feast – was scheduled to be held on April 4.
This event features a cocktail hour and dessert buffet at an iconic historic building somewhere in the city – this year's site was to be the downtown Renaissance Hotel. In between, participants fan out to dine at private homes throughout Albany. As a result of the lockdown, gatherings of any size were out, and the Historic Albany staff had to think quickly.
"It started as a joke, staff came in and said, 'Well, it looks like a stationary feast this year,'" Howard recalled.
That joke became a reality, as participants – who had already purchased tickets or agreed to host meals at their homes – were invited to keep the date, cook their own meals and post pictures of their creations online. The regularly scheduled auction of donated items and experiences, which was to be held virtually anyway, went off as scheduled.
The event was a smash hit. Howard herself prepared Chicken Marbella – a dish featuring garlic, olives, white wine and prunes. People dressed up and set their tables and took selfies, sharing them with their fellow virtual diners. The event ended up making more money than usual, as expenses – like a caterer, for example – were no longer required.
Historic Albany also hosted its annual "Built" auction of local art online, exhibiting the 150 featured pieces at the Woman's Club of Albany on Madison Avenue. A small party was held (prior to the recent surge in COVID infections) for sponsors and donors, at which participants were each given a glass of wine and a boxed cheese plate – "grown-up Lunchables," as Howard called them – to take home and enjoy.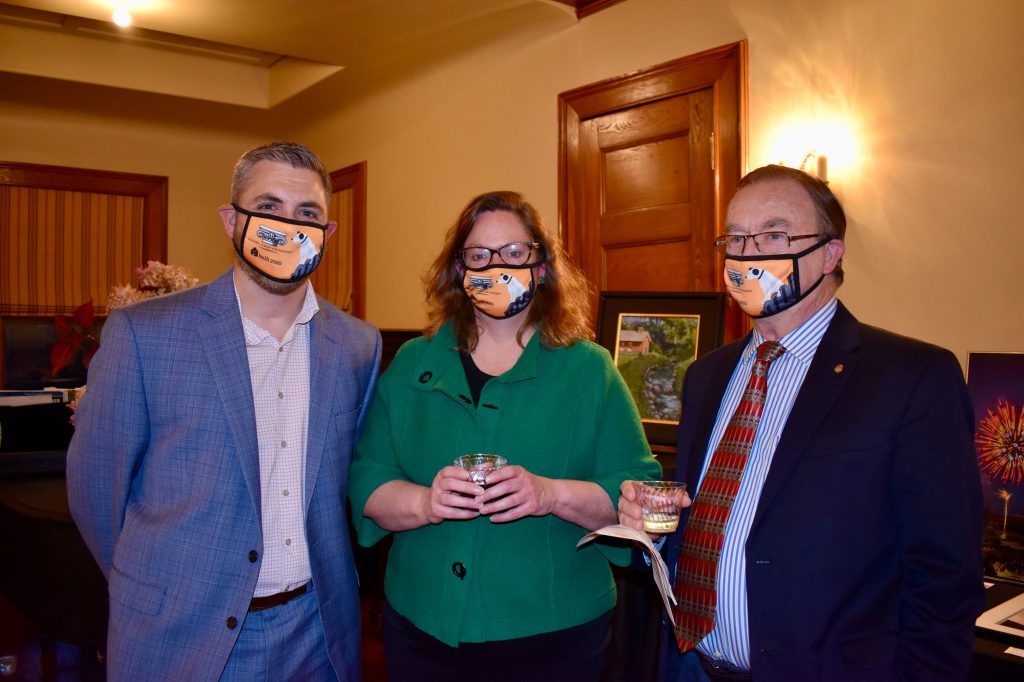 The event drew just over 300 people between the reception and gallery hours that were free and open to the public. The art auction was successful, selling approximately seventy five percent of the art offered – the same as what a so-called "normal" Built would sell. Financial goals were met, and income cases surpassed, and the event received positive feedback for being open to the public in a unique and historic setting.
The organization has also seen great success with its online programming, including "Technical Tuesday" – a blog and Facebook live series hosted by Director of Preservation Services Cara Macri that offers interviews, tours, and advice on a wide range of topics and projects.
This and other online efforts has broadened Historic Albany's reach and also appealed to a new and younger audience. Early on, the organization also qualified for a PPP loan, which Howard said was "extremely helpful."
Howard says she expects that much of the new online content Historic Albany is providing will continue when the pandemic is finally over, and things return to a new version of normal. She is looking forward to a day when in-person events are again possible but isn't completely sure what to expect.
"I don't know that anybody is going to do a cocktail party for 400 again," Howard mused. "I would love nothing more than to fill the auditorium at the State Museum for a lecture we cancelled last month, but everything right now is a crap shoot. We have been extremely lucky."