#BuildingAlb2020: How 2020 Will Help Shape A Brighter 2021
December 11, 2020
The end of the year is traditionally a time both for reflection and planning for the future. This year, which brought both unprecedented challenges and unexpected opportunities, this exercise is more important than ever.

At Capitalize Albany, we are taking inventory of 2020 while looking ahead with excitement to what 2021 will bring. In spite of the difficulties we have collectively faced over the past 12 months, it was an extremely productive year. That's thanks to the tireless dedication of our staff and volunteer board, as well as the continued support of our many stakeholders, economic development partners, City and state officials.

Through the pandemic we have focused on providing information and resources to businesses across the City to assist them in retooling their operations to not only survive, but also eventually thrive, in the new normal. Our ability to work collectively and tap into a broad network of likeminded organizations and individuals, all working toward the same goal, made us more confident than ever that the future of our City is bright.
This year cemented what we've always known – Albany is a prime destination in which to invest and grow. Over the past decade, citywide neighborhood plan-driven development has resulted in more than $1 billion worth of investment throughout Albany's neigborhoods.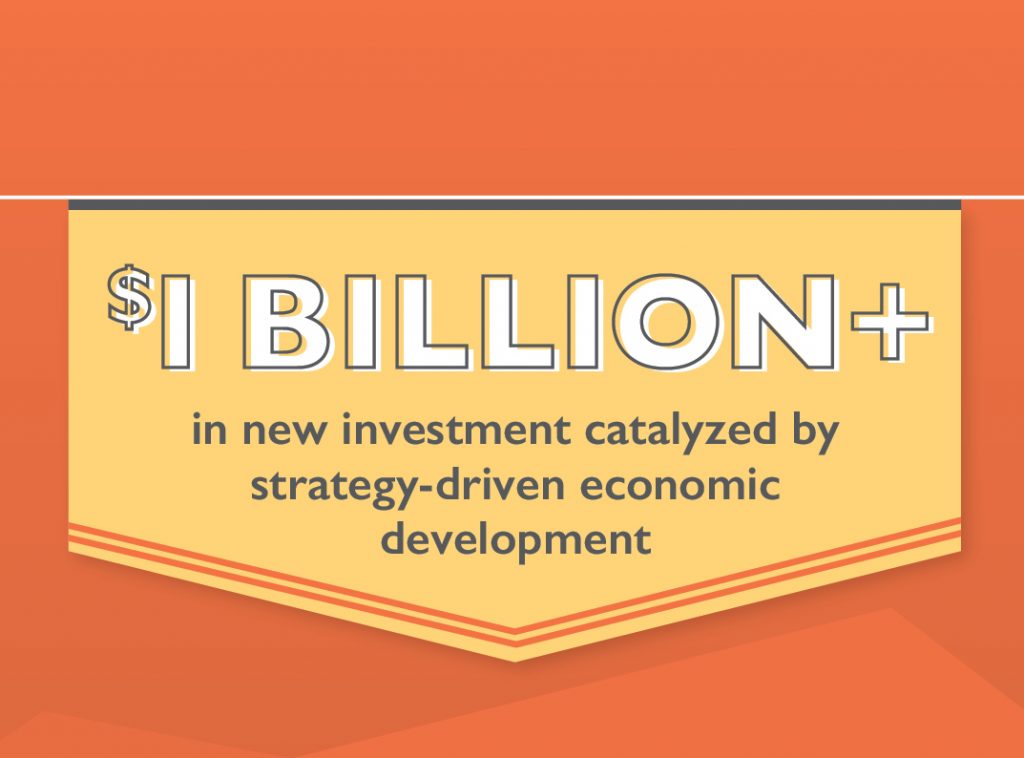 But, like everyone, we are not immune to the pandemic's economic impact. With support from the Albany Community Development Agency and the City of Albany Industrial Development Agency. the Small Business Adaptation Program awarded grants to 60 businesses which will help them reopen and reimagine their operations.

The recent news of vaccine developments has been encouraging and brings hope that the pandemic will soon come to an end. But we also recognize that many economic challenges remain, which is why it's more important than ever that we stay the course and continue making the kind of investments in our City that will help it – and the surrounding communities – flourish in the years to come.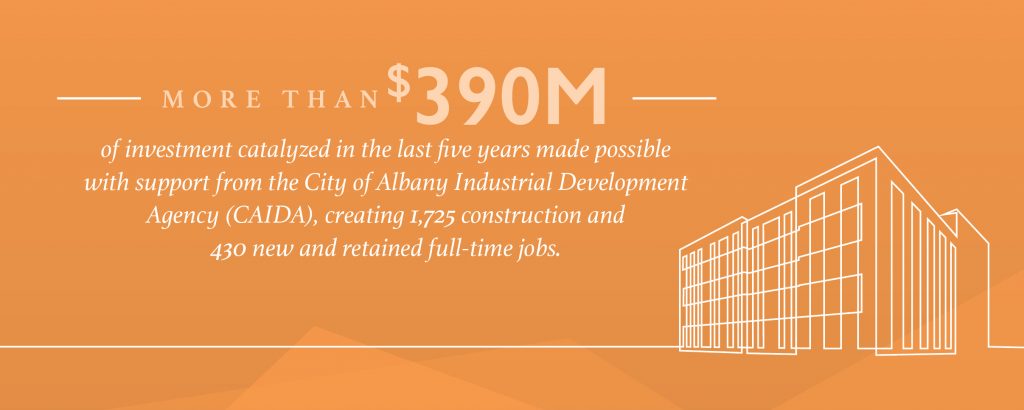 The coming year is shaping up to be a busy one as many exciting projects are already underway, including the Skyway. This undertaking is made possible with support from Governor Cuomo's $10 million Downtown Revitalization Initiative and construction is on track to begin in 2021. Located in Albany's Clinton Square, this project will ultimately result in the conversion of the underutilized I-787 northbound exit ramp from Quay Street to Clinton Avenue to create an elevated linear park. The Skyway will serve as a vital connection between downtown, the Arbor Hill and Sheridan Hollow neighborhoods, Albany's warehouse district, and Albany's Corning Riverfront Park.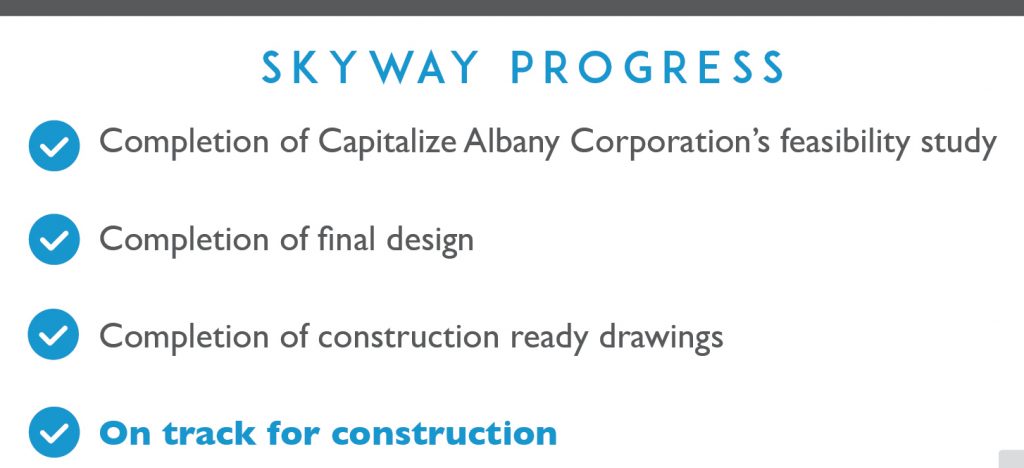 In addition, through the DRI, the Clinton Market Collective is underway working to transform 11 Clinton Avenue (Federal Park) — anchoring Clinton Square's role as both an engaging destination and an introduction to unique and vibrant local arts and commercial venues. The park's redesign and redevelopment will activate a key underused space at one of the Capital City's most crucial gateways, into a proving ground and space for diverse pop-up programming opportunities, local art, signature events and enhanced pedestrian connections.

There is so much opportunity on the horizon — an unprecedented level of investment is nearing completion in downtown. The largest project of its kind since the Downtown Albany Residential Development Initiative's inception in 2002 — Redburn Development is investing more than $80 million several prominent downtown Albany buildings, creating nearly 300 mixed-income apartments and more than 50,000 square-feet of commercial and retail space that is attracting hundreds of new residents to the downtown neighborhood.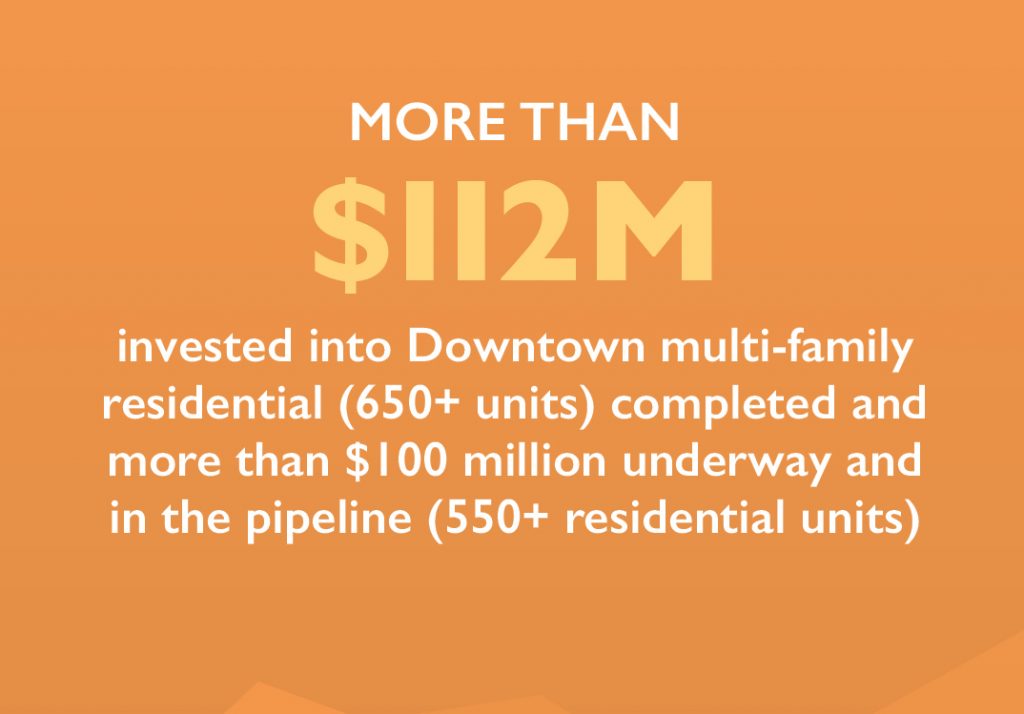 Throughout 2021 we look forward to tackling new challenges and doubling down on recovery efforts that will help to develop all areas of our City. We're grateful for the community's support and interest as Capitalize Albany works to make the City the best it can be and a vibrant place to thrive.
Thank you for being a part of #BuildingAlb2020. Please take a look at our 2020 digital annual report to learn more.