#BuildingAlb2020: Looking Ahead To 2021 With Redburn Development Vice President Elizabeth Young JoJo
December 10, 2020
There is so much opportunity on the horizon — an unprecedented level of investment is nearing completion in downtown. The largest project of its kind since the inception of the Downtown Albany Residential Development Initiative in 2002 — Redburn Development is investing more than $80 million into several prominent downtown Albany buildings, creating nearly 300 mixed-income apartments and more than 50,000 square-feet of commercial and retail space that is attracting hundreds of new residents to the downtown neighborhood. The Knick at 16 Sheridan Ave was completed earlier this year, and construction is wrapping up on the project at The Kenmore and throughout downtown. Leasing is well underway.

As part of our #BuildingAlb2020 update, we're taking a look ahead with Redburn Development Partners' Vice President Elizabeth Young JoJo.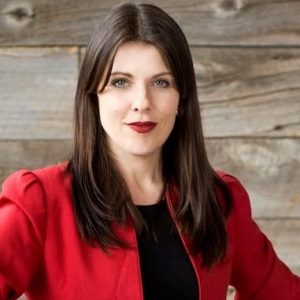 Q: What project of the Downtown portfolio excited you most? And what are some of the major points of historical preservation that people may not know about?

A: I would say the project that excited us the most is the Kenmore Building because it is such an iconic building in the very heart of downtown and had eluded so many developers so many times over. We had to be uber creative when it came to using space, reusing bits and pieces of old building systems to make it a viable project for us, making sure we could get enough apartments and rentable space inside a building that takes up almost an entire city block. We were creative when it came to using light wells and atriums and getting comfortable with something that was initially uncomfortable – having some apartments with windows that look out onto atriums and light wells.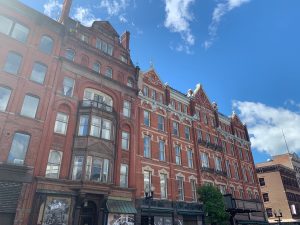 Apart from the fact that we can offer apartments at a variety of price points as a result, there's a very urban feel – like having two buildings close to each other. I think the reason behind the incredible amount of interest in the property is threefold: Price point, location and amenities. It's the old Steuben Club, which had a really cool indoor swimming pool. We kept that in the building, drained it, blasted it with dry ice, and it will be open for tenant use in a couple of weeks. We also have two big indoor spaces that were old racquetball courts – one is an indoor dog park.

When we're dealing with historic preservation projects, we have to be very aware of what the building was before, or what the intent of the property was. You're saving a lot of things that people would rip out and throw away – old molding, old windows, all sorts of things that a regular property that wasn't historically significant wouldn't have. There is historical integrity that just feels different when you walk into these properties; it's palpable. It just feels authentic because it is – you've got details in your apartment that you just can't recreate in a new building.
Q: What's in store for downtown now – what can you tell us about the retail opportunities and any of your commercial tenants? And what has the residential leasing response been like, how many new residents could downtown potentially see in 2021?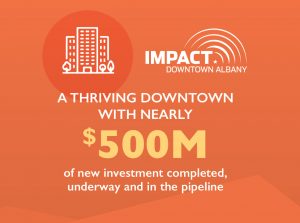 A: It's funny, someone recently said to me, 'Oh those buildings you have in Albany, does that neighborhood have a name?' Yes, it's downtown Albany. That's what the neighborhood is. It has taken a while for people to see downtown as its own neighborhood, and I really believe that it is, and it will continue to become more so as more people take up residence there. The number of apartments Redburn has online right now is about 250-ish at this moment, with more to come in coming months, that's an easy 300 people that live in a very small radius and they are then going out and buying coffee and ordering takeout – spending their dollars locally. That can make a big difference.
You can see so many more dogs downtown, which is a real indicator of people living there. That is the key to economic revitalization is getting people to live in an area, when demand is there retail comes after. We are in process of opening three small retailers in the next three months, one of which takes possession of space this week, then the other two next month after, then a bigger restaurant tenant in the spring. They wanted to open literally because of the fact that there are so many new residents in downtown.

Q: What major challenges did COVID-19 present for Redburn Development and how were you able to adapt?

A: We were shut down for a short period of time. Also, (the pandemic) has delayed and made obtaining some materials more difficult – appliances coming in from overseas, for example, have been delayed. We have moved people into apartments with no peepholes in their entrance door because of COVID-related shipping delays. We could work around that, happily, and get the project done on a different timeline and one that worked overall for the project.
It just forced us to be a little bit more creative when it came to showing apartments. We did a lot virtually with 3-D tours. To be honest, so many people are moving into downtown Albany from outside the area we were already pretty well versed in showing apartments and leasing them without the resident physically visiting the unit. Also, we ordered Bluetooth lockboxes, allowing a potential tenant to unlock an apartment and tour it without our leasing agent being there. And there's a door-lock system in our larger buildings that we can unlock with our cell phones for potential tenants. In both of these cases, the leasing agent would stay on a Facetime call with the tenant while they walked through the property.

Q: How are you feeling about recovery and continued development? What are Redburn's plans for the Warehouse District?

A: We're still very bullish on apartments and on the City of Albany – really all of our small cities. We have several properties going on in Schenectady and Troy, too. There was a fear early on that perhaps the pandemic would make people afraid of living in cities, but that has not been the case.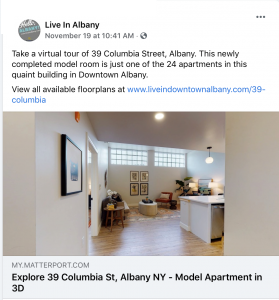 There's still a real human desire to be close to other people, even if it means wearing masks and sitting six feet away. To live somewhere where you don't need to drive everywhere, where you can walk, and some day again see a show. I don't think that will ever change. It is innately human to want to be near other humans. I think that's a big part of wanting to be in a downtown and one of the reasons why we focus so much on downtowns.

Q: With less opportunities for safe holiday gatherings during the pandemic – if you had to mail friends/family a "you can only find this in Albany" snack/treat, what would it be?

A: I never knew the joy of a Cider Belly Doughnut before last year when we purchased some for an open house we had at The Knick. I would have to figure out some way to ship them warm. A warm Cider Belly Doughnut converted me to a cider doughnut lover. Before then I could not understand what all the fuss was about.
This Interview Has Been Lightly Edited And Condensed. Click here to learn more about #BuildingAlb2020 and read our 2020 Digital Annual Report.