Back To Business: Blooms By Marie
January 13, 2021
Cut flowers are special, adding color and warmth to the darkest of days and dreariest of settings. Marie Campbell experienced that first-hand during her 29 years working as a nurse at Albany Medical Center Hospital.
She gave attentive care to all her patients, but said she found herself particularly drawn to the rooms where there were flowers present. She would recall the words of her father, Eric Moncrieffe an avid gardener who meticulously tended the beds outside her childhood home in Jamaica.
"He would say that flowers bring hope and bring joy; they're emotional to people," Campbell recalled.
Campbell's flowers, though, have a little something extra. A person of deep faith, she says she prays over every arrangement and bouquet – something along the lines of: "Lord please, wherever their destination is, let them bring comfort and joy."
"This is why we're busy," Campbell insists. "It's not just flowers; it's what the flowers do for people. We pray on the flowers that they do what they need to do, and I know when they get to the destination, their message will be delivered, whatever that message is."
Campbell says she also sought divine guidance when she was trying to determine whether to make a career change, moving from an unsatisfactory corporate desk job in healthcare where she felt she was no longer able to directly impact people's lives in a positive way. This was last spring – right when the coronavirus pandemic was hitting its first peak and causing all but essential businesses to shutter in an effort to curb the spread of infection.
"You would think with COVID, you know, you would give it a second thought," Campbell recalls. "But I think when you have faith, and the Lord calls you, you have to do it."
And so, she did. But not all at once.
Campbell started small. She recalled how much she had enjoyed helping set up a Valentine's Day flowers sale to help her son's Albany High basketball team raise money to support off-campus travel. She branched out to pop-ups – a gala here, a non-profit event there.
These efforts got Campbell's name out there associated with flowers – quality flowers, she stresses, as she is very careful to choose only the choicest blooms that she feels certain will last a long time, and to educate her customers on how to care for them to extend their life further.
She was further encouraged by the success of a Mother's Day pop-up, in which she sold a rented U-Haul truck full of flowers, parked in a helpful neighbor's driveway near the corner of Washington Avenue and Manning Boulevard, in just two hours. Over the summer, she moved on to selling flowers at farmer's markets in Guilderland and Albany.
"People know who I am and so they support me; they know I'm selling quality," Campbell says. "When I was selling at the farmer's market I would say, 'If flowers don't last, come back and see me.' I've yet to see one person come back."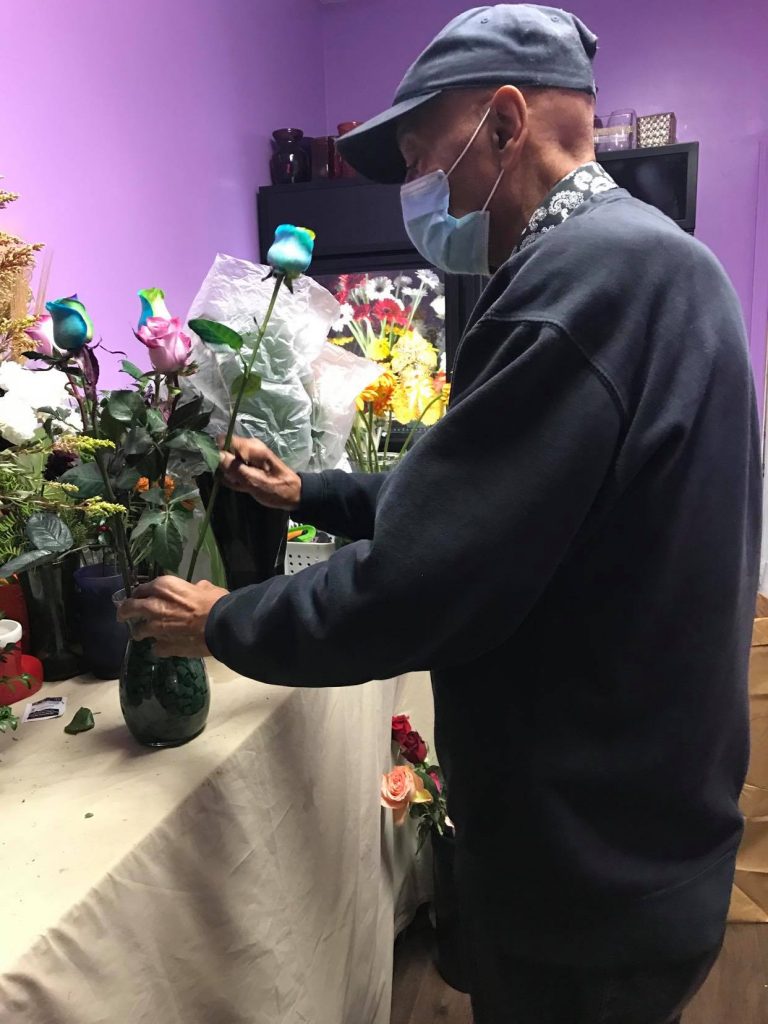 In the fall, Campbell found a small downtown storefront and moved in. But she soon outgrew that, too, and on December 1, 2020, relocated to her current space at 811 Madison Ave. Campbell works alongside Phil Copeland, who has been in the flower designing business for close to seven decades, and he's training her as they go. The shop provides sufficient space to maintain social distancing protocols, and masks are required.
Campbell and Copeland are preparing for one of the most popular flower-buying times of the year – Valentine's Day. They offer a suite of services, including online orders, curbside pickup and delivery. Campbell says she's gratified by the success she has seen, and also is happy to be helping people again, albeit in a "different way" than in her nursing days.
"It's the story we put into the flowers and not just the way we put them together that make them so special," Campbell says. "I really think so. This is why we're busy. It's not just flowers, it's what the flowers do for people."