Back To Business: Betty Boop's Diner
February 23, 2021
Teresa Soto is a people person.
That's what drove her first career as a nurse's aide – a position she held for most of her adult life, until a series of neck and back injuries sustained while lifting elderly people in and out of bed finally forced her to retire.
"I love elderly people, I took care of them all my life," Soto said. "But I just love all people in general. I have a thing for them."
Soto, a Long Island native who moved to Albany in 2005, didn't stray far from this love in her second career. She still takes care of people, but now instead of attending to their health and hygiene she focuses on something just as elemental: She feeds them.
Since 2012, Soto has owned and operated Betty Boop's Diner at 115 Philip St. She and her ex-husband opened the diner after closing an Italian restaurant they owned from 2009 to 2012 in Delmar. Now that she's no longer married, Soto runs the diner with her son.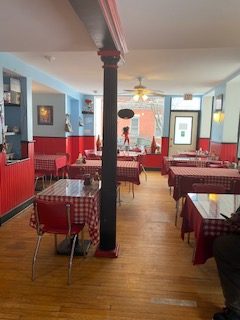 Naming the eatery after the infamous cartoon pinup was something of a lark. Soto recalls she was wearing Betty Boop pajamas while watching TV with her then-spouse and discussing their new business venture. It was something of a joke at first, but the name stuck. Now it's so popular that it has become synonymous with Soto herself.
"People talk about it all the time," she said. "Anywhere I go people call me Betty. I could be in Colonie walking through the mall and someone will call, 'Hey, Betty!' It's just a name. It's catchy, but really, they're coming for the food. I go shopping every day. Everything I get is fresh – fresh mushrooms, fresh potatoes."
The food is basic diner fare. Betty Boop's only does breakfast and lunch, and it is known for its generous portions at reasonable prices. They do sandwiches, hamburgers, and eggs, and their French toast and omelets are particularly popular.
There used to be a lot of regulars in the dining room, especially elderly folks who liked to linger after church. Soto recalls one table of 8 to 15 people who came in every Sunday after church and stayed for several hours. She didn't mind.
"I feel like they're in my home," Soto said. "I don't care how busy it is, I say, 'Hey, these people come here. They like my food and they like my company. That makes me feel good; that makes me smile. You become friends and get close to these people, and they become part of your family."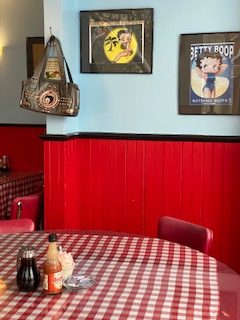 But the coronavirus pandemic, of course, has changed that. Betty Boop's, which is open seven days a week, did not stop operating after the shutdown of all but essential businesses last spring, but it did shift to takeout, which was something Soto and her son didn't do much of before. It was a steep learning curve.
Soto beefed up her online presence and pared down her menu, taking off some of the higher-end offerings like roast beef. She also made economies of scale to meet the initial drop off in business by handling her own shopping and purchasing less. She did have to let two people go – a dishwasher and a waitress – and said friends have pitched in on a volunteer basis to help her keep things going.
"I'm not going to lie, I was scared to death," Soto recalled of the pandemic's early and uncertain days. "But the takeout was so strong. I was doing almost $1,200 a week just in Grubhub orders. That's what kept me going. Breakfast is still huge. I get orders all day for pancakes and French toast."
Customers can also order from Betty Boop's on DoorDash and Uber Eats. But now that restrictions have eased somewhat and indoor dining is allowed again, business is starting to slowly pick back up, Soto said. Many of her elderly regulars are still too scared to come out to eat, which she understands. She's 55 years old herself and suffers from asthma, and that makes her very strict about observing public health protocols to avoid catching COVID-19.
Soto recently qualified for a grant from Capitalize Albany's Small Business Adaptation Program, which she says will help her cover pandemic-related costs. She also says she's lucky to have an understanding landlord and continues to work seven days a week – never missing a single day – taking orders, cooking, doing dishes and basically just trying to make ends meet.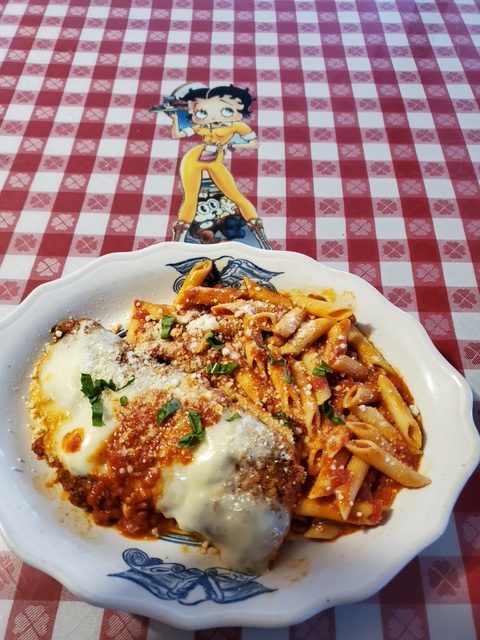 "I'm hoping we can go back to normal again," Soto said. "I just want people to come back out and feel safe and comfortable and come in here and not get sick. If it's ever the new normal' I don't know. I want people to come in after church and sit down for two or three hours and just enjoy their day."