Skyway Construction To Begin This Month
March 16, 2021
The Skyway, a concept first introduced in the Corporation's award-winning 2015 Impact Downtown Albany strategic plan, will begin construction this month and is expected to be open by the end of this year. Governor Andrew Cuomo made the announcement Tuesday.
Celebrating today's exciting #Skyway news here's a look back to the earliest project stage as one of the vision concepts included in the 2015 #ImpactDowntown Playbook, https://t.co/5Qa7XB3zET. We're grateful to our board for its support since inception of this monumental project. https://t.co/EKf3DH2lMW pic.twitter.com/YlnPvOAYUn

— ᴄᴀᴘɪᴛᴀʟɪᴢᴇ ᴀʟʙᴀɴʏ (@CapAlbanyCorp) March 16, 2021
Located in Albany's $10 million awarded Downtown Revitalization Initiative (DRI) zone in Clinton Square, the Skyway will serve as a vital connection between downtown, the Arbor Hill and Sheridan Hollow neighborhoods, Albany's warehouse district, and Albany's Corning Riverfront Park. This $13 million project made possible with support from New York State, will ultimately result in the conversion of the underutilized I-787 northbound exit ramp from Quay Street to Clinton Avenue to create a multi-modal and ADA compliant elevated linear park, complete with a landscaped promenade, event spaces, and a foot path.
With support from the New York State Regional Economic Development Councils initiative, Capitalize Albany Corporation completed a 2018 Skyway feasibility study and the project's preliminary design. This study and the Skyway's design, guided by public input and conducted by the design firm Stantec, has prepared the Impact Downtown Albany-informed Skyway project to advance to construction.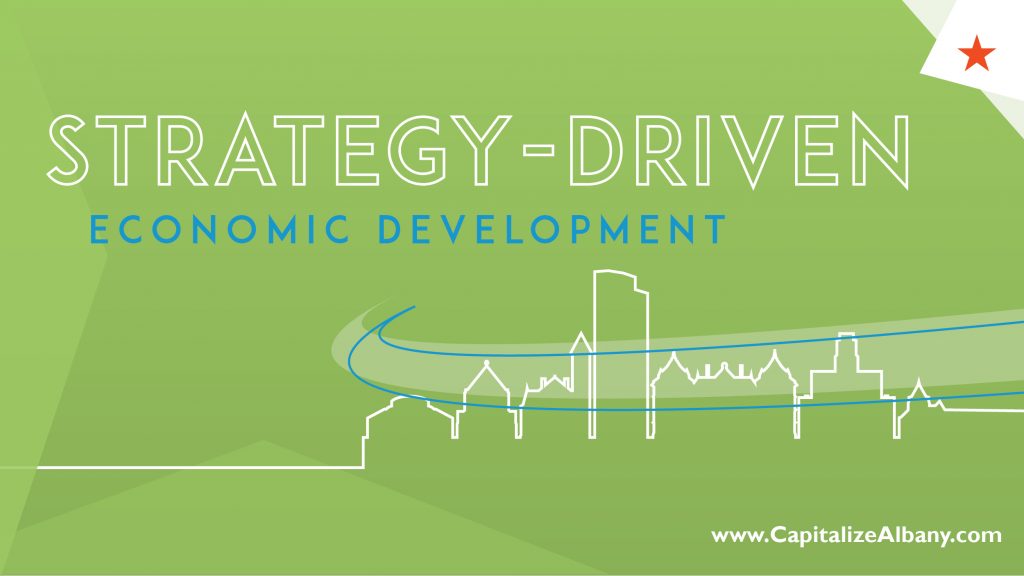 As part of its Excellence Awards, each year the American Council of Engineering Companies (ACEC) New York recognizes projects that are judged on a rigorous set of criteria – including complexity and innovation. Stantec received a Diamond Award for its work on the Skyway project as part of the 2020 Engineering Excellence Awards.
Complementing the Skyway – the reimagining of 11 Clinton Ave. (Federal Park) is underway – the Clinton Market Collective is a $1 million DRI supported project located at the foot of the Skyway and at one of the City of Albany's most prominent gateways. The currently underused park's redesign is underway to transform the park and create a space for unique and iconic works of art, pop-up retail, flexibility for special events and pop-up programming.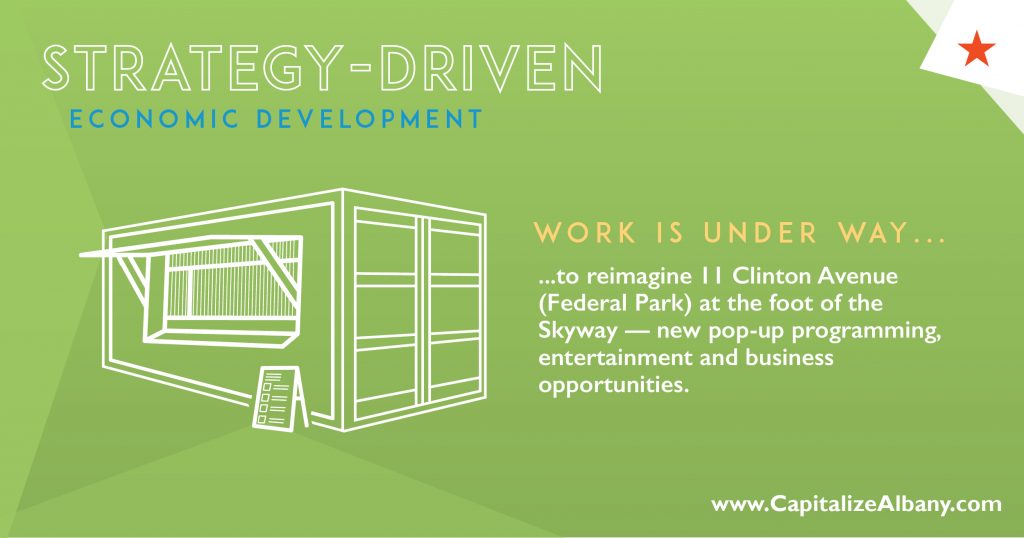 When completed, more than 100,000 visitors are projected to visit these two new attractions annually.