Back To Business: Capital Region Ujamaa Market
April 19, 2021
The concept for the Capital Region Ujamaa Market predated the coronavirus pandemic, but the health crisis and the economic downturn it caused – as well as a national focus on social justice and equity – crystalized the need for an effort to support and showcase local Black-owned businesses, according to the market's founder, George Lopez, and its director of operations, Damaris Skelton.
"We all had some common experiences and knew people who were trying to start businesses and lost jobs during the pandemic, so we would put this together to help support them," said Lopez.
The multicultural market is held on select Sundays at 21 Delaware Ave. (also home to the Boys & Girls Clubs of the Capital Area Albany clubhouse). It showcases a variety of vendors who sell everything from plants, baked goods and herbal teas to clothing, accessories, artwork and much more.
"It's a space to get some experience and data about what works best for your business model," Lopez added.
The pandemic was also helpful, to some degree, in that it gave organizers the space and time to focus on their market concept and put it into practice.
"The conversation about economic development, wealth and building up the Black and minority-owned communities for us to be in the same playing field as our counterparts has always been discussed amongst ourselves," said Skelton. "But some of us don't have the time or space or resources to make that happen. The pandemic made everyone still and this thought came to fruition."
"Ujamaa" is a Swahili word that technically translates into "brotherhood" or "family." But in a larger sense, it refers to the concept of cooperative economics – an idea of collective advancement that has its roots in the socioeconomic policies of 1960s Tanzania.
The Capital Region Ujamaa Marker hews closely to that foundational concept. It is set up as a cooperative, and vendor members buy in for a minimal amount. Vendors can get on a payment plan, if they choose. More information on becoming a member can be found here: https://www.ujamaamarketcr.com/.
There are 15 to 18 vendors participating on any given market day. You don't have to be a member to participate in the market, but members will have access to additional support and programs to assist them in getting their respective businesses to the next level, said Skelton, who described the market as an "elevated mall."
"We're your storefront," she added. "If you want to set up a brick-and-mortar location on your own, we can help you navigate that. If you want to go online, or do pop-ups, or need a mentor, we can provide those resources, too. We want to provide vendors with the best opportunity to get educated about being an entrepreneur and running a business for their community."
Skelton and Lopez said they want vendors to take an active role in the market's direction and future, and also in expressing what kind of support they need to succeed in the long term. The organizers have been in conversation with a range of organizations – including Capitalize Albany and the Upstate New York Black Chamber of Commerce – in hopes of facilitating workshops for members and help them get access to grants and resources.
The market does not discriminate when it comes to businesses – pretty much any entrepreneur is welcome, which also includes services like microblading, haircare, and personal training.
"We want to continue to expand our vendor universe," Skelton said. "That's what we're seeking. As we diversify, we get more shoppers. That's the beauty and magic of the market."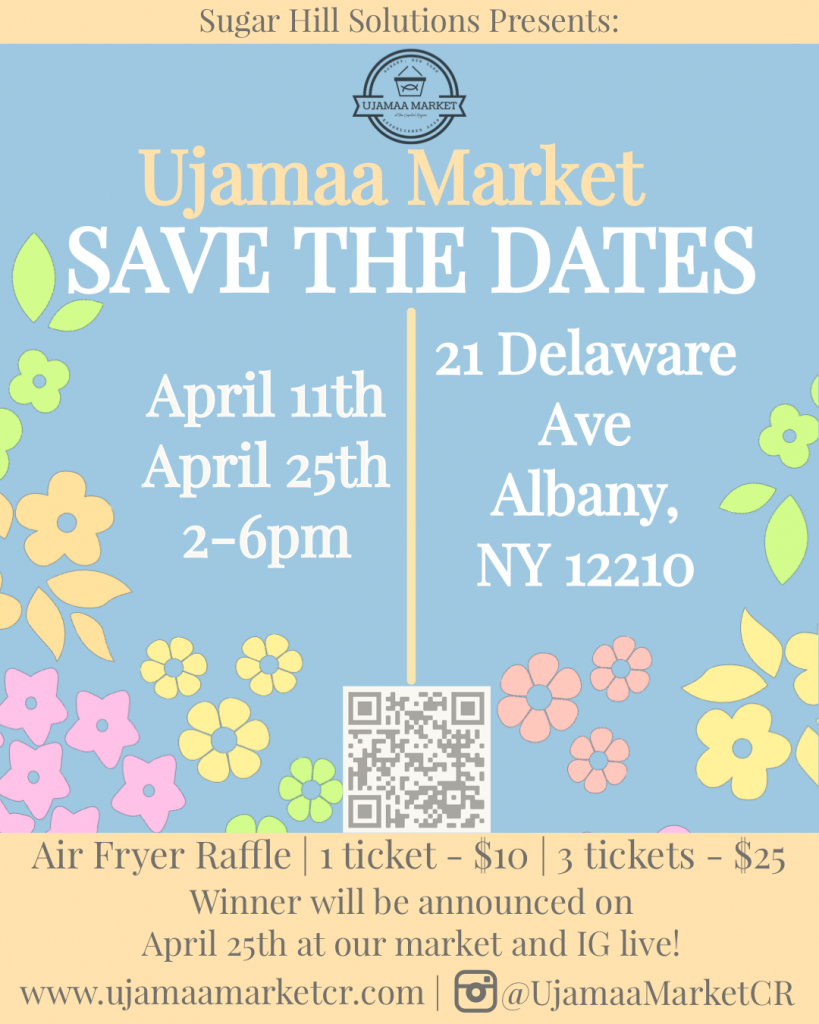 The market is free for shoppers, who should expect to be asked to adhere to public health protocols like mask wearing and social distancing. The next market day is April 25 from 2-6 p.m.