Downtown Albany Welcomes Its First New York Farm Meadery
April 30, 2021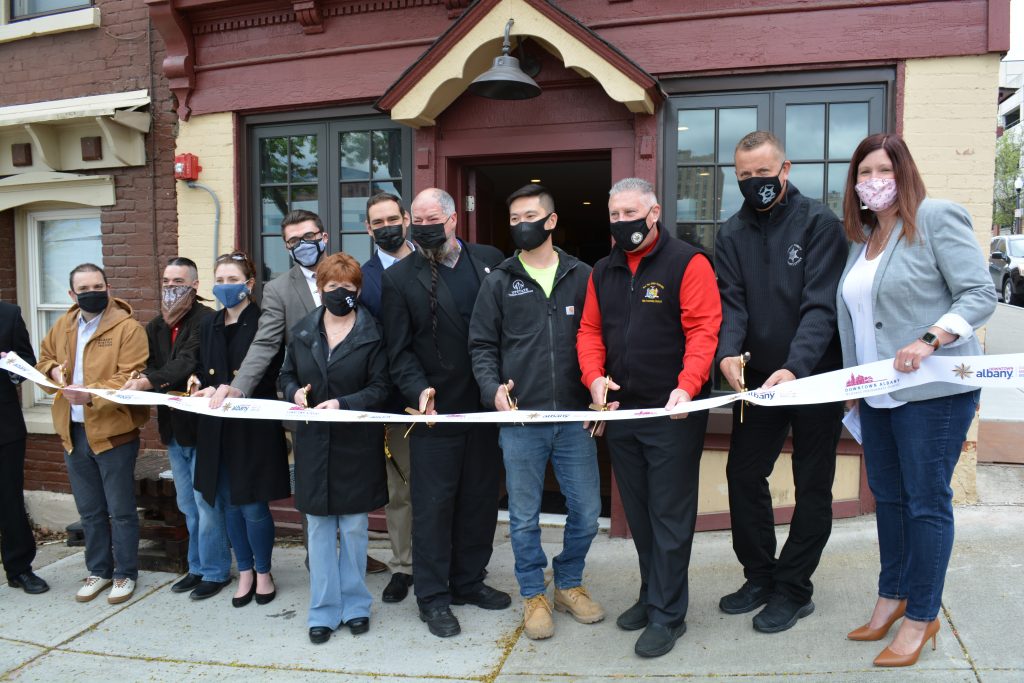 A former Albany County Land Bank property is now home to downtown Albany's first New York Farm Meadery, following the building's purchase and restoration by investors William "Tragedy" Yager and Patrick Chiou. Located at 140 Hamilton Street, The Bull and Bee: Meadery & Tasting Room was welcomed with a ribbon cutting ceremony April 30.
Named for both the insect that produces mead's staple ingredient and Bulgaro's, an Italian restaurant that called the same address home for over five decades before closing in the 1980's, the opening of The Bull and Bee represents completion of the four-story building's extensive renovation from vacant into a mixed-use property. Following a $300,000 investment by Yager and Chiou to purchase and renovate the building, it's now home to the business on the ground floor and three Airbnb rental spaces above; Yager invested an additional $60,000 for buildout of the meadery.
The Bull and Bee operates under a New York Farm Meadery License, a program passed as part of the 2019 New York State budget, under which farm meaderies can hold tastings, sell products by the glass or bottle, and sell any other wine, beer, cider, or spirits produced and sourced by a New York State farm manufacturer. In order to obtain a farm meadery license, the mead must be made exclusively from honey produced in New York State and no more than 250,000 gallons may be produced annually.
Utilizing Bee Hollow honey exclusively, The Bull and Bee began making their own mead earlier this month under the tutelage of Esperance-based Helderberg Meadworks, which will result in a span of Grecian-style meads. Guests will also find Helderberg Meadworks available on-site for tasting and purchase, with flavors including Maple, Apple, and Hot Pepper. The tasting room has snacks available for purchase and offers menus for nearby The Excelsior Pub and Hill Street Cafe, encouraging customers to patronize multiple businesses during their visit.
With a décor featuring warm colors and honeycomb shapes, and an exterior that is home to a 30-foot-tall minotaur mural by local artist Samson Contompasis, the meadery came to fruition through Yager's family heritage – previous generations on his mother's side of the family made Dragon's Blood mead – and desire to build up the neighborhood.
Located at 140 Hamilton Street in Albany, The Bull and Bee: Meadery & Tasting Room is open Wednesday-Saturday 3:00-8:00 PM and Sunday Noon-5:00 PM. For more information, and updates, visit facebook.com/TheBullAndBee. Tastings include mead and spirits and range $3-$5 each, with bottles available for purchase ranging in price from $25 to $55.
Read more at DowntownAlbany.org.