#DowntownWorks For Garfunkel Wild
April 27, 2021
Working with Carrow Real Estate Services, when it came time to renew their lease at 677 Broadway in downtown Albany, the attorneys at Garfunkel Wild, PC didn't have to think too hard.
"Number one, we love our space here," said firm partner Jim Dering. "I do believe it's some of the nicest space in the Capital Region."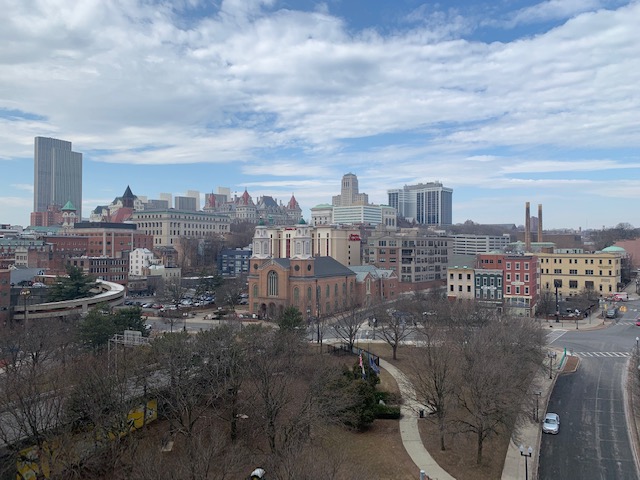 The benefits of the firm's seventh floor suite start with what Dering described as a "great view." He personally can see the Leo O'Brien federal building with Nipper in the background – a truly iconic Albany skyline. Another partner's corner office looks out on The Palace Theatre.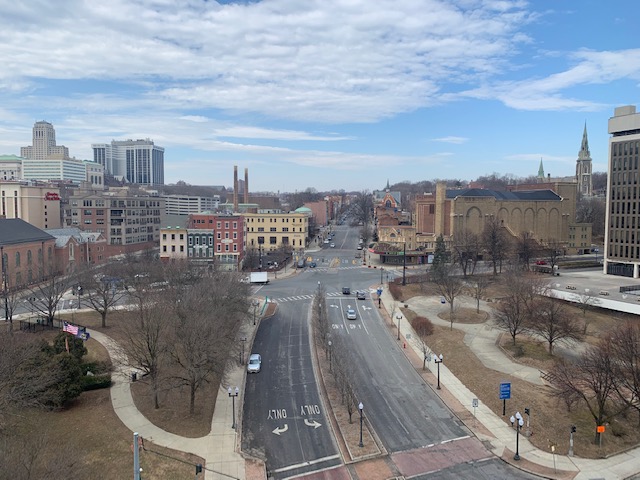 Part of Garfunkel Wild's decision to re-up for another five years at its 3,445-square-foot space was being in downtown Albany with its ample amenities – restaurants, entertainment and shopping – all within walking distance. Also factoring into the firm's decision was and close to the state Capitol complex.
"Everybody knows Albany and potential clients know Albany; you don't have to explain where you are and our address needs no explanation," Dering said. "That's not necessarily the case with locations outside the city. It takes away a question when they're trying to figure out where the firm is. It's a real benefit."
Garfunkel Wild is one of the tri-state area's leading firms in health care law, with 85 attorneys and offices in Albany, Great Neck, New Jersey and Connecticut. Prior to the social distancing requirements and lockdowns imposed as a result of the pandemic, attorneys in the Albany office frequently had in-person meetings with state Health Department officials, located just a short (albeit uphill) walk away at the Corning Tower.
The Garfunkel Wild Albany staff is comprised of three attorneys and one assistant. The 677 Broadway suite provides ample room for observing public health protocols, Dering said, so after a three-month stint of working from home last year (from mid-March to mid-June), everyone was able to safely return to the office, though client meetings are still being conducted remotely.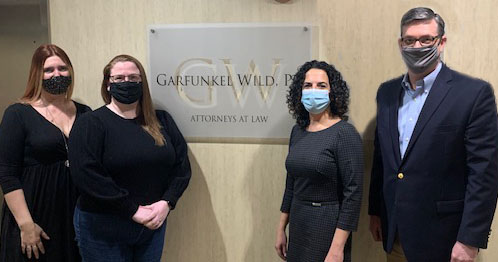 "We have a conference room, a pretty big reception area, five offices and an additional staging area office," Dering said. "If you're in a common area, you have to wear mask. We also don't go into each other's offices. While I enjoyed working from home, it's nice to be in the office and see other people."
Dering, a Delmar resident, has strong personal ties to downtown Albany, where he says he has "always worked." Prior to joining Garfunkel Wild, he held several state government positions – including general counsel at the Health Department and chief of the state attorney general's Health Care Bureau. He started his career at a law firm that was located in the old Home Savings Bank Building at 11 N. Pearl St.
Dering said Garfunkel Wild remains committed to downtown and "feels like things are going to get back to normal."
"Law firms traditionally have been in downtown Albany," he said. "I know that some have chosen to relocate out of the city, but I think there's a definite benefit to being down here."
About #DowntownWorks
Downtown's offices have in part operated remotely over the past several months and downtown Albany is eager to welcome the business community fully back when the timing is right.
National, and local trends signal the trajectory for progress and success downtown hasn't slowed — businesses have adapted, and key strategic investments are taking shape. Now is the time to experience for yourself or remind yourself, why downtown works — why start-ups, Fortune 100 and world renowned international companies are containing to invest and grow in downtown Albany, and why downtown Albany has proven successful for your organization.

The many companies occupying downtown Albany offices, and their talent, are innovative and resilient. As more return to the office, Capitalize Albany Corporation and the Downtown Albany BID are gathering insights from industry experts to support office occupiers in making informed decisions. And in speaking with local businesses we're also learning more about upcoming plans and opportunities, remote-work balance strategies, and of course — why downtown works.
Learn more and share your stories at #DowntownWorks on social media, visit #DowntownWorks on CapitalizeAlbany.com, and www.DowntownAlbany.org/DowntownWorks.