#DowntownWorks For Key Capture Energy
April 6, 2021
Dan Fitzgerald co-founded the start-up company Key Capture Energy, an independent developer of utility-scale energy battery storage projects, in Houston, Texas in 2016.
It was, at the time, a natural fit as Texas has long been known as the nation's energy capital. But for Fitzgerald, a lifelong New York resident and UAlbany graduate, the idea of returning to the Empire State held great appeal.
The state's START-UP NY program provided the incentive and opportunity Fitzgerald was looking for, offering him the chance to relocate the company's headquarters to his home state, contribute to its economic development and play a key role in its green energy future. Proximity to the New York Independent System Operator (NYISO), located across the Hudson River in Rensselaer was also a plus.
Key Capture Energy's first New York home was in downtown Albany's Beahive, a co-working space at 418 Broadway.
"It was a great thing, and a really good experience, but we outgrew it very quickly," recalled Fitzgerald, who is also the company's chief operating officer. "We had five interns stuffed into one little office at one point."
It was clear to Fitzgerald that Key Capture Energy needed more room. It was important to him to stay in the downtown area, both from a personal standpoint and to the benefit of his staff.
"I really pushed for downtown because I live in Center Square and I wanted to walk to work every day," Fitzgerald said. "And for a while, we had a bunch of people who were also living downtown who would also walk…downtown is our campus."
"Being downtown is also good for us because we can take a 10-minute walk and be at the state Capitol when we need to," Fitzgerald continued. "The (state Department of Environmental Conservation) is also a short walk away. And in-person meetings, even taking into account the pandemic, always have a better result than anything on phone or video."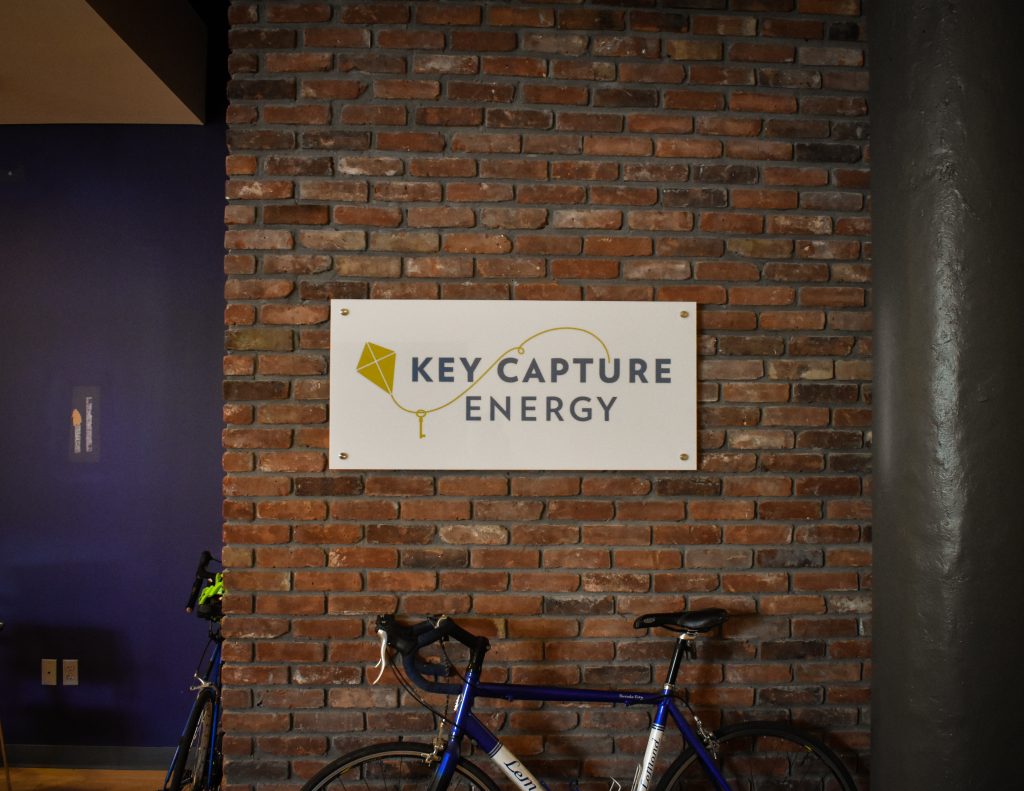 After searching for a new home, Key Capture Energy settled on Suite 300 at 25 Monroe St., just behind the Hampton Inn, and relocated there in February 2018. The space was at one time the home of Zone 5 Media, a marketing and communications firm.
"Some people don't want to work in an antiseptic box, and this definitely wasn't that," Fitzgerald said. "It's awesome. It's funky, cool, and has an outdoor deck. It's just weird enough for a start-up, and it fits our style."
The challenges of the coronavirus pandemic forced all but non-essential businesses to shutter and allow employees to work remotely in order to curb the spread of COVID-19, but Fitzgerald said that experience has not dampened his enthusiasm for or commitment to downtown.
"My intention is to keep the office downtown," Fitzgerald said. "I have no reason to move to the suburbs. We'll probably top out with hires this year at the Albany office – we have 20 people now, and I think we'll add five or 10 more – and as we put more installations around the country, we will put offices in those areas."
"Part of the benefit is there's a lot of energy market folks here, it's a real talent hub. With the NYISO right across the river, and UAlbany doing some of the stuff they're doing with the (New York State) Mesonet, I think Albany should start promoting itself as a nice, safe energy hub…it's a really good place to try to get people to come."
About #DowntownWorks
Downtown's offices have in part operated remotely over the past several months and downtown Albany is eager to welcome the business community fully back when the timing is right.
National, and local trends signal the trajectory for progress and success downtown hasn't slowed — businesses have adapted, and key strategic investments are taking shape. Now is the time to experience for yourself or remind yourself, why downtown works — why start-ups, Fortune 100 and world renowned international companies are containing to invest and grow in downtown Albany, and why downtown Albany has proven successful for your organization.

The many companies occupying downtown Albany offices, and their talent, are innovative and resilient. As more return to the office, Capitalize Albany Corporation and the Downtown Albany BID are gathering insights from industry experts to support office occupiers in making informed decisions. And in speaking with local businesses we're also learning more about upcoming plans and opportunities, remote-work balance strategies, and of course — why downtown works.
Learn more and share your stories at #DowntownWorks on social media, visit #DowntownWorks on CapitalizeAlbany.com, and www.DowntownAlbany.org/DowntownWorks.