#DowntownWorks For Picotte Cos.
May 24, 2021
For evidence of Picotte Cos.' faith in the resiliency and staying power of Albany, look no further than 111 Washington Ave., located at the edge of downtown and just steps from the heart of the city's urban core.
The company, which is one of the largest owners of private office buildings in the region, invested $1 million to modernize the 105,000-square-foot structure, an effort that included an upgrade of its façade as well as an overhaul of the main lobby and other interior work.
The investment has already paid off, according to Nancy Carey Cassidy, executive vice president and chief operating officer at Picotte Cos., who said interest in 111 Washington Ave. has risen so significantly that it has gone from 50 percent vacancy to 90 percent occupancy.
A number of the new tenants are companies that felt the need for a new layout, like wanting to have all their workers on the same floor, Carey Cassidy said. There have been no requests thus far for subleases, as has been seen elsewhere in the region, she reported, and most tenants have returned their respective workforces to the office. And interest is starting to pick up as more potential tenants grow comfortable planning for the future.
And that's in spite of the economic impact caused by the coronavirus pandemic.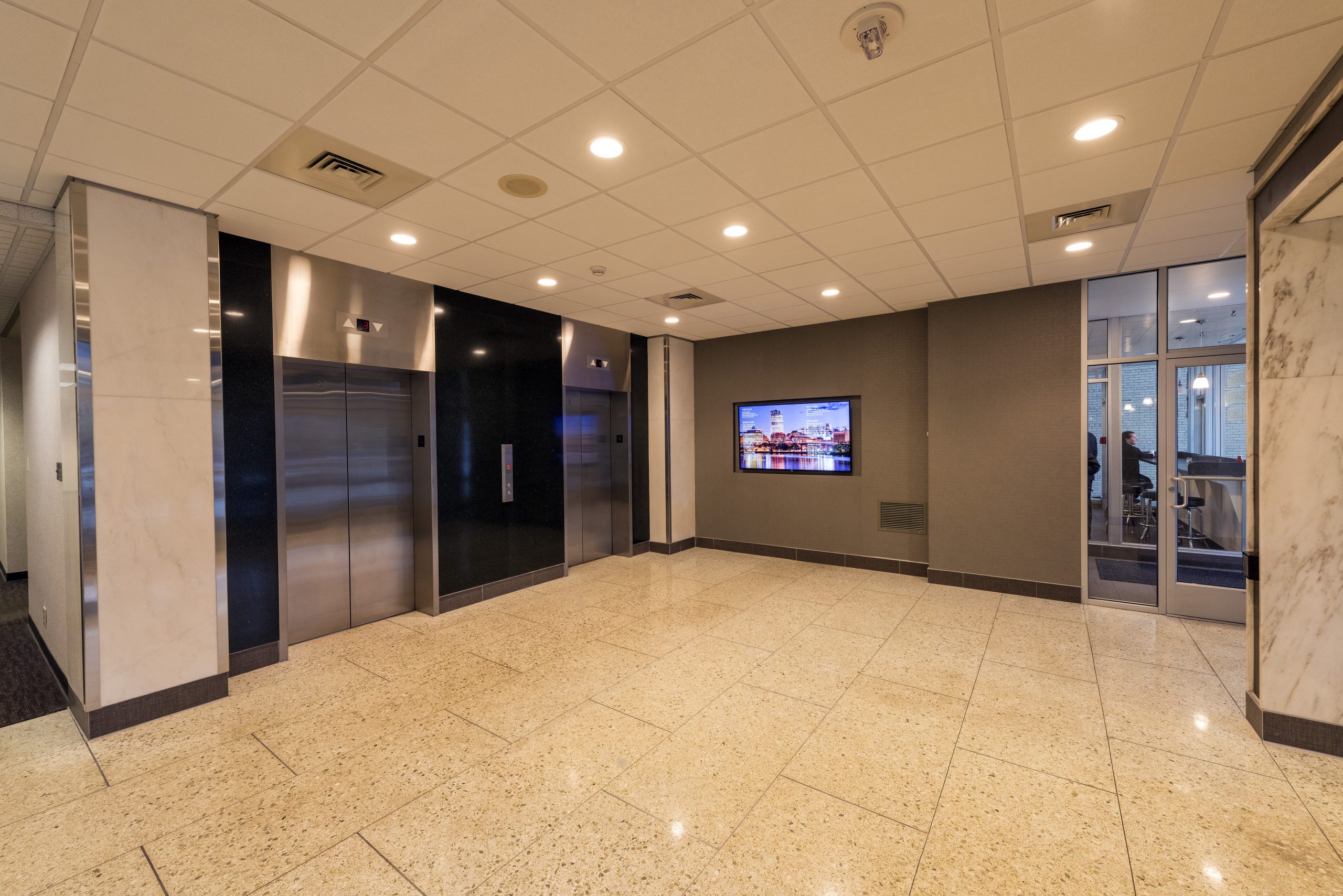 "Our tenants are mainly professional firms, and what they're telling us is that they want to be back in the office because that's how they collaborate," Carey Cassidy said. "Once people knew that we had been maintaining and sanitizing their space they whole time, they realized it was both safe and good to be back."
Picotte Cos. kept its entire maintenance staff working through the pandemic-induced shutdown.
The company owns about 30 buildings across the region – more than 2 million square feet of space, all told.
Carey Cassidy said Picotte is particularly excited about its new 9,000 square foot co-working space at 111 Washington Ave., the Business Hub, which is operated by Migrate Business Services. Though there are already a number of co-working enterprises in the downtown area, Carey Cassidy said the ratio is actually "still quite small" in relative to existing office space, compared to what exists in other, similarly sized cities.
"That's one of the reasons we were comfortable with this," she explained.
Carey Cassidy said tenants have been inquiring about the air filtration systems in Picotte's buildings, though the company had already been meeting the recommendations of public health experts, so no additional conversions or upgrades were necessary. Picotte has invested in NanoSepctic, a self-cleaning surface technology, for high-touch areas like door handles and elevator buttons.
Generally speaking, Carey Cassidy said, these efforts, combined with an overall perception that remote working just isn't the same when it comes to productivity and worker collaboration, are helping to make employers comfortable bringing their employees back to work.
"People are telling us they want to get back," she said. "They want to get back in person. Some employees are still going to be uncomfortable, and they will be accommodated, but I don't think you're going to see a permanent shift to the remote."
About #DowntownWorks
Downtown's offices have in part operated remotely over the past several months and downtown Albany is eager to welcome the business community fully back when the timing is right.
National, and local trends signal the trajectory for progress and success downtown hasn't slowed — businesses have adapted, and key strategic investments are taking shape. Now is the time to experience for yourself or remind yourself, why downtown works — why start-ups, Fortune 100 and world renowned international companies are containing to invest and grow in downtown Albany, and why downtown Albany has proven successful for your organization.

The many companies occupying downtown Albany offices, and their talent, are innovative and resilient. As more return to the office, Capitalize Albany Corporation and the Downtown Albany BID are gathering insights from industry experts to support office occupiers in making informed decisions. And in speaking with local businesses we're also learning more about upcoming plans and opportunities, remote-work balance strategies, and of course — why downtown works.
Learn more and share your stories at #DowntownWorks on social media, visit #DowntownWorks on CapitalizeAlbany.com, and www.DowntownAlbany.org/DowntownWorks.