Expansive Is 'Bullish On The Future Df Downtown Albany'
May 11, 2021
#DowntownWorks for the newly rebranded Chicago-based Novel Coworking making its debut in New York at 69 State Street
Novel Coworking isn't Novel anymore.
The Chicago-based company, which has 40 locations around the country and opened its first location in New York in downtown Albany this past February, has rebranded as "Expansive."
"It better fits our offerings," explained Drew Pontillo, Expansive's area sales manager. "During the pandemic, we shifted more to private offices and suites; we're not your typical coworking setting anymore."
The company purchased the 16-story building at 69 State St., for $6.5 million in January 2020 and set about renovating it. The coworking space occupies four floors – 11 through 14 – and takes up about 40,000 square feet. The building's anchor tenant, Bank of America, has eight floors all to itself.
Expansive identified Albany for its New York debut in part due to its rich environment of start-ups and government-related enterprises, Pontillo said, and also because of an opportunity to offer something different in a market that already had several coworking operations up and running.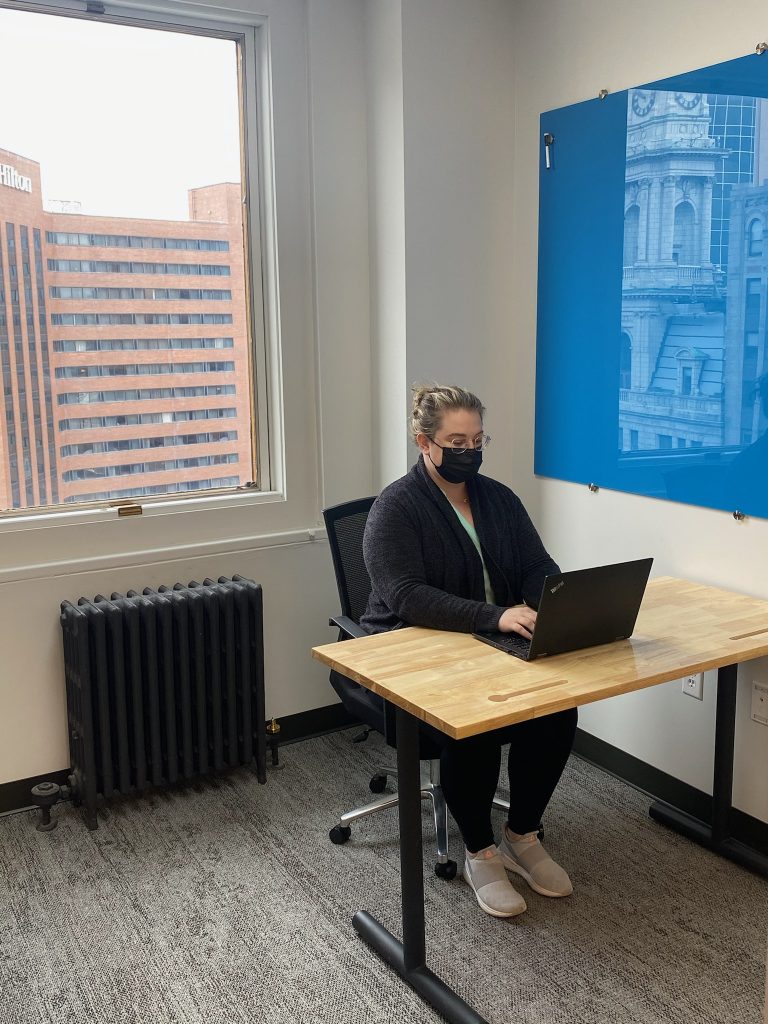 "We are unique in that we can accommodate teams of one to 75 people," Pontillo explained. "We look for buildings that are modern, affordable and centrally located – also something we can easily restore. We found 69 State St. and it checked off all the boxes."
Though the pandemic hit not long after Expansive closed on 69 State St. and embarked on a $4 million gut renovation, the company was not deterred by the shutdown order on all but essential businesses and also did not buy into dire predictions that downtown office culture would be a thing of the past.
"We really do believe in this area; we're bullish on the future of downtown Albany," said Pontillo. "We're already invested a lot here, and we will continue to do so. I live and work in this community. I really am enjoying being a part of downtown Albany and bringing new businesses here."
Renovating during the pandemic had its advantages, as it enabled the company to make changes to accommodate public health protocols – such as social distancing – as well as installation of touchless faucets and doors and directional signage. In addition, Expansive has enhanced housekeeping services, with all spaces cleaned three times a day.
Expansive's Albany coworking operation includes six suites, four of which are occupied, and 37 private offices, which are about 35 percent occupied, Pontillo said. The suites range from 500 to 3,000 square feet, and each has its own collaborative space along with a conference room, executive office and kitchen. There has been a particular interest in smaller suites, Pontillo reported, which can accommodate four to 15 people.
Expansive also offers members access to all of its locations across the country, which are decorated intentionally to maintain a consistent look and feel. In addition, once a member is logged into the Expansive WiFi network, they will be able to automatically access the networks in other locations – a big perk for those who travel for work and are easing back into doing so as vaccines become more widely available.
Though Albany has a number of coworking spaces now, the market is far from saturated, according to Pontillo.
"Flexibility is a high priority right now, but things are always changing," he explained.
"The history of Albany is really unique," he continued. "So many people enjoy being down here because of the social interaction you just can't get in the suburbs. You go out, you see people, you have lunch, or just say 'Hello.' Things are bouncing back, and we're going to help restore downtown to what it used to be."
About #DowntownWorks
Downtown's offices have in part operated remotely over the past several months and downtown Albany is eager to welcome the business community fully back when the timing is right.
National, and local trends signal the trajectory for progress and success downtown hasn't slowed — businesses have adapted, and key strategic investments are taking shape. Now is the time to experience for yourself or remind yourself, why downtown works — why start-ups, Fortune 100 and world renowned international companies are containing to invest and grow in downtown Albany, and why downtown Albany has proven successful for your organization.

The many companies occupying downtown Albany offices, and their talent, are innovative and resilient. As more return to the office, Capitalize Albany Corporation and the Downtown Albany BID are gathering insights from industry experts to support office occupiers in making informed decisions. And in speaking with local businesses we're also learning more about upcoming plans and opportunities, remote-work balance strategies, and of course — why downtown works.
Learn more and share your stories at #DowntownWorks on social media, visit #DowntownWorks on CapitalizeAlbany.com, and www.DowntownAlbany.org/DowntownWorks.