$56 Million Historic Clinton Avenue Apartments Renovation Completed In Arbor Hill Neighborhood
June 3, 2021
70 Row Houses Now Offer 210 Energy-Efficient, Affordable and Supportive Homes for Families
Full Press Release Available Here
Announced by Governor Andrew Cuomo, today marked the completion of Home Leasing's $56 million rehabilitation of 70 distressed row houses along historic Clinton Avenue and Ten Broeck Street in Albany. The Clinton Avenue Historic Apartments now offers 210 affordable homes for families with 40 apartments set aside for residents who are formerly homeless or at risk of homelessness, and those with mental illness who will receive on-site supportive services.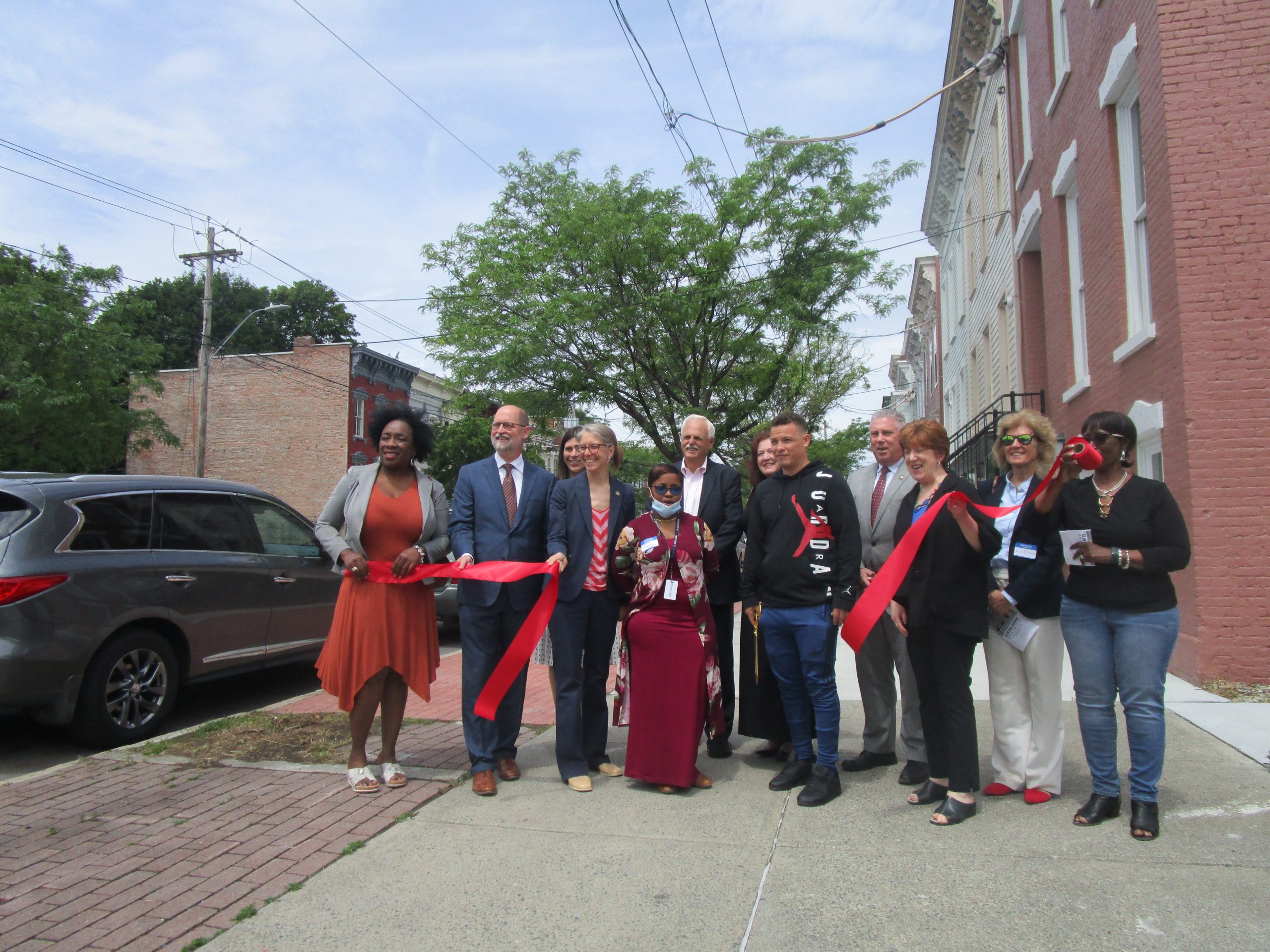 "Building attractive and vibrant downtowns where people want to live is essential for the economic health of any urban core, and New York is taking steps to fulfill that vision in the state's capital city," said Governor Andrew Cuomo. "With the renovation of these blighted historic homes along Clinton Avenue, we're providing affordable homes for families and vulnerable residents, while ushering in a new era of resurgence for Albany's Arbor Hill neighborhood. It's also heartening to see that this project will help the community by providingapartments for formerly homeless New Yorkers and those with mental illness who need supportive services."
"The redevelopment of the Clinton Avenue Apartments injects new life into these historic buildings, which will provide affordable homes for the residents in Albany and help improve the quality of life in the Arbor Hill neighborhood. Thank you to New York State Homes & Community Renewal, the City of Albany, Capitalize Albany and all our partners who saw the potential in saving these buildings, " said Home Leasing CEO Bret Garwood.
Seventy row houses between 64 and 321 Clinton Avenue and 20 and 85 Ten Broeck Street underwent extensive renovations designed to preserve the historic character of the buildings and neighborhood while improving quality of life for residents.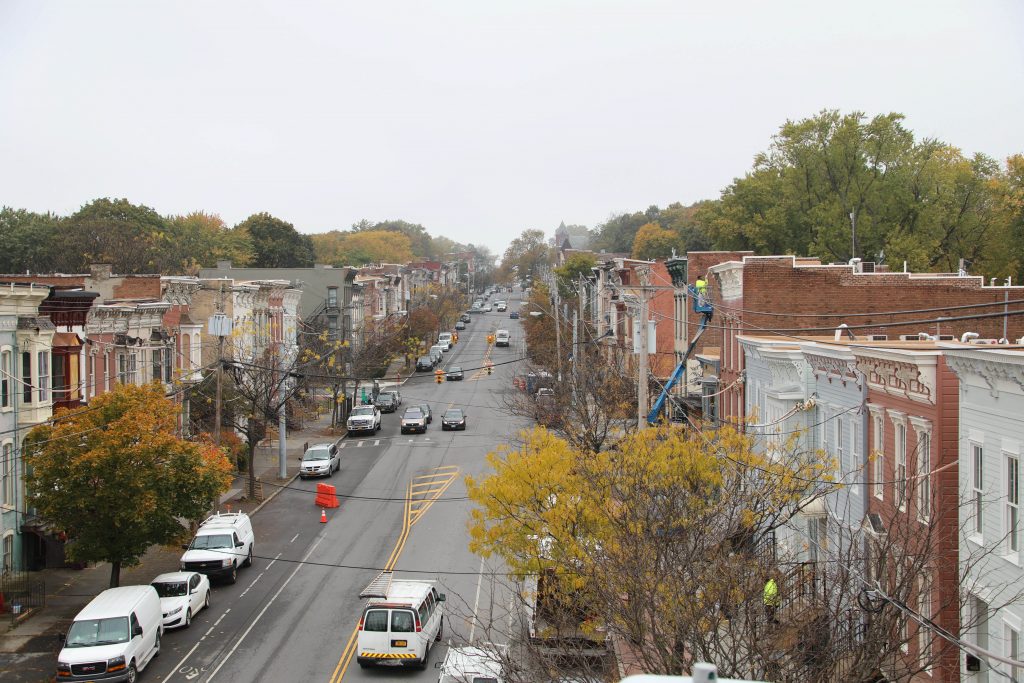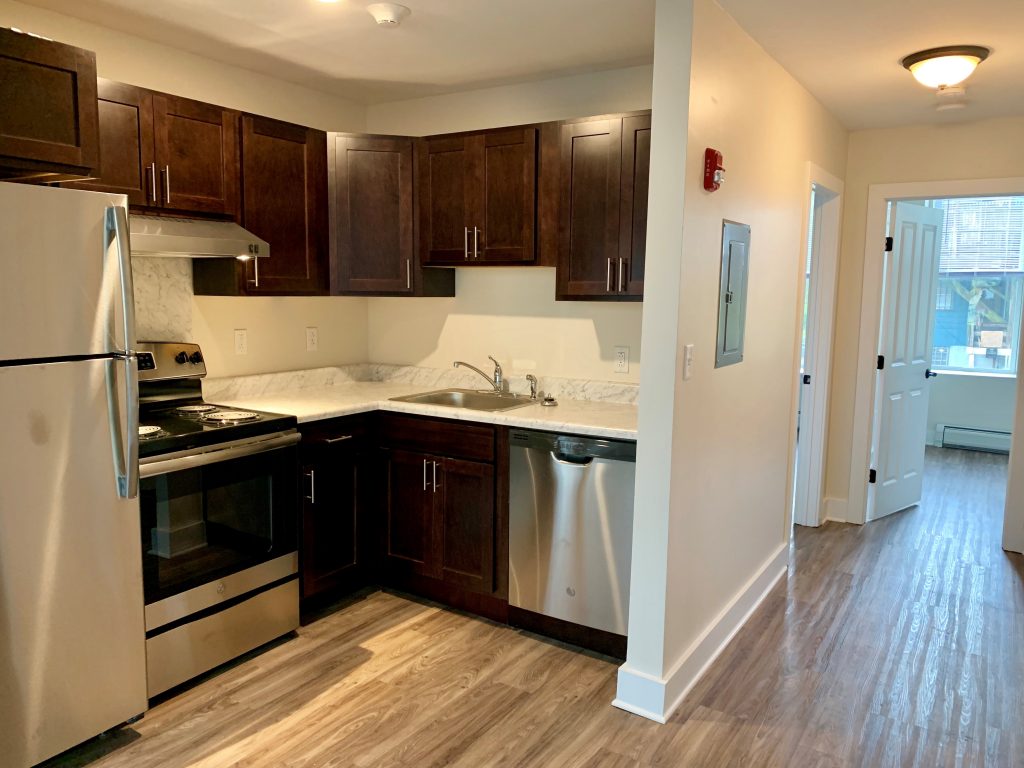 The scope of work included improvements such as new roofs and windows; new boilers; new gas, water and sewer lines; kitchen and bathroom upgrades; new walls and flooring; modern electrical and lighting systems to increase energy efficiency; exterior masonry and front entry way restoration; landscaping and new sidewalks. The renovations incorporated LED and Energy Star lighting, Energy Star appliances, low-flow plumbing fixtures and highly-efficient hot water heaters.
Most of the apartments are affordable to households earning up to 60 percent of the Area Median Income with 32 apartments affordable to households earning up to 90 percent of the AMI. Forty households will receive rental subsidies and supportive services through the Governor's Empire State Supportive Housing Initiative administered by the New York State Office of Mental Health. On-site support is provided by DePaul Community Services, Inc. which will coordinate health care, employment, educational, vocational rehabilitation, and clinical services. The project was developed by Home Leasing, LLC.
Financing for Clinton Avenue Historic Apartments includes $3.6 million in tax-exempt bonds, federal and state Low-Income Housing Tax Credits that generated $20.2 million in equity, and $19 million in subsidy from HCR. The project received federal and state historic tax credits awarded through the New York State Office of Parks, Recreation and Historic Preservation that generated $12.4 million in equity. OMH will provide $1 million annually for operating costs and a $340,000 Program Development Grant for eligible start-up expenses including furnishings and staff hiring and training. The project was made possible in part with support from the City of Albany Industrial Development Agency, over the next 30 years, the properties are estimated to generate $2.56 million to the local taxing jurisdictions—for more than a decade local taxing jurisdictions have received no property taxes.
Located in Albany's Clinton Square Downtown Revitalization Initiative zone and complementing the initiative, the new investment will forge a connection between downtown and its surrounding neighborhoods – an Impact Downtown Albany plan priority. Governor Cuomo's Downtown Revitalization initiative is investing $10 million in Albany's Clinton Square neighborhood, which encompass portions of the Clinton Avenue and Ten Broeck Historic Districts. The districts are listed in the State and National Register of Historic Places with the goal of bringing economic opportunities and preserving the community's historic assets. The project is also consistent with the goals of city of Albany's Comprehensive Plan launched in 2012 which identifies strategies to provide a range of decent, affordable housing choices and homeownership opportunities and maintain the supply of quality affordable housing.