Kenmore Ballroom Welcomed To Downtown
September 16, 2021
Read the announcement press release here.
An historic event venue, the Rain-Bo Room, is now reimagined. With owners Katie O'Malley Maloney and Nate Maloney, the Kenmore Ballroom was welcomed to downtown Albany today.
Recognizing the opening and reimagining of this historic space following Redburn Development's $36M investment in 76 N. Pearl St., the Kenmore Ballroom was officially welcomed to downtown #Albany today…https://t.co/P31yhKrfHg pic.twitter.com/uckcDYIOwx

— ᴄᴀᴘɪᴛᴀʟɪᴢᴇ ᴀʟʙᴀɴʏ (@CapAlbanyCorp) September 16, 2021
The grand opening comes two years after the lease was signed for the 15,000-square-foot space, one year after The Kenmore Ballroom's first event, and nearly 100 years after the Rain-Bo Room opened its doors. The Kenmore Ballroom pays homage to the building's history while offering 21st century amenities.
As part of Redburn Development Partners more than $80 million initial investment in downtown, the vacant 196,000 square-foot Kenmore Building at 76 N. Pearl Street was transformed into 123 market-rate apartments and 36,000 square feet of commercial space. Made possible in part with support from the City of Albany Industrial Development Agency, the $36 million project created 24 permanent jobs and 113 construction jobs. Redburn Development is nearly reaching $100 million of investment in downtown and Albany's warehouse district with three new projects to soon begin construction.
Redburn Development is continuing to fill the street front retail portion, Etrice Gallery held its grand opening in August.
The Kenmore Ballroom is the first joint venture that the Maloney's have taken together. They formed a new company, named after their daughter, With Grace Management, to manage the downtown location. This opportunity is a natural extension for Katie's event planning business, Katie O' Weddings & Events. She has worked for the past 12 years with over 400 couples and families in planning and implementing celebrations in the Capital Region and far beyond.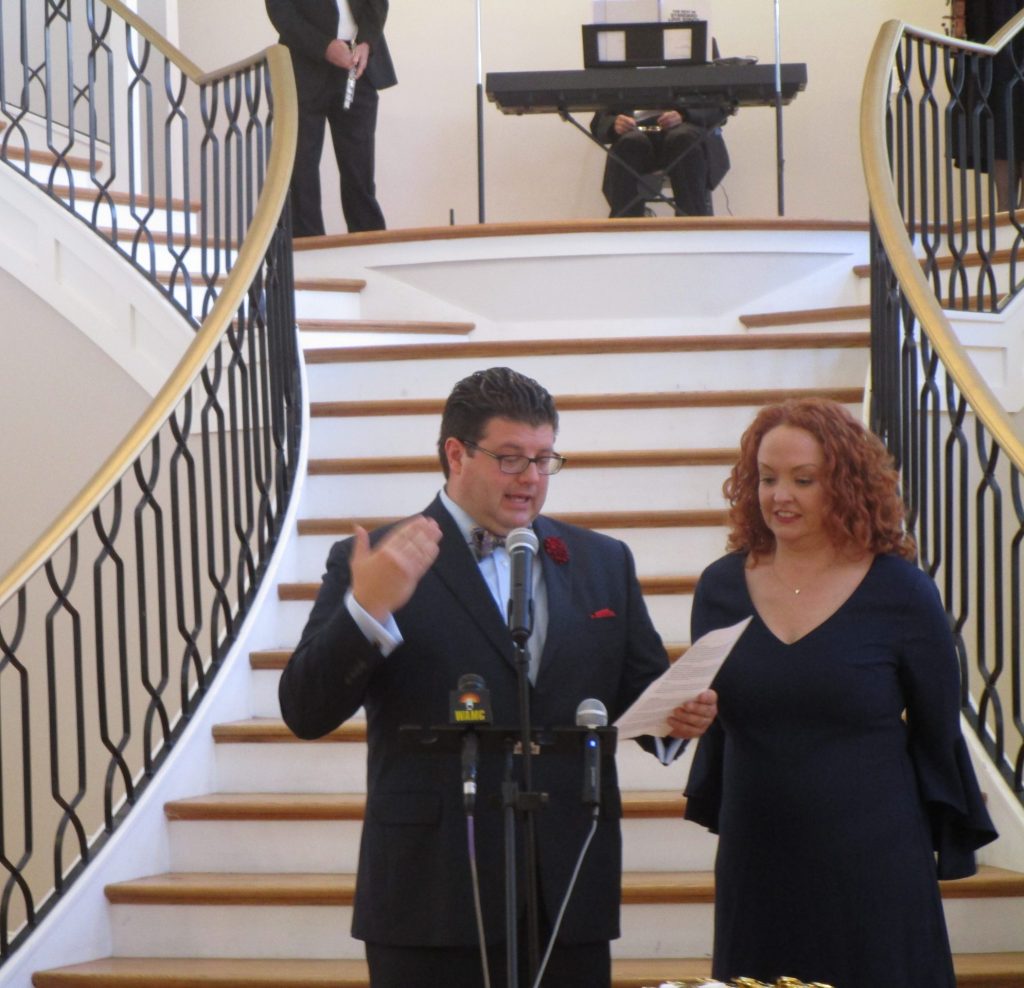 With a 300-person capacity limit, The Kenmore Ballroom also features 25' high ceilings, restored mosaic tiles in the main lobby, recreated light boxes around the second floor cut out, floor to ceiling windows on the mezzanine level, multiple entrances, separate bar and lounge on the main level, and an on-site finishing kitchen for caterers.
While the COVID-19 pandemic changed plans, operations, and event capacity-limits, it did not change interest, O'Malley Maloney noted that there were inquiries before renovations were even complete. The venue's first event took place in September 2020, with a COVID-compliant 35-person wedding ceremony. Administered by Capitalize Albany and made possible with support from the City of Albany IDA and the Albany Community Development Agency, The Kenmore Ballroom was awarded a Small Business Adaptation Program grant. The grant supported marketing efforts to allow the venue to market itself and operate at smaller capacities as well as assisted with the purchase of PPE and other equipment to support the health and safety of employees and guests.
The Kenmore Ballroom, located at 76 N Pearl Street, welcomes all events from intimate dinner parties, holiday parties, fundraisers, conferences, meetings, milestone birthdays, showers, and engagement parties, and is booking as far out as 2023. For more information and to book a tour, visit thekenmoreballroom.com or call 518.469.6102.