Albany Stadium Restaurant & Bar Open At MVP Arena
February 14, 2022
Albany's All Business
It's fitting that the new restaurant located inside the MVP Arena, home and host to all manner of athletic competitions, has its roots in a relationship forged over tennis.
James Anilowski and Wendi Enright, owners of the recently opened Albany Stadium Restaurant & Bar at 51 S. Pearl St., met years ago while participating in a local recreational tennis team. Their friendship evolved into a professional collaboration when they joined forces to launch Tech Forward, Inc., a digital sign and network IT company located in a commercial space at the arena.
Though the duo has a long history of working together and one successful business under their collective belt, launching an eatery – at the height of a pandemic, no less – proved something of a surprise, at least for one of them.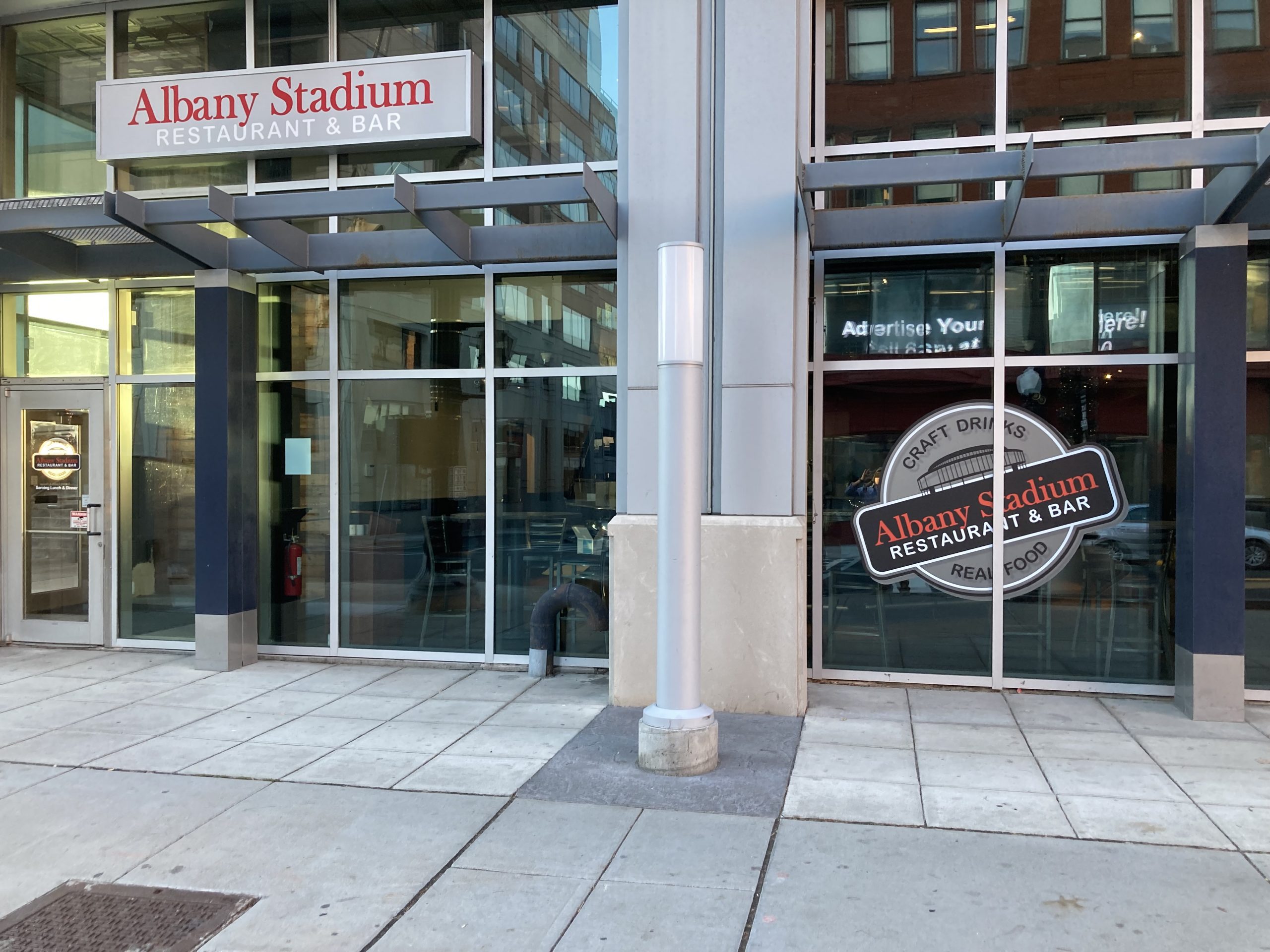 "I worked in restaurants for almost 10 years, my family has a history in the restaurant industry, and I owned a restaurant when I lived in Minnesota, so I was pretty aware of what we were getting into," Enright, a native of Bemidji, MN, laughed. "My partner (Anilowski) was a little caught off guard. Though he has owned several other businesses, a restaurant is its own animal."
While operating Tech Forward out of the arena and watching it evolve over time, Anilowski and Enright felt the restaurant space, which has gone through a few incarnations over the years, was being underutilized.
"We are committed to being open weekdays for lunch and dinner, because just being open for events doesn't do a lot to help develop South Pearl Street," Enright said. "We are vested in downtown in general, and this facility in particular. We want to do what we can to strengthen the fabric of this block."
To that end, Albany Stadium Restaurant, which celebrated its ribbon-cutting on Feb. 8, will have extended hours both before and after arena events, but also is open for lunch and dinner five days a week – 11 a.m. to 10 p.m. Monday through Friday – and from 5 p.m. to 10 p.m. on Saturdays. [The restaurant will be closed Sundays unless an arena event is taking place].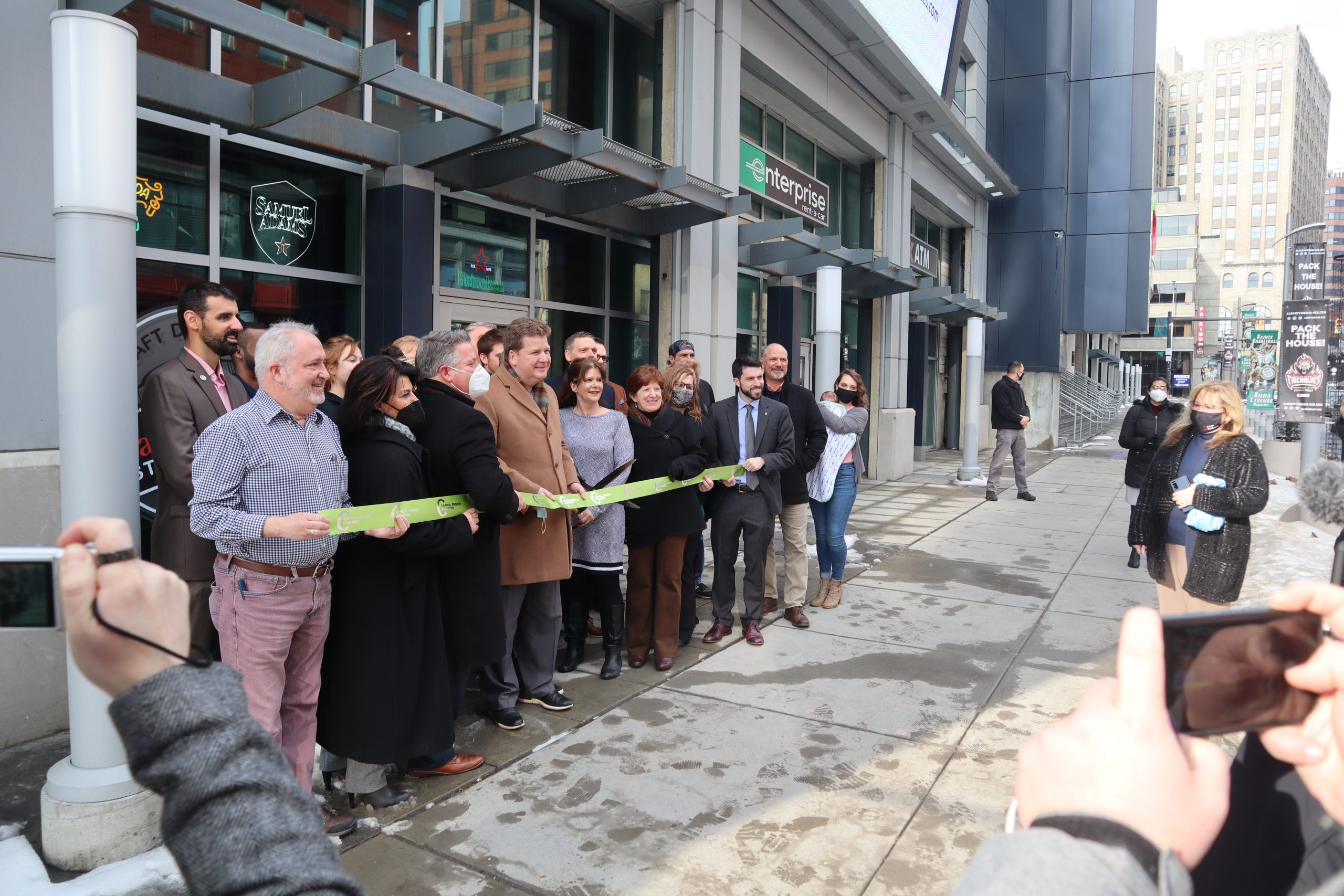 Though the COVID crisis wreaked havoc on the restaurant and hospitality industries, the pandemic proved to be something of a silver lining for Anilowski and Enright, as many chefs, servers, and other stalwarts of the local scene were out of work.
They were able to land a well-known chef, Jennifer Hewes, who most recently ran the kitchen at The Point on Madison Avenue, and also previously held the head chef title at both Cafe Madison and Cafe Capriccio.
"She's a rock star," Enright said. "And it just so happened that as we were looking for a chef, Jennifer was looking for a new opportunity."
The surge of pandemic-related closures also helped Albany Stadium recruit a strong team overall, Enright said, and thus far, they haven't had difficulty finding servers and other front and back-of-the-house employees.
"We offer a living wage and a pathway to a career in the restaurant industry, if that's what someone is looking for," Enright said. "Maybe more important, we try to be flexible with scheduling, recognizing that employees have numerous and varied outside commitments."
All told, there are currently about 25 staff working at the Albany Stadium – half part-time and half full-time, Enright said. She hopes to add to that number when the weather improves, and downtown lunch and after-hours business picks up.
Together with Hewes, Enright and Anilowski developed a menu that features a number of favorites one might expect to see on an arena restaurant menu – wings, a "stadium burger," stuffed jalapeno peppers, a wedge salad. The high-profile horseshoe-shaped bar has 16 beers on tap.
But the menu also boasts some unexpected items like lobster mac & cheese and a whole section of "gourmet grilled cheese" sandwiches that Enright says she hopes becomes a signature offering for which Albany Stadium Restaurant is known.
The pandemic-related supply chain issues have forced Albany Stadium to set prices a little higher than Enright says they would have liked. But customers thus far seem to understand the inflationary pressure and are willing to pay a little more for Hewes' from-scratch menu – including homemade sauces and soups.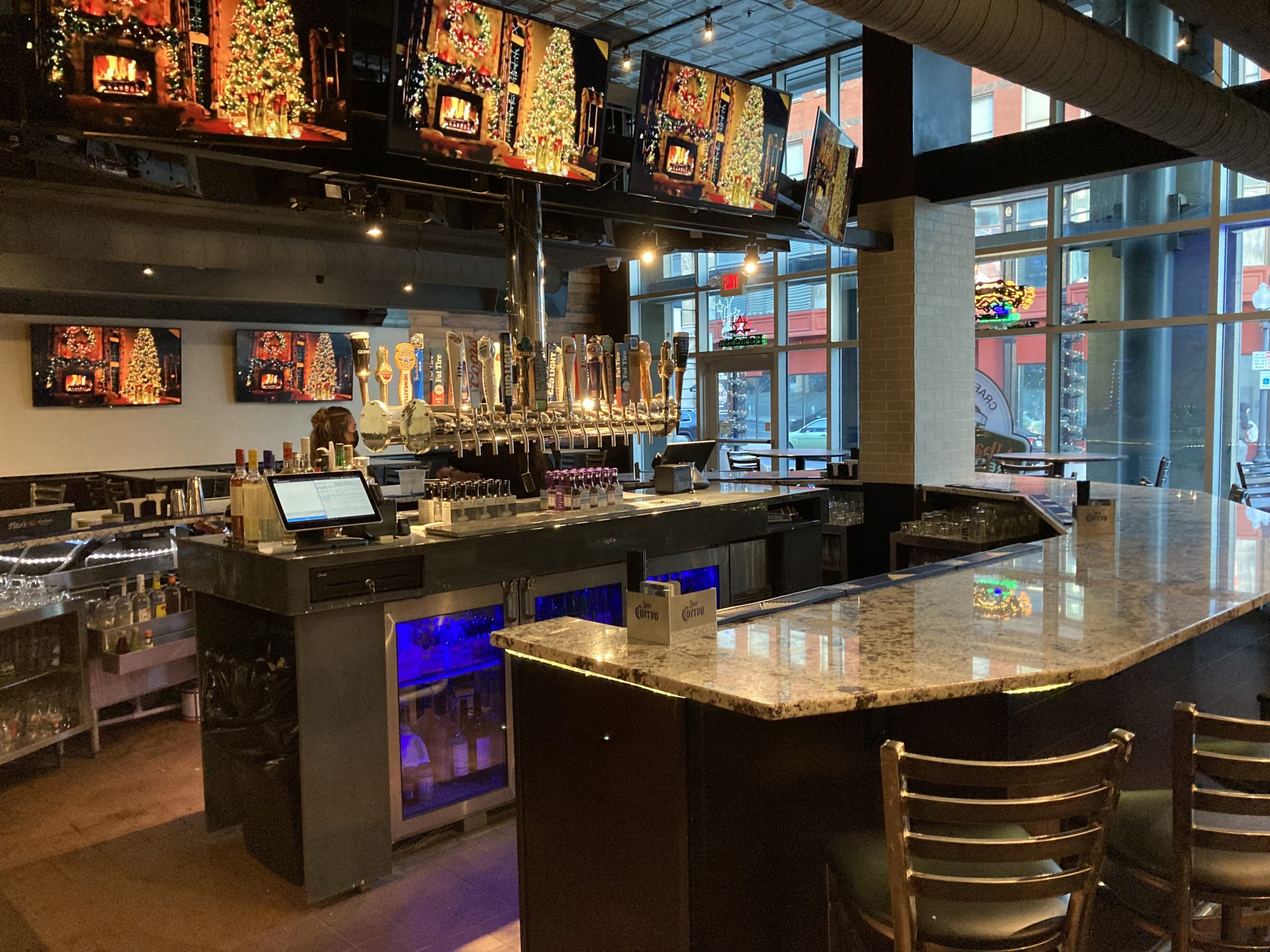 Enright and Anilowski have additional plans for Albany Stadium Restaurant & Bar. They're planning to enclose an eating area in the atrium, adjacent to the restaurant; install sliding glass garage doors, which will open onto South Pearl Street and an outdoor café; and promote special events on the second story of the restaurant, which has a nice overlook to downstairs, seats 100, and hosts a dedicated bar.
Thus far, Enright says, the arena management, as well as city and county officials, have all been very supportive of the new business, for which she is thankful.
"Our loyalty to and partnership with the city, the block, and the arena is very strong. Not only is our IT business here, but (the arena) is an IT client," Enright said. "We wouldn't have looked for an opportunity like this anywhere other than this block, and we're excited to see additional businesses opening, too."
ALBANY'S ALL BUSINESS
After two years of challenges – from COVID restrictions to labor shortages and supply chain delays – Albany's businesses have retooled, reimagined, and reopened. From new enterprises to long-standing old favorites, exciting things are happening all over the Capital City. This series will spotlight members of the business community, keeping residents and visitors alike up to date on the latest developments and offerings, including restaurants, retail, nonprofits, and more.