Expanding Operations Throughout The Pandemic, The Yard Officially Celebrates Its Opening In March 2022
March 17, 2022
A grand opening ribbon cutting ceremony two years in the making was held today at The Yard | Hatchet House & Bar in downtown Albany.
The celebration comes two years after the doors to the axe-throwing and indoor yard game destination briefly swung open in March 2020. A lawyer by trade, Kiosse's chosen field didn't afford her creative opportunities, so she began developing plans for The Yard, which both allowed her creativity to flourish and achieved her goal of offering year-round activities. Knowing she wanted to open in downtown Albany to be part of the transformation happening, she found The Yard's home inside Redburn Development's The Knick building.
A grand opening, two years in the making was held today recognizing @TheYardAlbany's resilience after the doors to the axe-throwing and indoor yard game destination initially only briefly swung open in March 2020 https://t.co/XR8RVrpI1V #ImpactDowntown #CapAlbGrants pic.twitter.com/97vUmXwYRz

— ᴄᴀᴘɪᴛᴀʟɪᴢᴇ ᴀʟʙᴀɴʏ (@CapAlbanyCorp) March 17, 2022
Interior renovation of the space started in September 2019, and was supported in part by the Downtown Albany Retail Grant Program, a program made possible by the City of Albany Capital Resource Corporation (CRC) and administered by Capitalize Albany. The result is a 3,500-square-foot destination that is home to 8 axe-throwing lanes, a full bar, a spacious deck, and an indoor game space where visitors can play more than 10 lawn games including cornhole, ladder golf, and Kubb. While those aspects of the business were part of the plan all along, COVID-19 accelerated one idea Kiosse had for down the road and was a catalyst for another that might not have been realized otherwise.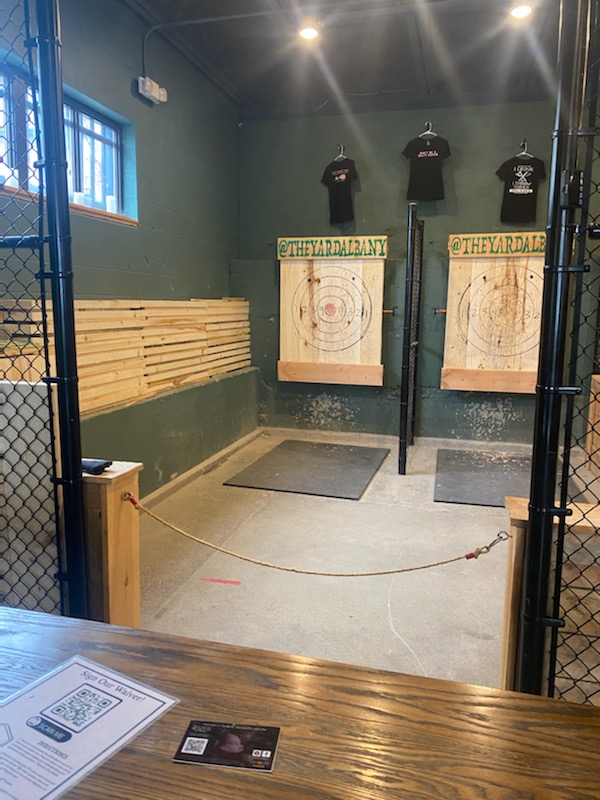 Boozy Moo!, the alcohol-infused ice cream brand that Kiosse launched in June 2020 was a direct result of the pandemic. While many were baking sourdough bread, the entrepreneur was making ice cream while trying to figure out what to do with The Yard and its alcohol stock. It was then, she says, that she got the idea for the sweet treat that offered her the ability for a takeout option. Initially launching with 10 flavors, the brand has grown to encompass more than 20 custom creations crafted with premium alcohol and featuring unique names including Cawfee Tahwk, Mom Jeans, Loaded Cookie Monster, and Tipsy Smurf.
Kiosse's goal was always to create a fun spot for locals to come hang out, and it was social distancing mandates that pushed her to move up plans for the deck; with support from the City of Albany's Small Business Adaptation Program, made possible by the City of Albany IDA and CRC, Albany Community Development Agency, and Capitalize Albany, she was able to purchase three greenhouses and PPE for The Yard to offer outdoor seating and operate safely during its reopening period. Creativity still at the forefront, she began decorating the spaces to help fight her frustration over the pandemic and to give guests something unique to experience.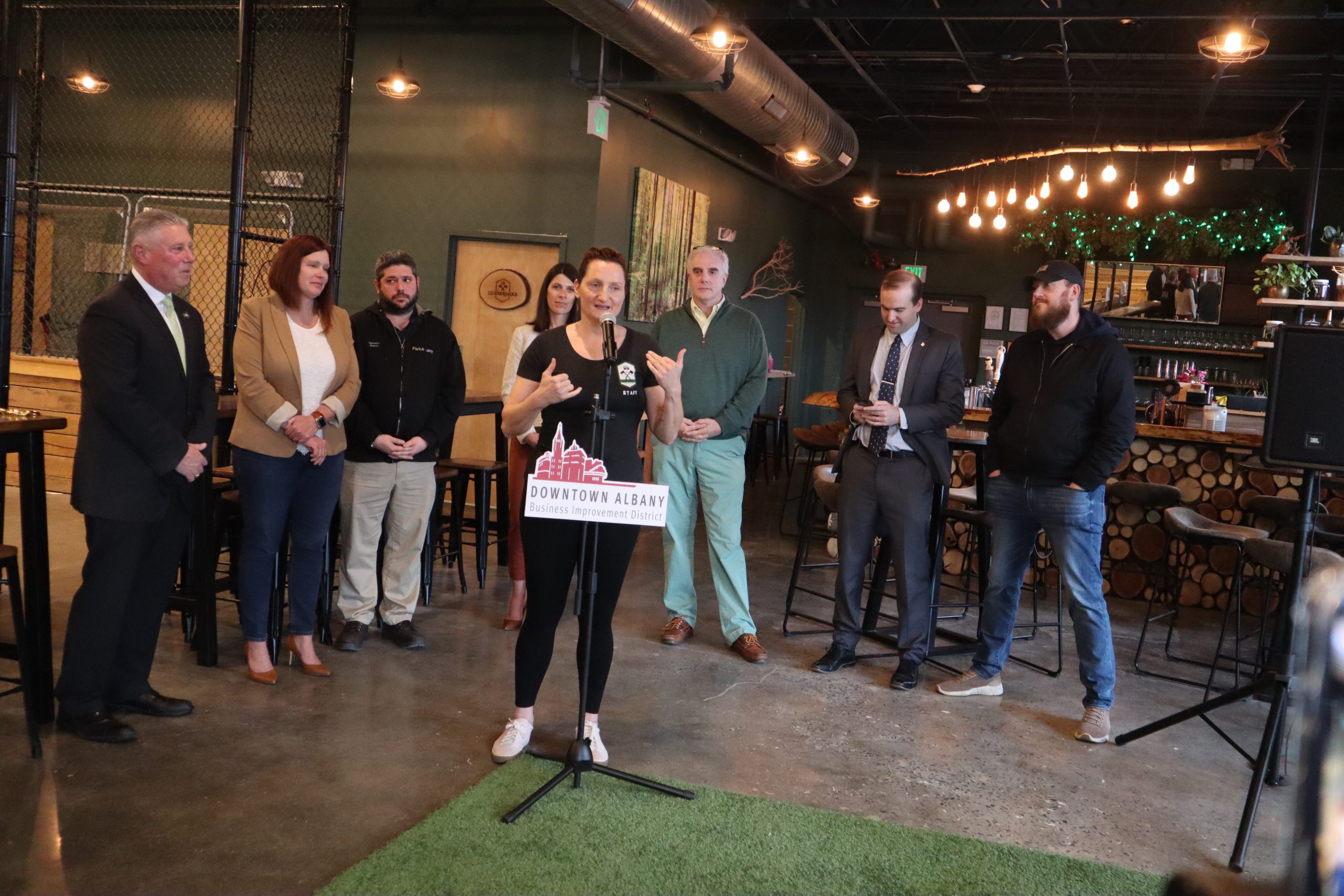 From there, she decided to outfit each greenhouse with a different décor and pair it with themed cocktails. The idea paid off in a big way, with greenhouses selling out nearly two weeks in advance when they launched in fall of 2020. Rented in 90-minute increments, this year's themes are Under the Sea, Wonderland, and Barbie. Guests are also able to connect to a Bluetooth speaker to create their own playlist while visiting.
Not one to be slowed down, Kiosse continues to make plans for the future of The Yard and Boozy Moo!, with additional yard games and non-alcoholic ice cream in the works. And, because The Yard can be rented for events, she is also working with The Balloonary to offer balloon arrangements and decorations as part of a party package. More immediately, The Yard will be hosting grand re-opening events that start today with free lawn games and discounted axe-throwing from 6:00-8:00 PM, BOGO Happy Hour on March 18, free bucket of beer with lawn games booking on March 19, and live music on March 25 and 26. For full details, see The Yard's Facebook and Instagram pages.