#AlbanyIsAllBiz | Welcoming The Vandy Thrift Shoppe To Downtown
May 2, 2022
For close to two centuries, Vanderheyden has relied on community contributions to assist in its mission of caring for children with special developmental, emotional, and behavioral needs, enabling the organization to provide kids and their families with a wide range of support and services.
Those contributions come in many forms including funding, volunteer hours, and donations of gently used clothing, toys, and household goods. Many of these items go to individuals in need, but thanks to the generosity of Capital Region residents, a surplus has started to build up.
That got longtime Vanderheyden supporter Tracy Metzger thinking.
"I kept seeing the amount of donations, and thought to myself, 'My gosh, we could open a thrift store,'" she recalled. "And of course, I'm a big Albany fan, so I wanted it to be downtown. There was a space that had been vacant for years, and I knew it was perfect for a retail store."
The result of Metzger's vision is The Vandy Thrift Shoppe at 412 Broadway – a 3,000-square-foot store that is chock full of carefully arranged, preowned merchandise, the proceeds of which all go directly back to support Vanderheyden. Supporting Impact Downtown Plan implementation, a thrift store was identified specifically as a key storefront that could support downtown's retail landscape.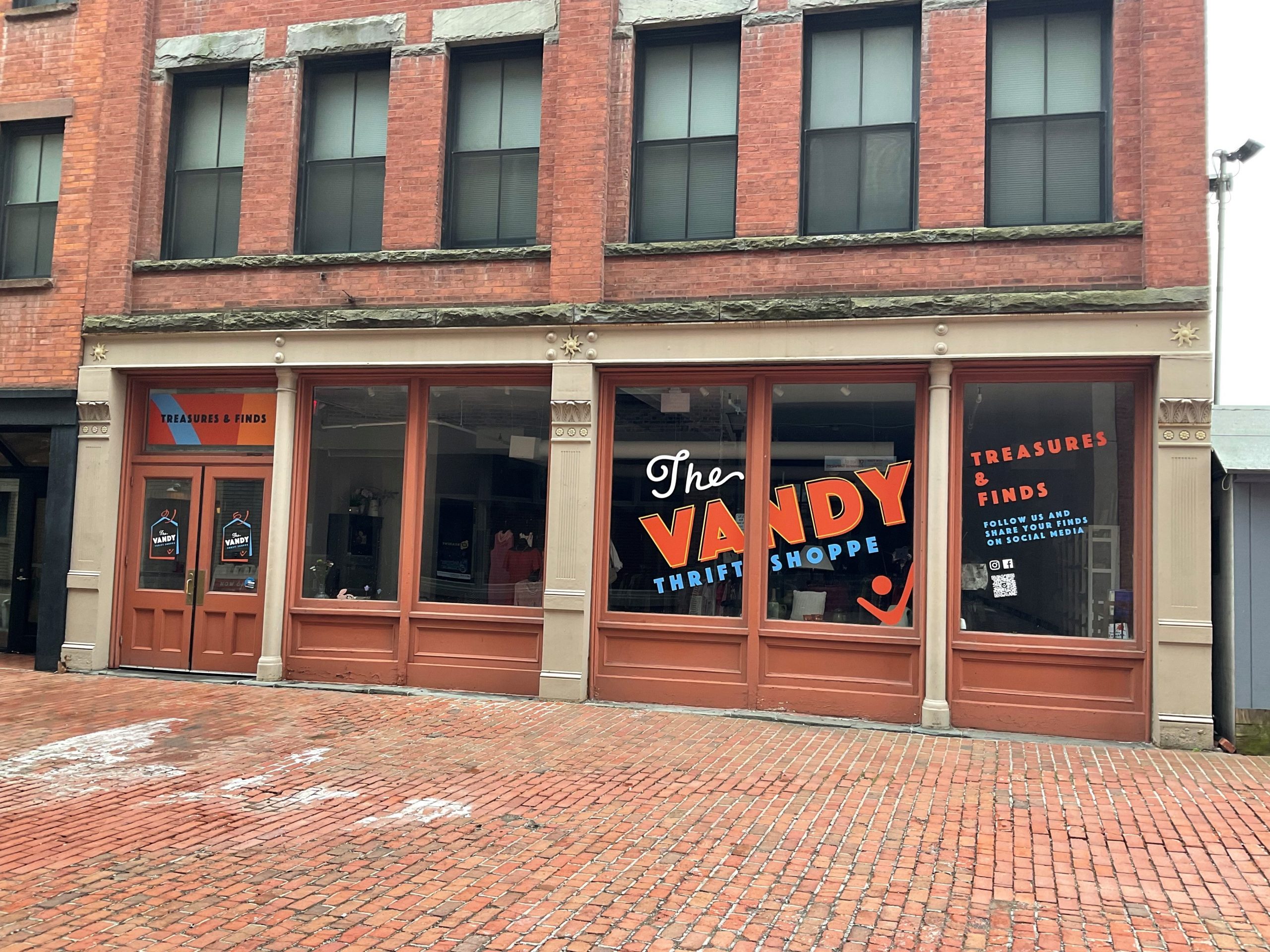 "We're focused on men's and women's clothing and home decor at the store," Metzger said. "We are blessed by what is donated. It comes in clean, sometimes in dry cleaner bags. We've got great brands – Talbots, Calvin Klein, Ann Taylor, Ralph Lauren just really nice clothes."
The Vandy is open to the public, but it also serves Vanderheyden clients who receive what Vanderheyden President and CEO Karen Carpenter Palumbo describes as "Vandy bucks" – vouchers that enable individuals to shop for themselves and make their own decisions about what they want and need.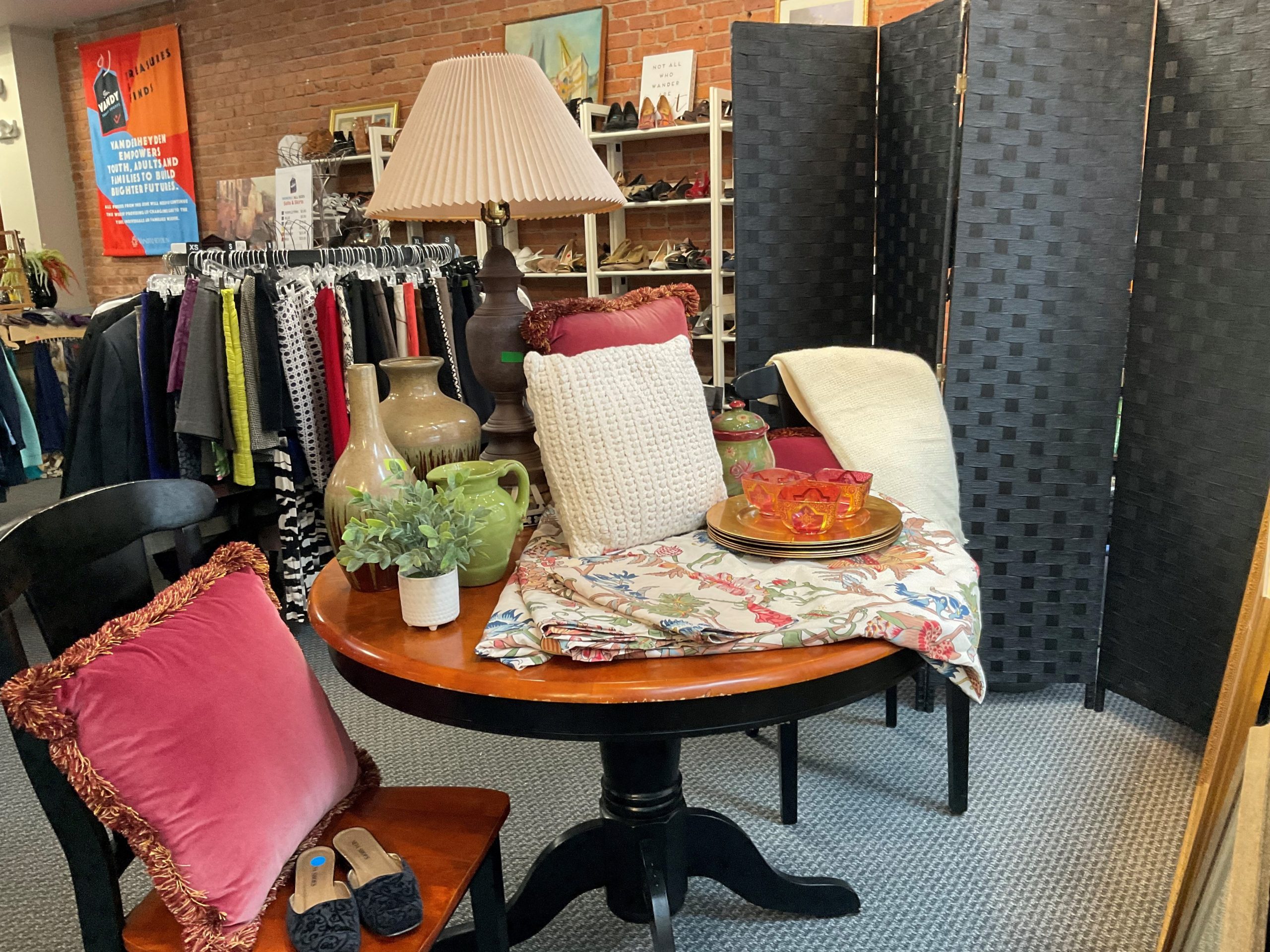 "If it's your money, you have the control and the honor to make your own choices," Palumbo explains. "You go for quality over quantity, you get to decide what you like and don't like. It's incredibly empowering – especially for people who have experienced trauma – elevates your emotional wellbeing and gives you confidence."
There's yet another element to The Vandy. It provides an opportunity for participants in Vanderheyden's vocational programs to get some retail experience. Some sort clothes, others fold them, and still others are trained on the cash register and assist customers.
"If I had my druthers within the next three to five years (The Vandy) will be its own entity, operated entirely and solely by Vanderheyden graduates," Palumbo said.
The money raised at The Vandy helps supplement existing state and federal funding at Vanderheyden, enabling Palumbo to offer clients experiences she might not otherwise be able to afford – like a trip to see extended family in Florida, or a night out at the MVP Arena.
The Vandy has only been open a few weeks and held a ribbon cutting ceremony Friday – Metzger, who also runs her own commercial real estate business, is there every day its open – and it is already out-performing expectations. A growing rejection of so-called "fast fashion" and a recognition that the fashion industry could be considerably more sustainable is helping fuel interest.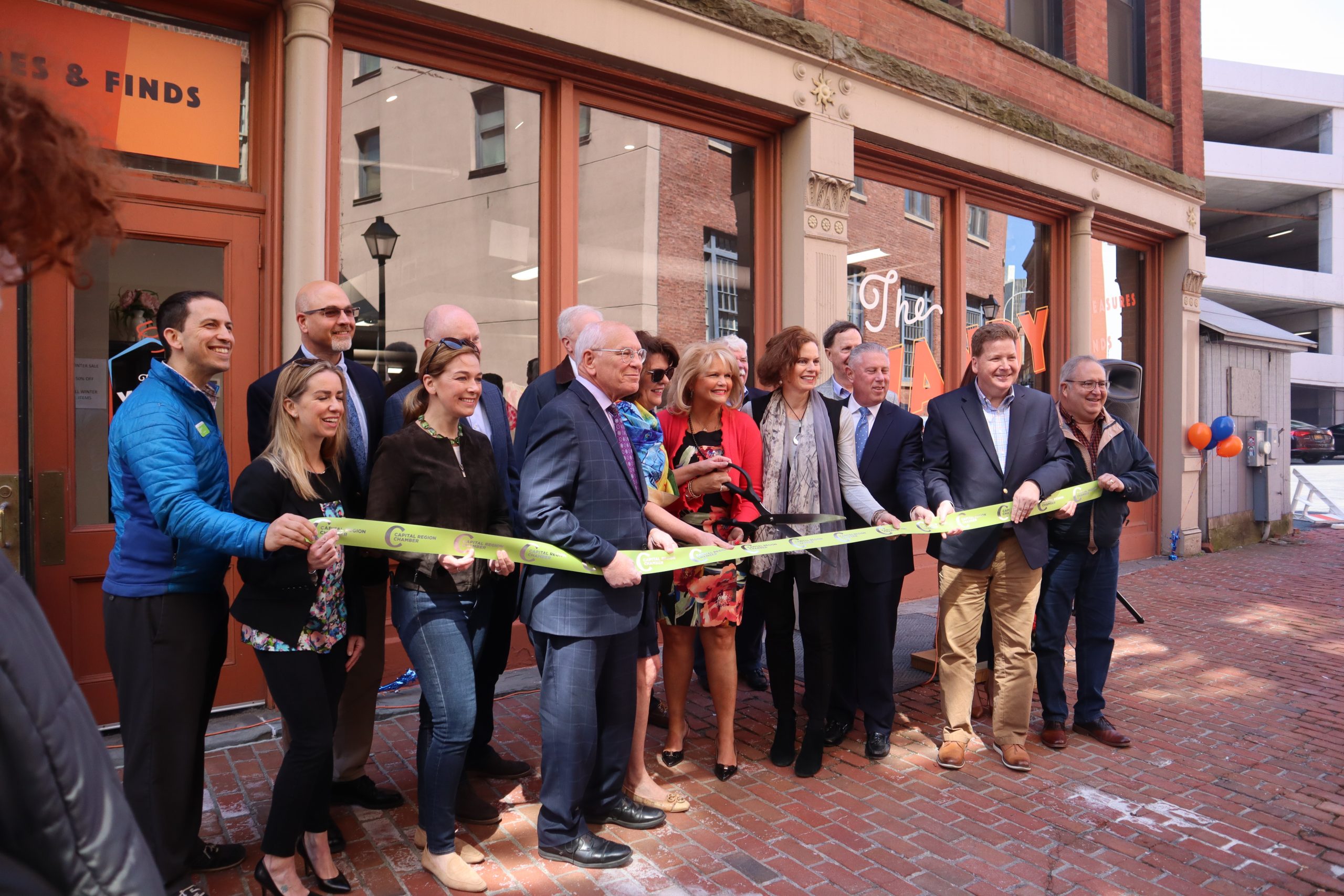 "I decided this is something I'm passionate about and wanted to give back," said Metzger, who stepped down last July from her position as chair of the City of Albany IDA and Capital Resource Corporation boards after serving for almost a decade. "Downtown needed a retail store, and we filled that void. The store is really building community; we have wonderful neighbors."
Rent at 412 Broadway has been paid upfront by Metzger for an entire year. The project also received support from Capitalize Albany's Downtown Albany Retail Grant Program for signage and renovations.
The Vandy is open Wednesday through Friday from 11 a.m. to 2 p.m. and Saturday from 11 a.m. to 4 p.m. If you're interested in donating, you can drop your offerings at the 412 Broadway location, or at Venderheyden's career center at 586 Cooper Hill Rd., Wynantskill. For more information, visit https://www.vanderheyden.org/news_and_events/The-Vandy-Spring-and-Summer-Clothing_102_pg.htm.
ALBANY'S ALL BUSINESS
After two years of challenges – from COVID restrictions to labor shortages and supply chain delays – Albany's businesses have retooled, reimagined, and reopened. From new enterprises to long-standing old favorites, exciting things are happening all over the Capital City. This series will spotlight members of the business community, keeping residents and visitors alike up to date on the latest developments and offerings, including restaurants, retail, nonprofits, and more.