Castle Island Bilingual Montessori School officially opens with Feria de Español event
May 12, 2022
Castle Island Bilingual Montessori school celebrated the official grand opening for its new downtown Albany location at 602 Broadway on Thursday.
The move to the new location, part of Redburn Development's $80+ million investment downtown offered the school updated facilities, the ability to open more programming to the community, and easy access to student recreation opportunities at Tricentennial Park and the newly opened Skyway to the Hudson Riverfront where Castle Island derived its name.
Castle Island Bilingual Montessori School is celebrating the opening of its new downtown location. Supporting #ImpactDowntown implementation it's the first school of its kind in downtown as residential occupancy continues to rise in the neighborhood… https://t.co/YpfMcxGfcp pic.twitter.com/eBEJk2kec0

— ᴄᴀᴘɪᴛᴀʟɪᴢᴇ ᴀʟʙᴀɴʏ (@CapAlbanyCorp) May 12, 2022
Supporting Impact Downtown plan implementation this marks the opening of the first school of its kind in downtown as residential occupancy continues to rise in the neighborhood. The 602 Broadway location is highlighted by the Capital Walls mural "Escape to Nature: Where Peace Awaits" by artist and educator Jade Warrick (also known as Trashkid Art). Castle Island instructs students who live steps away and those in neighboring communities, serving as an attraction for families to experience Downtown for the first time, or in a new way.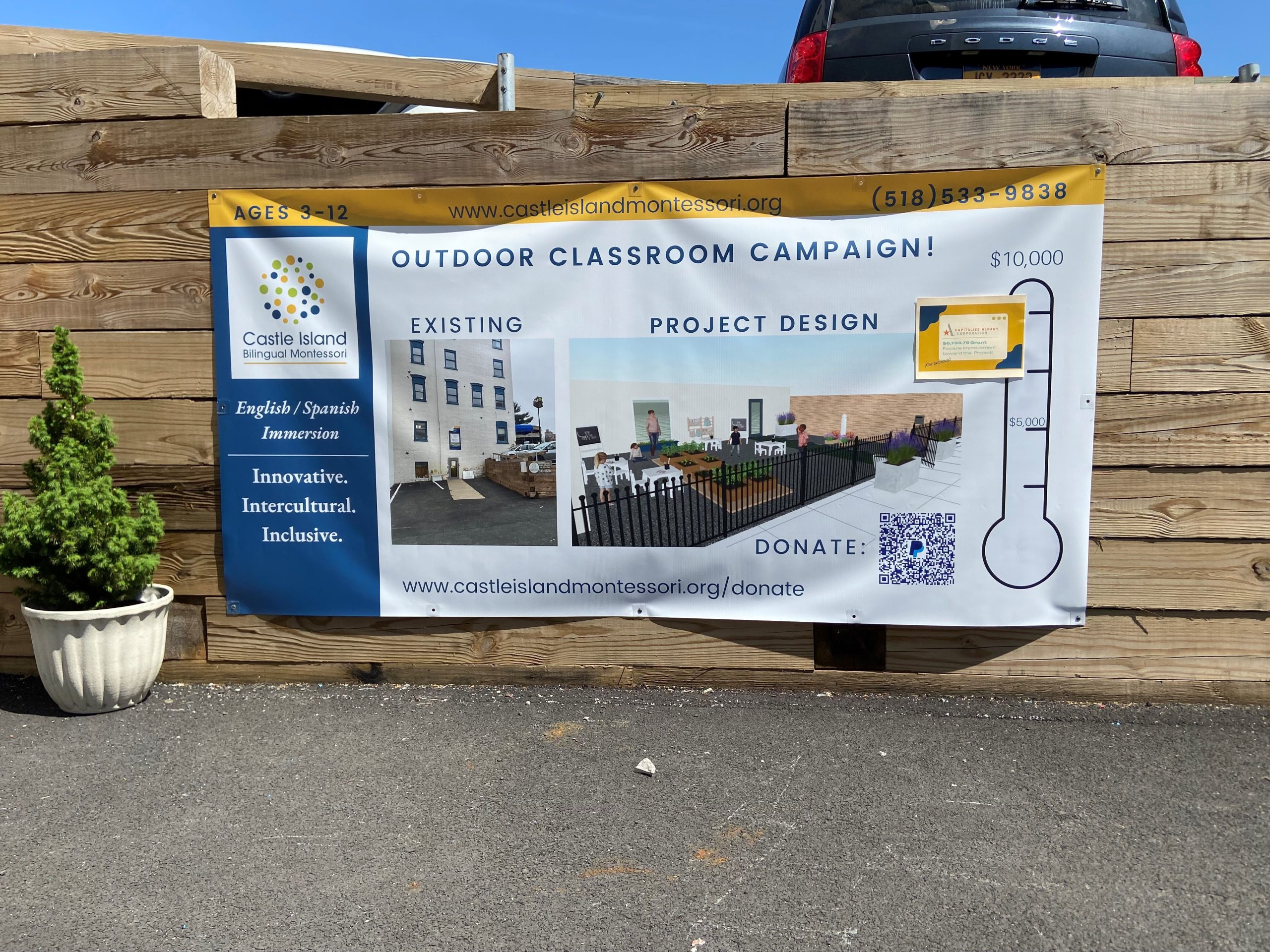 With support from the City of Albany Small Business Facade Improvement Program the school is continuing to invest and is developing an outdoor classroom space which will strengthen opportunities for the school to engage with the downtown neighborhood. The grant program is supported by the City of Albany Capital Resource Corporation and Albany Community Development Agency, and administered by Capitalize Albany.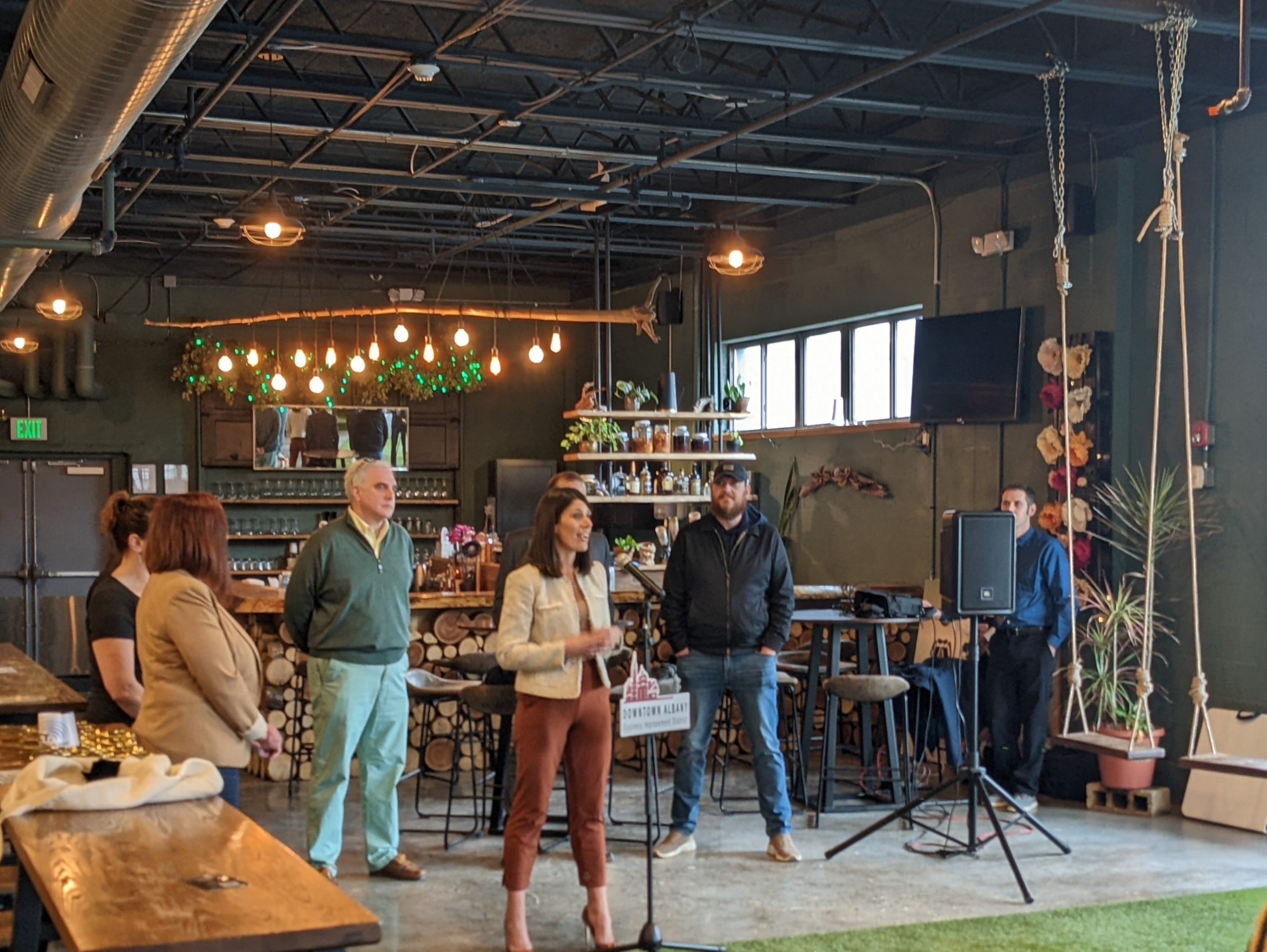 Established in 2012, Castle Island is an independent nonprofit metropolitan elementary school for children ages 3 to 12, offering an accessible world-class education nurturing every child's potential. Each student is fully immersed in both English and Spanish language learning in an environment designed to foster individual curiosity, collaboration, and innovation. The school celebrated its 10th anniversary with a move from its longtime midtown Albany location to a state-of-the-art facility in the heart of downtown.
About Castle Island Bilingual Montessori School
The name of the school celebrates its location adjacent to the Hudson River, as well as the rich history of its community. In 1540, French fur traders built a stone chateau on a piece of land in the river. Castle Island was named for this original structure, known as one of the earliest European-built edifices in North America. After being reconnected to the mainland in 1932, the site is the present location of the Port of Albany.
Established by Nobel Prize-nominated physician Dr. Maria Montessori in the early 20th century, the Montessori method's core principles emphasize effective learning as an independent practice and call for the development of the whole person as a means to uniquely prepare children for our fast-changing world. Inspired by these principles and passionate about creating a school environment with the highest quality of education, Castle Island Founder and Director Diane Nickerson utilized more than 25 years of educational experience – in a wide-ranging career that combines elementary education, English as a Second Language and Spanish, K-12 administration, and Montessori school management – to develop the school and its curriculum. ​
While raising her four sons to be bilingual, Nickerson had been seeking a school for them that would not only meet their language goals, but also provide creative opportunities for their inquisitive minds and active bodies. After some research and travel, Diane found an ideal approach in the Montessori method that holistically meets the learning needs of each child. Wanting to create a school that merges optimal learning environments for both bilingual language immersion and Montessori, she founded Castle Island for the Capital Region community.