#AlbanyIsAllBiz | Bard & Baker Celebrating One-Year Anniversary In Albany This Month
October 27, 2022
In times of old, a bard was a traveling entertainer who composed and recited epic poems, often while accompanying themselves on a harp or lyre, entertaining audiences with tales of heroism and derring-do.
That tradition resonated with Charlotte Guyton, who has built a career in the hospitality industry, and is the owner and general manager of Bard & Baker, the Capital Region's first board game café, with locations in Troy and Albany.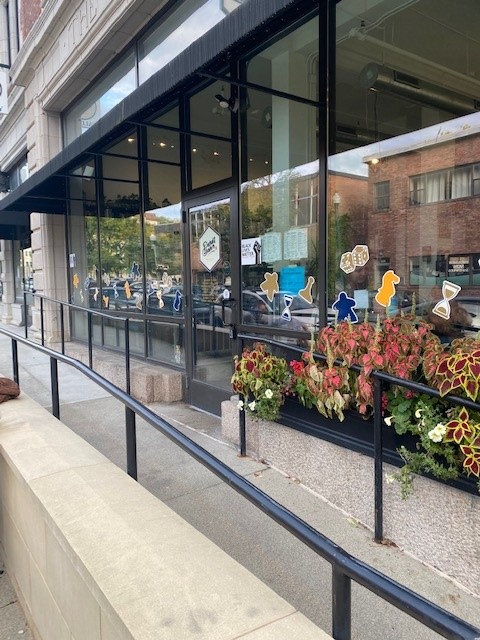 "I just love interacting with people and making their day better," Guyton said.
The bard is also a classic recurring figure in fantasy gaming, which also played a role in Guyton's decision – along with her husband, Bryan Connor – to select this unique name for her business. Connor, a classically trained pastry chef, holds the "baker" role, though Guyton studied baking and pastry as well when she attended Paul Smith's College in the Adirondacks.
Connor, a Clifton Park native, has long been into hobby gaming, and still plays Dungeons & Dragons – a well-known fantasy tabletop game – with members of a group launched two decades ago. Guyton, meanwhile, said she had more experience with traditional family board games, but she was definitely a big fan.
The couple, who met while working at the now-closed Peck's Arcade, in downtown Troy, first stumbled across The Uncommons board game café in Greenwich Village during a visit to New York City.
"It's basically a micro location with board games stacked to the ceiling," Guyton recalled. "There was laughter ringing throughout the space, and people just having fun. Both of us grew up more in the more structured fine dining space, and we were used to light conversation and the sound of forks and knives against plates. This was not that – it was people from all walks of life connecting over board games, and we just fell in love."
Guyton and Connor embarked on an in-depth research project that took them – physically and virtually – to board game cafes across the nation and the world. They thought the concept could work in the Capital Region, specifically in Troy, because it shared a lot of the characteristics of other cities where these enterprises were thriving, including walkability, proximity to institutions of higher education, a bustling downtown, and a population that responded positivity to unique, authentic experiences.
The Troy Bard & Baker opened at 501 Broadway in 2018 with about 550 games on offer – a number that has since risen to about 1,000, ranging from the traditional (CLUE, Scrabble, Stratego) to contemporary (Catan, Ticket to Ride, Ascension). Guyton said she and Connor had seen cafes elsewhere that had upwards of 3,000 games from which guests could choose, but that seemed overwhelming to her – both to patrons and staff alike. While they did purchase some of the games, many of them were donated by members of the local community.
At first, Guyton said, she followed the model she had seen at other establishments, bringing on staff who were "game gurus". But it quickly became evident that guests either were already familiar with the games, or were content to teach themselves to play. So she shifted to hiring "kind people who want to make your day better," placing an emphasis on hospitality and empathy. Guests pay a cover charge (between $5 and $10, depending on the location and the day) that allows for all-day access and helps offset the cost of hiring and game upkeep.
The Troy location, which has a full bar and a menu that offers sandwiches (with whimsical game-themed names like The Griddler and Triple Word Score), salads, mac & cheese, pizza bagels and more, was so successful that Guyton and Connor took a leap and opened a second café at 1034 Madison Ave., Albany, next door to The Madison Theater.
The Albany location, which which is celebrating its one-year anniversary this October, is smaller, with just over 200 games on offer. Its menu features a range of pastries baked goods made from scratch at the Troy Bard & Baker, coffees, espresso drinks, and bubble teas and tea lattes.
"If you had told me in 2018 before I applied for a business loan, 'Heads up, we're about to have a global pandemic, do you still want to do this?' I don't know if I would have said yes; I hope so," Guyton laughed. "The whole point of our business model is to bring strangers together to touch a bunch of things and hang out in close proximity to one another. It has been challenging in unique ways, but we are really happy so far."
Will there be more Bard & Bakers in the future? Guyton is open to the possibility. She has been approached by individuals interested in seeing her expand into other Capital Region cities as well as other states. Her main goal, however, is to preserve the personal touch that makes the current locations successful.
"We have so much love for what we do," Guyton said. "It's so personal, and it would be challenging to let go and be part of someone else's decision-making process. We'll see. There might be one or two more Bard & Bakers in the books."
ALBANY'S ALL BUSINESS
After two years of challenges – from COVID restrictions to labor shortages and supply chain delays – Albany's businesses have retooled, reimagined, and reopened. From new enterprises to long-standing old favorites, exciting things are happening all over the Capital City. This series will spotlight members of the business community, keeping residents and visitors alike up to date on the latest developments and offerings, including restaurants, retail, nonprofits, and more.