#DowntownWorks For Far Shot Recreation
December 15, 2022
Benn MacDonald is an unabashed downtown Albany booster.
"I love the skyline; I love The Egg; I love everything about it," the president of Far Shot Recreation, which operates a series of axe and knife throwing and archery facilities in the Northeast- including one that opened at 69 N. Pearl St. in 2019.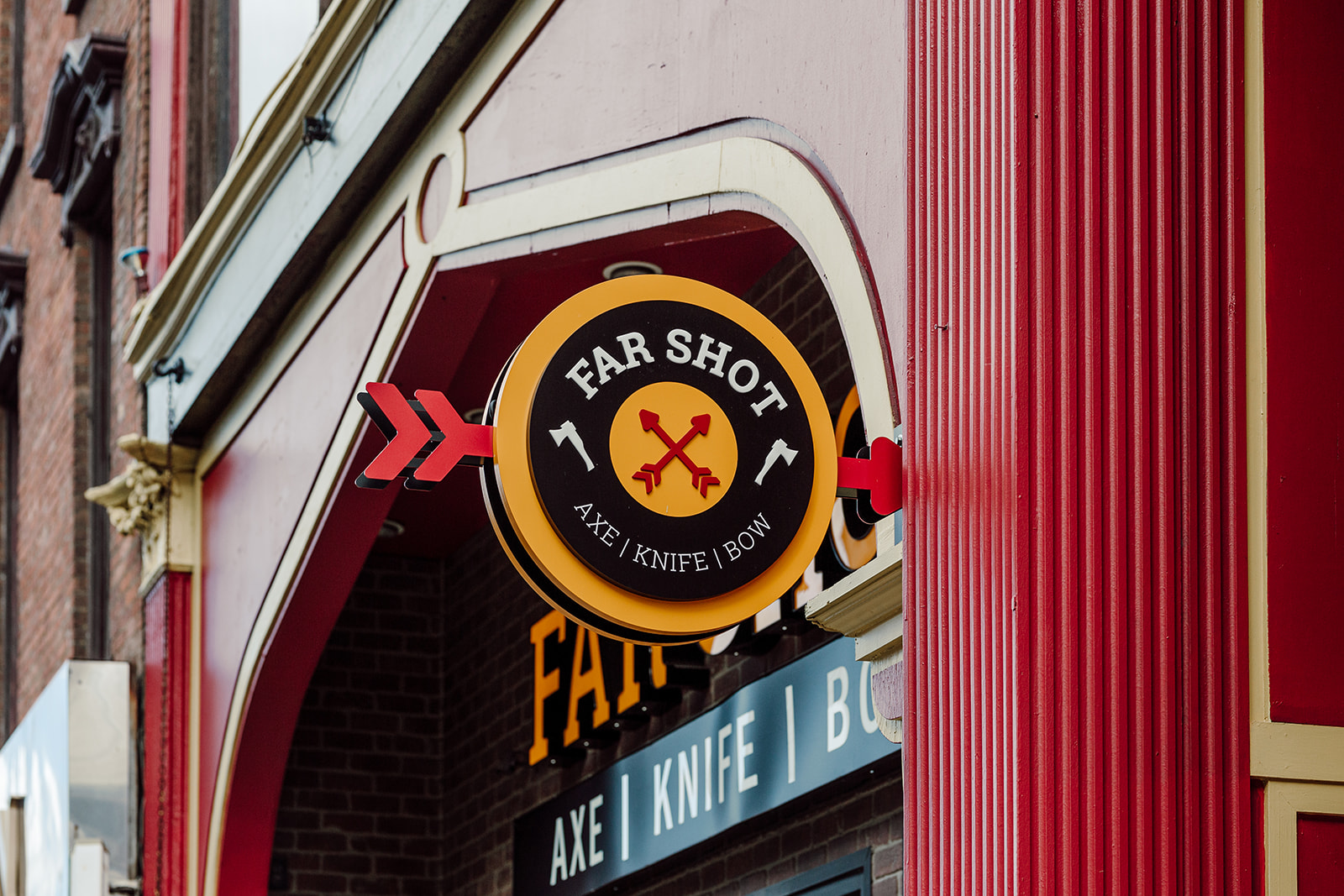 MacDonald, who is based in Toronto, Canada, said he believes the fact that he doesn't live in the Capital City makes him more easily able to recognize its many attributes and charms.
"If you see it every day, you won't appreciate it as much," he said. "After we opened in Syracuse, we were looking to expand our brand. We looked east and found Albany, and fell in love with the downtown core."
MacDonald said the Far Shot team learned from their experience in Syracuse and determined that a retail – not industrial – space was ideal for their model, in part because they wanted foot traffic to help raise awareness of the location. When they saw the 6,500-square-foot space on Pearl Street, they "instantly" knew it would be a good spot for axe throwing.
"We are actually in the process of moving our Syracuse location because of everything we learned in Albany," MacDonald said. "We're moving downtown – somewhere more visible and with higher traffic. We're adding a liquor license, which is something we applied for right away in Albany."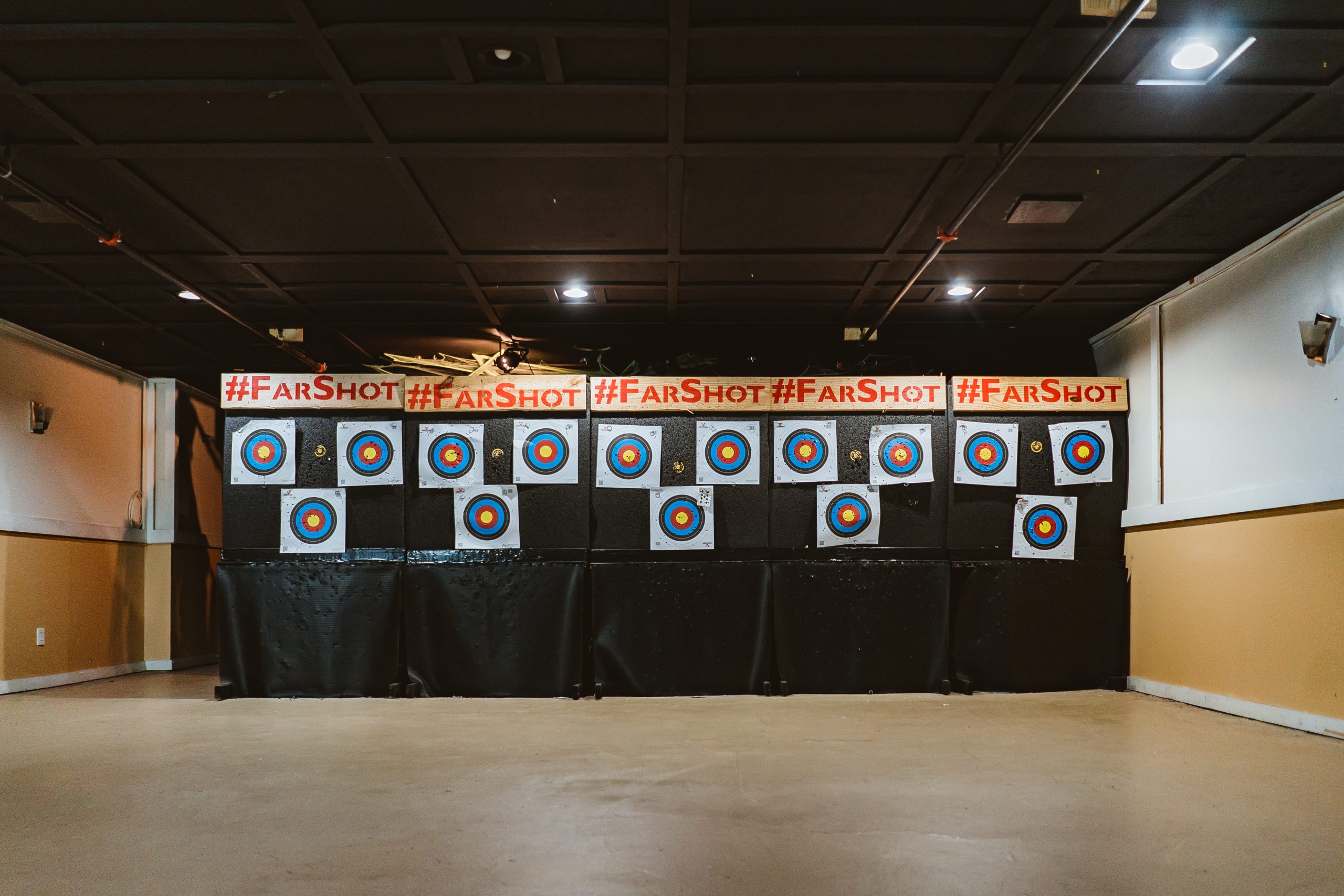 Far Shot is one of several Capital Region axe-throwing locations, including one located just a few blocks away, The Yard Hatchet House and Bar. But MacDonald said he maintains a good relationship with the other venues, and interact with them regularly. In fact, he said, the owner of The Lazy Axe in Colonie and MacDonald both sit on the World Axe Throwing League (WATL) Council.
Axe and knife throwing, as well as archery, are competitive sports. MacDonald, who opened his first Far Shot venue in 2016, is a coach and head judge of the WATL. Far Shot won the World Axe Throwing Championships in 2017.
Those who are serious participants in the sport are welcome to bring their own axes to 69 N. Pearl St. – or knives or "whatever makes you happy" to throw, MacDonald said. But though there is a competitive aspect, amateurs are welcome, and, in fact, make up most of the visitors to the facility.
"We are geared toward a fun night out," MacDonald explained. "We do birthday parties, bachelor and bachelorette parties, divorce parties – those are actually a lot of fun. We do offer leagues, but we are focused on people who have never thrown axes before. If it turns out you really enjoy it and want to become competitive, we can also help you hone your skills."
Far Shot has two rules when it comes to its patrons: Be safe, and have fun. If you're violating Rule No. 1, MacDonald says, you could get hurt or hurt someone around you, which is definitely no fun. Coaches are on hand to make sure that all participants have some basic knowledge about their chosen throwing implement and how to use it, and also to ensure that everyone is staying safe and having a great time.
Though alcohol is available, MacDonald stresses that Far Shot is a throwing venue first and a bar second. He also notes that mixing too much alcohol with axe throwing is not only potentially dangerous, but also will cause your scores to go down, which is also not fun. (See Rule No. 2).
The Covid crisis impacted Far Shot's operations, as it did all event spaces. Far Shot voluntarily relinquished their liquor license temporarily as a result of the mandated shutdowns put in place to prevent the virus from spreading, but was thankfully able to get it back, MacDonald said. The pandemic also forced the team to reinvent its operations, reworking the flow and online booking system to keep guests at a safe distance from one another.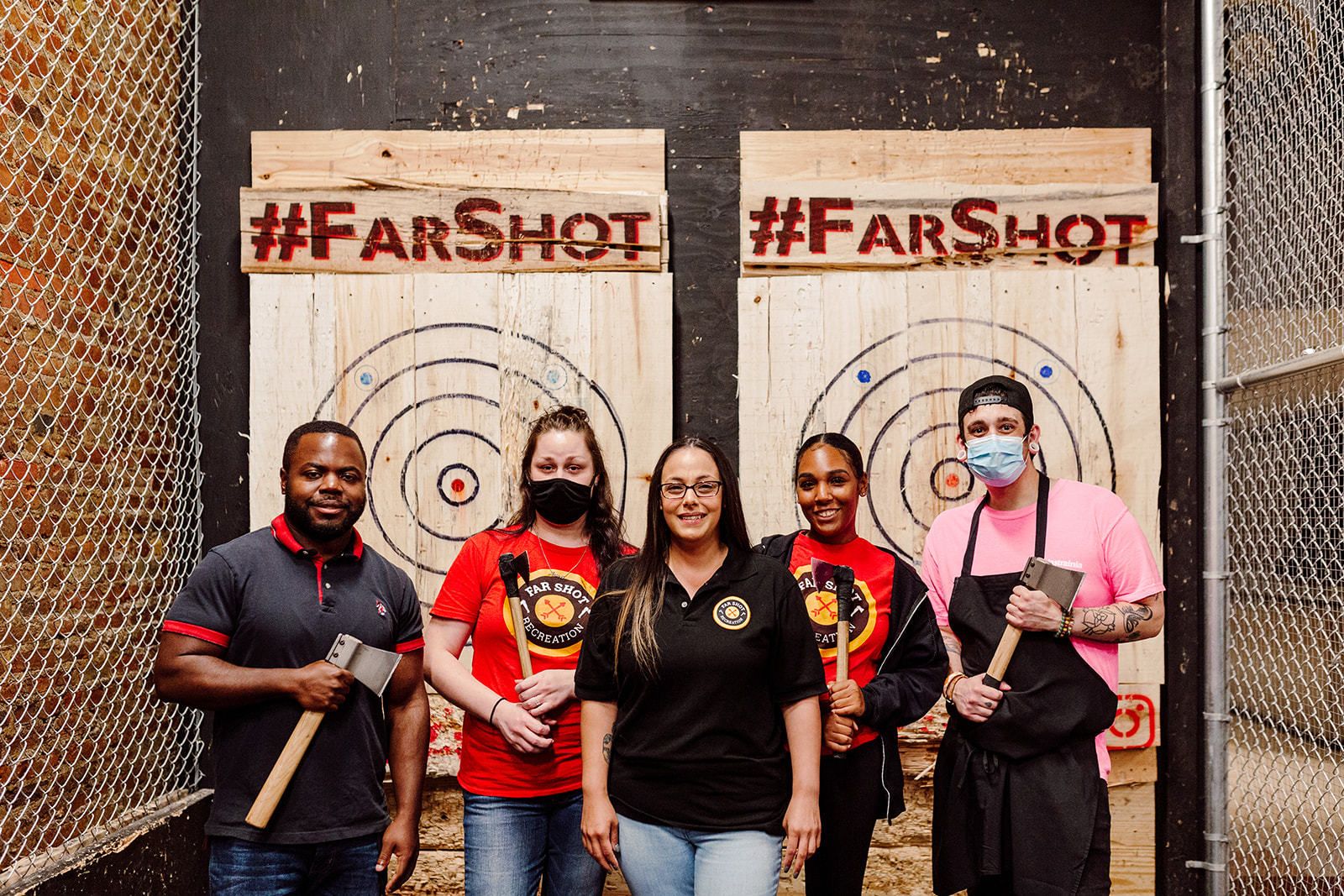 With locations in Worcester, MA; Albany, and Syracuse south of the Canadian border, Far Shot is planning to expand further into Providence, RI and also New Hartford, NY, near Utica. For more information, visit https://www.farshot.net/.
About #DowntownWorks
Downtown's offices have in part operated remotely over the past several months and downtown Albany is eager to welcome visitors and the business community fully back when the timing is right and as downtown's reopening progresses.
National, and local trends signal the trajectory for progress and success downtown hasn't slowed — businesses have adapted, and key strategic investments are taking shape. Now is the time to experience for yourself or remind yourself, why downtown works — why start-ups, Fortune 100 and world renowned international companies are containing to invest and grow in downtown Albany, and why downtown Albany has proven successful for your organization.

The many companies occupying downtown Albany offices, and their talent, are innovative and resilient. As more return to the office, Capitalize Albany Corporation and the Downtown Albany BID are gathering insights from industry experts to support office occupiers in making informed decisions. And in speaking with local businesses we're also learning more about upcoming plans and opportunities, new businesses opening, remote-work balance strategies, and of course — why downtown works.
Learn more and share your stories at #DowntownWorks on social media, visit #DowntownWorks on CapitalizeAlbany.com, and www.DowntownAlbany.org/DowntownWorks.