Guidelines Available Now For New Small Business Building Improvement Grant Program, Launches In January
December 14, 2022
Up To $750,000 In Reimbursable Building Improvement Grants To Support Ongoing Post-Covid Recovery Efforts Will Be Available; Applications Open Starting Early January
Program guidelines for Capitalize Albany's new Small Business Building Improvement Grant (BIG) Program are available to review in advance of opening the program to applicants in early January.
Click Here To View Program Guidelines, More Informaation
Full details on the program and the application process will be made available next month. Corporation staff encourages potential applicants to review the program's guidelines and contact our team with questions.
Contact grant administration staff: [email protected]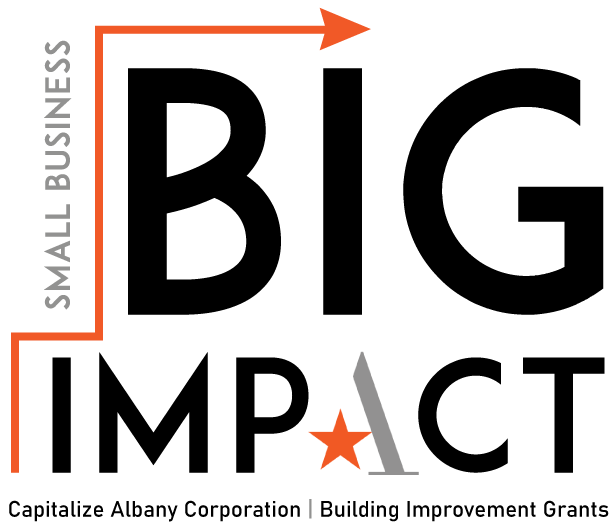 The BIG Program provides access to critical funding necessary for aspiring entrepreneurs and new businesses to get off the ground in the City of Albany and for existing Albany businesses to grow. The BIG Program has been made possible by the City of Albany and its American Rescue Plan Act (ARPA) funding process. The program was designed by Capitalize Albany Corporation with support from the City of Albany in accordance with the objectives identified by the City's COVID-19 Recovery Task Force.
Grant awards will range from $1,500 to $4,999 in microgrants or from $5,000 up to $25,000 under two flexible funding tracks, more details are available in the guidelines packet.
The program will be open to eligible small businesses as well as not-for-profits in the childcare, arts/cultural, tourism, and hospitality industries located in the City of Albany. The BIG Program will make available flexible, recoverable, reimbursable grants to eligible applicants with qualified projects to assist with costs associated with capital investments. Projects may include but are not limited to interior and exterior renovations preparing a commercial space for an eligible use, and/or machinery and equipment purchases.
A few examples of eligible projects and expenditures include electronic point-of-sale systems or other electronics for business operations, kitchen appliances, production and packaging equipment, manufacturing or production equipment; HVAC, fire suppression, costs of bringing building up to current code, including Americans with Disabilities Act requirements; interior and exterior lighting, and structural and cosmetic façade improvements.
Please contact Capitalize Albany staff with questions. Our team will work with interested applicants to confirm and identify eligible projects before starting the application process.