First Capital Walls Mural of 2023 In Progress
May 12, 2023
New Capital Walls Mural Highlights Local Botany Native to the Capital Region
Downtown's public art is in the works to grow by more than 277-square-feet with the planned addition of a Capital Walls mural by artist Juliana Haliti. Located on the main wall of The Yard Hatchet House & Bar between Chapel St and Sheridan Ave, the mural was funded by Leyla Kiosse, President of The Yard Hatchet House & Bar and made possible with support from the City of Albany Small Business Facade Improvement Program.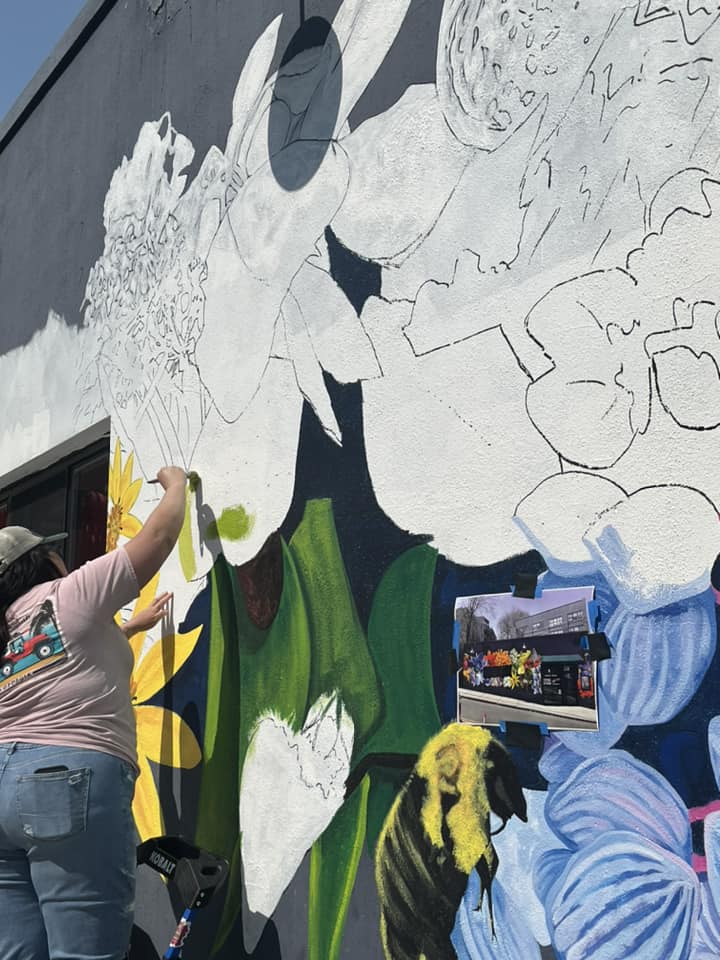 Titled "Pem-po-tu-wuth-ut (Place of the Council Fire) Biocoenosis," the mural by the mixed media artist and educator Juliana Haliti was inspired by the rich, ecological history of the Capital Region. After hours of research and discussions with experts from the Pine Bush Reserve, NYS Archives, NYS Division for Historic Preservation, and the DEC, Haliti was able to create a beautiful and intricate collection of botany to highlight in the mural. The title drew inspiration from what the Mohegan Tribe called the area of Albany, Pem-po-tu-wuth-ut. Haliti describes this mural as a way to acknowledge and highlight our past and present ecology and hopefully serve as a tool for the community to learn more about botany native to the Albany area.
The Yard | Hatchet House & Bar's Capital Walls mural project was made possible in part with support from the City of Albany's Small Business Façade Improvement program. The Yard was awarded a direct-reimbursement matching grant as part of the program's most recent Round 5 in Spring 2022.
The citywide program can provide matching grants up to $10,000 to small businesses and/or commercial property owners for exterior renovations. Previous rounds of the program have been tremendously successful. When all current awarded applicants' renovations are completed the total investment leveraged is anticipated to be more than $850,000. To date more than 40 City of Albany businesses, non-profits and/or property owners throughout 15 different Albany neighborhoods and commercial districts have received matching grant reimbursements to support reinvestments into their properties.
The Façade program is administered by the City of Albany's economic development organization Capitalize Albany Corporation. Its programs include the Neighborhood Retail, Downtown Albany Retail, Amplify Albany, and its City of Albany Small Business Façade Improvement grant program which is planned to reopen to new applicants later this year. These grant programs are made possible with support from the City of Albany Capital Resource Corporation and the Albany Community Development Agency. More information is available at www.CapitalizeAlbany.com/grants.
As the Capital Walls mural program continues to grow in 2023, Haliti's mural, located near the intersection of Chapel St and Sheridan Ave in Albany NY, will mark the first Capital Walls mural of 2023. The Capital Walls mural program has found success in its continued growth each year; 2022 brought 3 murals – "Back to Life" by artist D. Colin which is in front of the Downtown Albany's Quackenbush Garage and "BELONGING" by Adam Fujita which is in the adjacent Quackenbush Square as well as "Imagine" by Dha'Sean Serrano & Oscar Bográn which is located at 115 N Broadway in Schenectady NY. Haliti's mural will bring further vibrancy and life to Downtown Albany and the entire Capital Region area.
Haliti's mural also marks the 20th Capital Walls mural. Under the expansive program, more than 25,000-square-feet of public art has been added to spaces around the Capital Region, highlighting the work of local and international artists alike.
The mural was created in partnership with Albany Center Gallery and Albany Barn, collaborated in development, management, and execution of this mural. Foundational support for Capital Walls – by Albany Parking Authority. Curated by Tony iadicicco.