Thirty-Seven City of Albany Small Businesses and Nonprofits Receive more than $600,000 in Building Improvement Grants
June 27, 2023
Through City of Albany American Rescue Plan Act Efforts, Capitalize Albany Awards Flexible, Reimbursement Grants for Investments that Support Ongoing Post-Covid Recovery Efforts
View Press Release, Project Awards Information Here
Following a highly competitive and thorough application and review process, $635,000 in Small Business Building Improvement Grant Program (BIG) awards were announced today, 11 a.m. at Albany City Hall, to support 34 businesses and three nonprofit organizations, all located throughout 15 different City of Albany neighborhoods. The BIG Program was designed to support, attract and grow small businesses citywide. Administered by the City's economic development organization Capitalize Albany Corporation, the program is made possible through the City of Albany's American Rescue Plan Act (ARPA) funding process.
Lincoln Pharmacy, located at 300 Morton Ave. in Albany's South End neighborhood was one of the more than 30 awarded businesses. As the first award to be recognized, its Pharmacy Manager Zarina Jalal gave remarks at the announcement event on the impact of the BIG Program at Lincoln Pharmacy.
The pharmacy was awarded $4,999 under the Microgrant track – a streamlined and targeted portion of the Program focused on smaller, tactical investments with outsized impact to enhance program accessibility with less application and reporting requirements. Lincoln Pharmacy will use the funding to replace an aging robotic pill dispensing system which has been costly to maintain, with a new photographic pill counting device. Ms. Jalal indicates that in addition to the direct benefit of upgrading the equipment, the staff hours previously allocated to machine operations and maintenance can now be reallocated to patient care.
Like Lincoln Pharmacy, themes of tangible upgrades, operational efficiency, and expansion of services run throughout the awarded projects, all of which are detailed below.
BIG awards prioritized filling needs outlined in the City's 2021 COVID-19 Recovery Task Force Final Report, with 85 percent of the 34 small businesses awarded identified as disadvantaged business enterprises (DBEs) including minority, women and veteran-owned operations. Three nonprofit, community-serving organizations also received an award.
This citywide program will support businesses in 15 Albany neighborhoods including in each of the Neighborhood Strategy Areas (NSAs) designated by the Albany Community Development Agency (ACDA) such as Arbor Hill, West Hill, North Albany and Albany's South End neighborhood. More than 90 percent of awardees are located within an NSA or a distressed "Qualified" Census Tract as defined by the U.S. Department of Housing and Urban Development. The BIG Program prioritizes these geographies and businesses that serve low-to-moderate-income areas, bringing critical funding to these strategically identified neighborhoods. The Program provides access to critical funding necessary for aspiring entrepreneurs and new businesses to get off the ground in the City of Albany and for existing Albany businesses to grow.
Click To Enlarge Map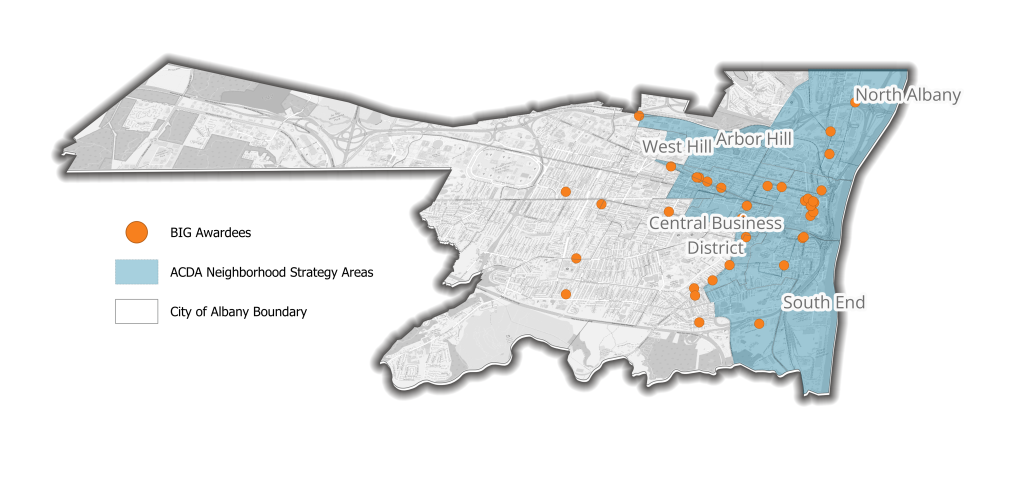 The application process opened January 11, Program Intake and Eligibility Screening Questionnaires were accepted through February 10, and applicants deemed eligible were provided a full program application. Final BIG program applications, including any required documentation, were accepted through February 17 – the final deadline for the program.
Through the City of Albany's ARPA funding process under the objectives identified by the City's COVID-19 Recovery Task Force, $750,000 was invested into the program for the award of flexible, reimbursable grants for capital investments and support the cost of the Program's administration.
From the opening of the program's application process in January Corporation staff provided technical assistance, hosted webinars and participated in local small business open-house workshops and a number of other public events. Capitalize Albany received an overwhelming response to the program, with more than 200 Intake and Eligibility Screening Questionnaires submitted for determination of eligibility. The Program was highly competitive, and more than 90 final applications totaling more than $1.9 million in funding requests were reviewed, scored and processed.
Grant administration staff will be available to assist awarded applicants as they complete their projects. For projects that did not receive an award, Corporation staff is available to consult with applicants to find other programs that may provide financial and technical assistance that fits their needs. Immediate opportunities may include Albany County's exciting new ARPA funding opportunity in partnership with the Community Loan Fund of the Capital Region or BIG's complementary grant program, the Small Business Vitality Assistance Program is providing financial and technical assistance for small businesses' non-capital needs through a partnership of the Downtown Albany Business Improvement District, Central Avenue Business Improvement District and the Albany Small Business Development Center.
BIG Program grants were awarded to eligible applicants with qualified projects to assist with costs associated with capital investments. Eligible projects under the program's guidelines include but are not limited to interior and exterior renovations for commercial use, and/or machinery, furniture, fixtures and equipment purchases. Grantees will receive funding for projects including the acquisition of electronic point-of-sale systems, kitchen appliances, production and manufacturing equipment, interior and exterior lighting, and structural and cosmetic interior and exterior improvements.
Awardees that applied for Major Project Grants of $5,000 up to $25,000 for capital investments in their businesses benefited from a streamlined application process and assistance from grant administration staff in completion of their applications. In an effort to provide small businesses with the most efficient process possible, applicants for Microgrants of $1,500 to $4,999 had even more limited application and monitoring requirements.
Grant funds will be issued as a reimbursement upon a project's completion.
BIG is the latest program to continue Capitalize Albany's successful track record of small business assistance. Throughout 2020 and 2021 the Corporation administered more than $500,000 in direct COVID-recovery grants to small businesses through its Small Business Adaptation Program. Its currently available programs include the Neighborhood Retail, Downtown Albany Retail, Amplify Albany, and its City of Albany Small Business Façade Improvement grant program which is planned to reopen to new applicants later this fall. These grant programs are made possible with support from the City of Albany Capital Resource Corporation and ACDA.
Beyond the BIG Program, since 2016 Capitalize Albany has made grants totaling more than $1.6 million to assist small businesses and organizations throughout the City of Albany. More than 90 percent of which has been awarded within NSAs and Qualified Census Tracts. These programs have leveraged more than $3.3 million in new, private investment throughout the Capital City.
More information is available at www.CapitalizeAlbany.com/grants.