Coming Soon: Steuben Place Apartments at 58 North Pearl Street
October 14, 2015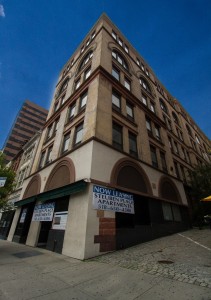 Space is filling up at the 29-unit Steuben Place Apartments. Construction is in its final stages and the $4.9 million mixed-use residential and retail project is expected to be completed in the coming weeks.
Conversion of the six story, 47,300 square foot mixed-use retail and commercial office building into mixed-use retail and residential was made possible by assistance from Capitalize Albany Corporation the City of Albany Industrial Development Agency and the New York State Office of Homes and Community Renewal.
The previously vacant property now features 29 residential rental units on floors 2-5 with three studio apartments, one and two bedroom units. The first floor includes more than 2,600 square feet of commercial space that could accommodate up to two potential commercial tenants. Its first commercial tenant the Steuben Street Market, downtown Albany's first grocery, is expected to open in the coming months utilizing 2,400 square feet of the first floor.