Back To Business: Barks On Lark
March 11, 2021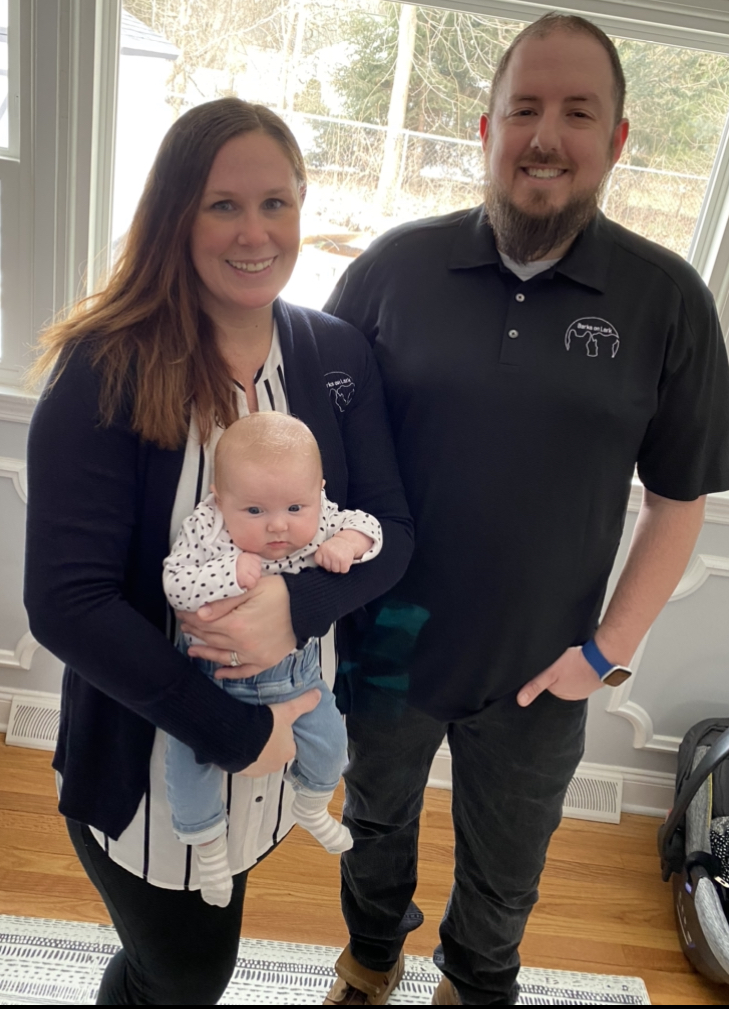 This time last year, Cara Bronner was embarking on a new phase of her career as an educator after leaving a job as a fourth-grade teacher and accepting a new post as a curriculum specialist at BOCES.
When the COVID crisis hit, BOCES lost funding and as a result Bronner lost her new position. And then she and her husband, Will, discovered they were pregnant with their first child, Scarlett.
It was a lot of change in a very short period of time. Some people might not consider this the best moment to take on the added stress of launching a new business, but not Bronner.
"I was sitting with my husband outside on Lark Street, and I said, 'I don't want to go back, I want to do something different," she recalled. "All these dogs were walking by. I said, 'We should just open a dog boutique.' And he said, 'Let's do it!'"
And thus, Barks on Lark was born.
Getting from concept to ribbon cutting, which occurred Wednesday, was a slow and deliberative process. This was by design, Bronner said, because she wanted to create a business that wasn't just about selling products but also changing the world for the better – one homeless dog at a time.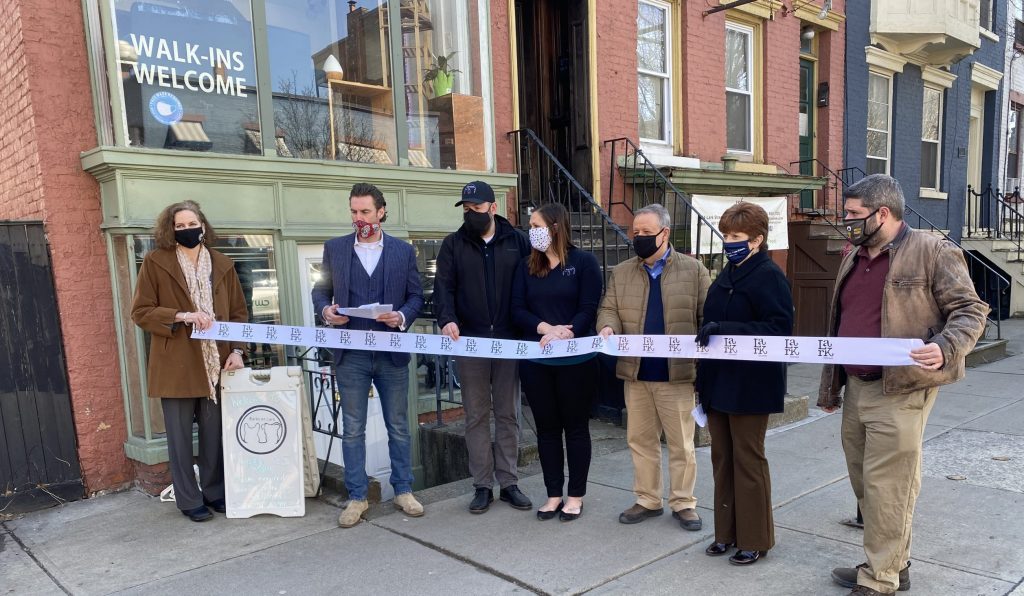 Will Bronner, who holds an MBA from UAlbany, gave his wife pointers on writing her first business plan. She said it was important to her to rely on as many local providers as possible, realizing that "everybody is struggling" as a result of the pandemic-induced economic downturn.
"I really wanted it to be well thought out and to help other people as much as I could, not just put random junk in the store," Cara Bronner said. "We tried to be very thoughtful and conscientious about what we're doing. If everyone helps each other out we're all that much better for it."
It's also helpful that the pandemic led to an uptick in dog adoptions. As working from home became the norm and socializing was greatly curtailed in an effort to prevent the virus from spreading, a lot of people went in search of furry company and comfort.
"We adopted during the pandemic and a lot of people are doing that," Bronner said. "They're starting to be more focused on their family, their pets, and health and wellness."
Aside from selling eco-friendly, fair-trade, sustainable and local or made-in-the-U.S. dog products, ranging from leashes and collars to treats and grooming supplies, Barks on Lark will focus on partnering with rescue organizations and shelters to host adoption clinics.
The shop will start by working with French Bulldog Village, a national organization through which the Bronners adopted Dobby, their special needs French Bulldog who is named after the house elf character in the "Harry Potter" series. Dobby the dog has a congenital defect in his spine for which he receives regular water therapy, but that doesn't slow him down or get in the way of his official hosting and quality control duties at Barks on Lark.
"He comes down to the shop and is employee of the month every month," Bronner said. "He helps himself to things. I had to buy a toy the other day because he took it off the shelf and wouldn't give it up."
Bronner said she has focused on stocking Barks on Lark with products that she uses herself at home for Dobby and the couple's other rescue dog, Emma, who came from Adirondack Save a Stray. Some local featured products include collars and leashes from LaVilla Dog Works in Johnstown and treats from the East Greenbush-based Mugzy's Barkery.
"It was never about, 'Hey, let's open a store,'" Bronner said. "It was, 'Let's do something that has meaning behind it and has meaning for us. As a couple, this has been fun for us. We have a passion for rescue and I am big about supporting local. I want even more local products."
The pet boutique is the latest small business to open in the Lark Street corridor in the midst of the COVID-19 pandemic, joining Son of Egg, Shahs Halal Food, Frankie's Deli, Adani's Kitchen and others. Occupancy for commercial storefronts in the corridor remains above 90%, despite the many challenges brought on by the pandemic.
Barks on Lark (www.BarksOnLark.com) is open Tuesdays through Fridays from 10 a.m. to 5 p.m., and Saturdays from 11 a.m. to 3 p.m. Social distancing and other public health protocols are being observed, and only three customers are allowed in the shop at a time. Well-behaved, leashed and friendly dogs accompanying their people are also welcome.